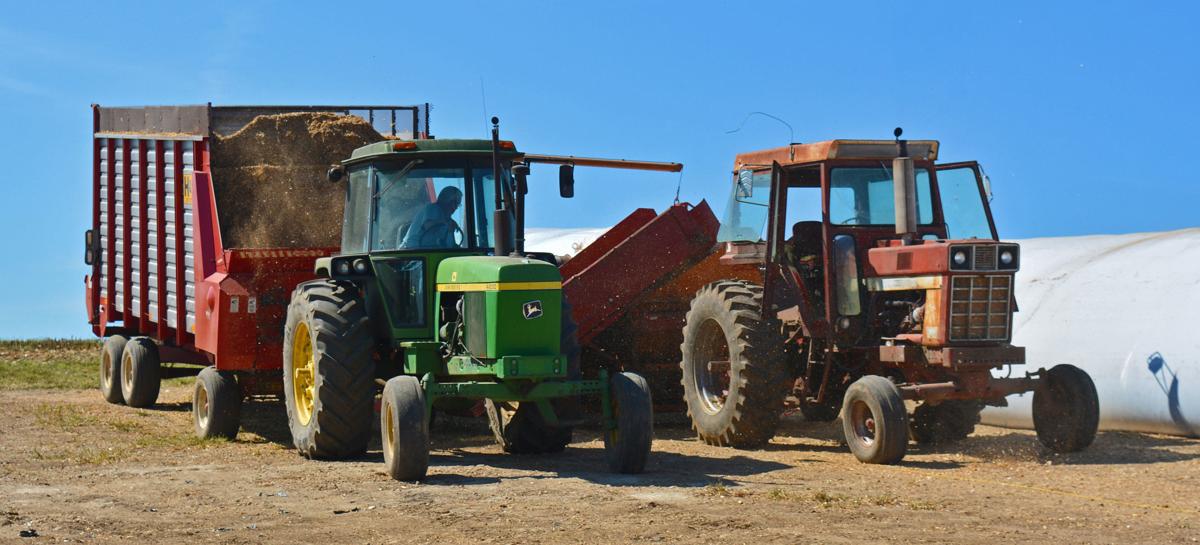 Of all the 32 or so TV ads that Scott Walker has run so far during his battle with Tony Evers, one takes the prize for being the most misleading.
No, it's not the spot that suggests Walker's opponent Evers coddles teachers who like pornography, although that one is particularly abhorrent. The really misleading one is the commercial of the farmer who laments that Evers will raise all kinds of taxes that affect Wisconsin farmers who, we all know, are struggling to survive.
The spot features a man named "Cal," who looks like a stereotypical hardworking Wisconsin farmer, out in the barnyard explaining how his family has worked the farm for three generations and he wants to leave it to his daughter and her family in better financial condition than he and his wife were in when they took it over.
But he's concerned that Democrat Tony Evers will undo Scott Walker's agriculture tax credit and raise the gas taxes and all that will scuttle his plans for the future.
"That'll hurt family farms like ours, and you just can't do that," he says at the end of the ad.
The TV spot, which is still running, must amuse family farmers around the state because in reality, the typical small family farmer isn't gaining a cent from Scott Walker's infamous Manufacturing and Agriculture Tax Credit, which is costing the state about $225 million in revenue, about double what Walker and his legislative lieutenants estimated when they passed it in 2011.
It was fully phased in by 2016 and as a consequence manufacturers and agricultural businesses have had their taxes reduced to practically nothing — from 7.9 percent to 0.4 percent.
All too many family farmers, though, aren't making much of a profit these days, so if you don't pay taxes, tax credits don't help anything.
What is known about Walker's tax credits is that the most profitable manufacturing firms and the wealthiest and biggest farm operations are making out quite nicely.
According to the Legislature's nonpartisan Legislative Fiscal Bureau, 75 percent of the tax credits have gone to factory owners and farm businesses that make over a million dollars annually. Rep. Gordon Hintz, an Oshkosh Democrat, looked deeper and found that 11 of them have taxable profits of more than $30 million and have received $22 million in credits.
Walker and his GOP allies contend that the credits are aimed at making the state more attractive to businesses, allowing them to create more jobs plus attract new manufacturers who will bring along even more workers. The figures, however, show that maybe they were a bit optimistic. The number of manufacturing jobs increased from 455,576 in 2013 to 468,600 jobs in 2015, a rather paltry 2.7 percent over two years.
Oh, another thing that farmer "Cal" says is troubling about Evers is that he plans to raise the gasoline tax, which will also be a slam at farmers.
Sorry, "Cal" and the Walker campaign team, but farmers don't pay gas taxes on what they use in their farming operations, something that you'd think farmer Cal would know. The gas tax is a tax on motorists who use the streets and highways, but doesn't apply to what's used in tractors and other farm equipment, just as it doesn't apply to gas used in boats and other watercraft.
It's another reason to be wary of all those political commercials bombarding you as you try to watch your favorite TV program.
They're full of lies. But then, we should have already known that.
Dave Zweifel is editor emeritus of The Capital Times. dzweifel@madison.com, 608-252-6410 and on Twitter @DaveZweifel.  
Share your opinion on this topic by sending a letter to the editor to tctvoice@madison.com. Include your full name, hometown and phone number. Your name and town will be published. The phone number is for verification purposes only. Please keep your letter to 250 words or less.