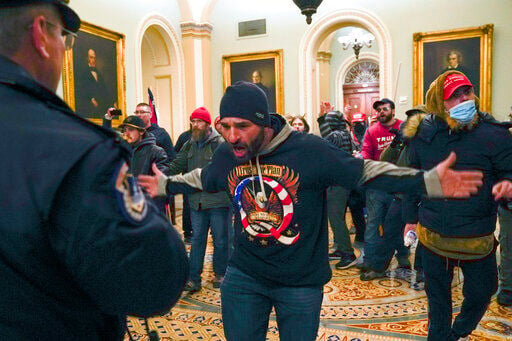 So Hillary Clinton wasn't that far off when she described half of Donald Trump's supporters as a "basket of deplorables."
Her comments sparked a huge political uproar during the 2016 presidential campaign. Many criticized her for dismissing ordinary Americans as racists, sexists and homophobes. Members of her own party fumed that her comments were self-defeating during an election campaign.
Well, we saw lots of those deplorables this week as they stormed the nation's citadel of democracy, the U.S. Capitol, in an attempt to stage a coup that would keep the most deplorable of all, Donald Trump, in office for at least four more years — perhaps for a lifetime if they had their way.
While the mob was overpowering the Capitol Police, climbing the walls of the giant building and smashing doors and windows, my friend Charlie called and proclaimed that this was actually a good thing.
Good, because it once and for all revealed to the rest of America what nonstop lies and deceit on the part of a supposed national leader can do to a country and its people. Can there still be any question how Adolf Hitler was able to convince the German people in the 1930s to accept his propaganda of hate and lies?
He didn't blame it all on Trump, but insisted it has been in the works since 1980, the year Ronald Reagan was elected in a campaign filled with dog whistles about white America being in danger. It's gained traction ever since, culminating in a society where millions of Americans feel their way of life is being threatened, convincing them to rally behind a leader they believe will save them.
For sure, it was an embarrassing day for what is supposed to be the world's strongest democracy. Leaders of other countries were dismayed. Germany's Angela Merkel said she was angry and sad at the same time.
"A basic rule of democracy is that after elections there are winners and losers," she said on Thursday. "Both have their part to play with decency and responsibility so that democracy itself remains secure. And I very much regret that President Trump has not admitted defeat since November and failed to do so again yesterday."
"Disgraceful scenes in U.S. Congress," Prime Minister Boris Johnson of Britain tweeted. "The United States stands for democracy around the world and it is now vital that there should be a peaceful and orderly transfer of power."
Italian Prime Minister Giuseppe Conte said, "Violence is incompatible with the exercise of democratic rights and freedoms."
Longtime reader Richard Russell put it into perspective when he emailed me after the Capitol was finally cleared of the mob of thugs with a question:
"What do these two dates have in common — April 12th, 1861 and Jan. 6, 2021?," he asked and then answered, "Both dates saw armed attacks on a government facility by people trying to overthrow the American government because they didn't like the man who'd just been elected president."
The first date, of course, was the attack on Ft. Sumter that began the Civil War over the election of Abraham Lincoln.
The traitors from the South were willing to destroy the American government back then, just as the traitors led by Donald Trump were willing to do last Wednesday.
Dave Zweifel is editor emeritus of The Capital Times. dzweifel@madison.com, 608-252-6410 and on Twitter @DaveZweifel.
Share your opinion on this topic by sending a letter to the editor to tctvoice@madison.com. Include your full name, hometown and phone number. Your name and town will be published. The phone number is for verification purposes only. Please keep your letter to 250 words or less.