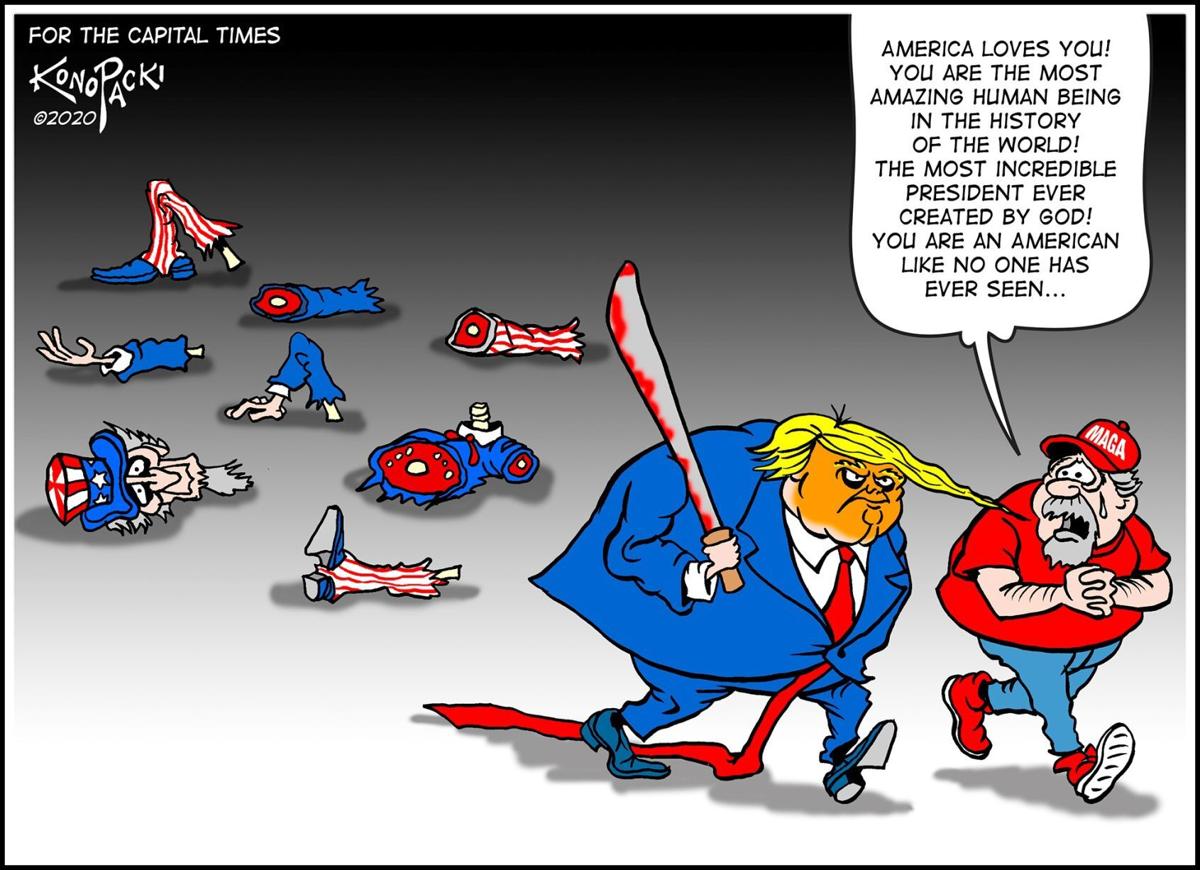 Joe Biden may have won the presidency last week, picked by 4.5 million more Americans than Donald Trump, but it nevertheless was a disappointing election.
It's hard to explain how so many Americans — more than 70 million  could have actually wanted to give a man who has done nothing but debase American democracy and its institutions another four years to continue making a mockery of the presidency.
Like many, I believed the polls that an overwhelming number of Americans had seen enough. They endured his vulgar name-calling, his incivility, his locking up children at our borders, his dismissal of our allies, his playing footsie with Vladimir Putin and other dictators, his appointments of the unqualified to high offices, and most of all, his thousands and thousands of lies.
But, a huge number of Americans actually said they wanted more. Some told exit pollsters that Donald Trump has done "great" things during the past nearly four years. A big tax cut for the rich? Anti-abortion and anti-health care justices on the Supreme Court? Repeal of anti-pollution and environmental safeguards smack in the middle of raging climate change? Refusing to allow immigrants, even legal ones, entry into a nation that has historically been built by immigrants? Separating children from their parents who were seeking asylum? A completely bungled job containing a disease that has killed 240,000 fellow Americans?
After the voting, he once again showed his true colors and lack of character by doubling down on his aberrant behavior, claiming victory before millions of votes had been counted and demanding that the counting be stopped even though millions of Americans who had voted legally would have been disenfranchised.
He was oblivious to the fact that vote counting takes more than a day in normal times, and this one was anything but normal because of the pandemic he himself had failed to contain. He claimed that strange things happen at 4 in the morning. It was yet another stunning breach of decorum and decency, something no other president in American history has done.
But, that wasn't Trump's point. Like he's done throughout his presidency, he wanted to sow seeds of doubt, to convince Americans that the vote wasn't fair, that they had been bilked by devious people. Dividing Americans has been his trademark.
That a person of his character came so close to once again reaching the magic number of 270 in the Electoral College is disheartening. It would have marked his second election victory while losing the vote of the majority of the people — and still could, should any of Trump's scattershot lawsuits actually be successful.
And here in Wisconsin, we've got one of Trump's chief apologists, Assembly Speaker Robin Vos, to throw some gas on the fire, casting doubt about Milwaukee's vote count, expressing wonderment why it took until 4 in the morning to complete.
Rather than a partisan-conducted "investigation," Vos should look no further than himself. It was he and his fellow legislative Republicans who refused to consider allowing Wisconsin election officers to count absentee ballot as they arrived, instead making them wait until 7 a.m. on Election Day to count an unprecedented number of early votes.
Perhaps this election's anomaly will convince the nation's leaders that the electoral college, which was designed in colonial times as a compromise engineered by James Madison to get the Constitution ratified, should either be abolished or changed in the way electoral votes are assigned.
A vote by the majority of the American people should decide who should be their president. As Sen. Elizabeth Warren said, "Call me old-fashioned, but I think the person who gets the most votes should win."
Precisely, and we should start taking the steps to amend the Constitution to rid ourselves of this relic of times gone by that effectively says that some votes matter far more than others.
While the huge vote for the narcissistic Trump was disappointing, the 4 million-plus million more Americans — more than 75 million in total -- who voted for a decent, if not inspiring, Joe Biden was nothing short of astounding. They voted for a better and more inclusive America. In the end, Biden's win last week was bigger than Trump's win in 2016, a fact that he and his supporters won't admit. That the remnants of Trumpism will continue to fan the flames of hate and discord in the years ahead is, unfortunately, a likelihood.
Nevertheless, it was heartwarming to see Wisconsin reject Donald Trump.
And what can you say about Dane County? The people here awarded Biden 75.5% of their vote — 260,157 to 78,789. That helped immensely to get Biden Wisconsin's 20,000 margin.
Let's hope we've seen the end of Donald Trump's political career. In another 10 weeks our national nightmare will have ended. And, hopefully, the country will come to its senses once again.
Dave Zweifel is editor emeritus of The Capital Times. dzweifel@madison.com, 608-252-6410 and on Twitter @DaveZweifel.  
Share your opinion on this topic by sending a letter to the editor to tctvoice@madison.com. Include your full name, hometown and phone number. Your name and town will be published. The phone number is for verification purposes only. Please keep your letter to 250 words or less.
Catch the latest in Opinion
Get opinion pieces, letters and editorials sent directly to your inbox weekly!