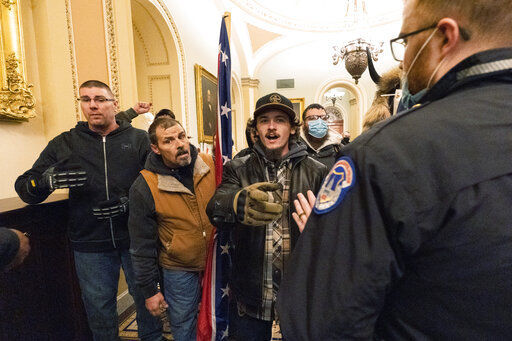 You might call it the mother of all false equivalencies.
That describes the Republican-inspired contention that the insurrection at the U.S. Capitol on Jan. 6 was essentially the same as the protests at Wisconsin's state Capitol over the union-destroying Act 10 back in 2011.
For starters, the tens of thousands who gathered at the Wisconsin Capitol weren't there to destroy democracy and maybe kill or kidnap a few people in the process. They were demonstrating to get the governor and the Legislature to kill a piece of legislation aimed at their very livelihoods. As a letter to the editor writer noted recently, those Wisconsin demonstrators consisted mostly of teachers, nurses and public employees carrying handmade signs — not right-wing militia armed with Molotov cocktails, pipe bombs and zip ties.
Wisconsin's public workers and other unions had been blindsided by Gov. Scott Walker, who had just run an election campaign that never even hinted he intended to kneecap their ability to bargain and make significant cuts in their benefits. In fact, Walker's pre-election statements implied the opposite, convincing some unions to endorse him.
And even after the public worker and teachers' unions agreed to pay more for health insurance and their pension plans to help balance the budget, Walker and his solid majority in the Legislature wouldn't back off their plan to destroy them.
Those protests weren't aimed at overturning the results of an election, but were citizens exercising their constitutional right to influence the enactment of laws. Yes, they occupied the public spaces in the normally open Wisconsin state Capitol, but they didn't destroy public property or ransack the Senate and Assembly chambers, nor did they attack Capitol police with steel pipes and flag poles, or kill a police officer by hitting him with a fire extinguisher.
Indeed, Charles Tubbs, now Dane County's director of emergency management who was the State Capitol Police Chief in 2011, said on WKOW-TV's "Capital City Sunday" last week that there was "absolutely no similarity" between the two events.
"We had a total of 16 arrests, nine of those were people who wanted to make the record books," he told the TV audience. "And we had minimal damage to the Capitol grounds. That was due to the fact of the immediate cooperation and reaching out to all citizens, all stakeholders involved in coming to the Capitol to exercise their constitutional rights."
That didn't stop the Washington Post's right-wing columnist Marc Thiessen from claiming in last Sunday's column carried by the State Journal that "Democrats were for occupying capitols before they were against it," implying a similarity between the peaceful protests in Madison to the insurrectionists who stormed the U.S. Capitol to overturn the results of an American presidential election.
Thiessen is the guy who co-wrote Scott Walker's self-aggrandizing book "Unintimated," touting how Walker bravely held off the Madison mob to achieve his goals. Walker and Thiessen, who cut his teeth in a lobbying firm with the likes of Roger Stone and Paul Manafort, deserve each other. They both have been longtime Donald Trump toadies with little respect for truth telling.
Among Thiessen's earlier masterpieces was a book that defended the use of CIA torture during the Iraq War and contended that Barack Obama was endangering America by putting an end to it.
Thiessen's column quoted Walker on watching the U.S. Capitol protests: "It's like I'm having PTSD from a decade ago."
For a guy who never served a day in the military and was never in danger during the Wisconsin insurgence, it was yet another false equivalency.
Dave Zweifel is editor emeritus of The Capital Times. dzweifel@madison.com, 608-252-6410 and on Twitter @DaveZweifel.
Share your opinion on this topic by sending a letter to the editor to tctvoice@madison.com. Include your full name, hometown and phone number. Your name and town will be published. The phone number is for verification purposes only. Please keep your letter to 250 words or less.