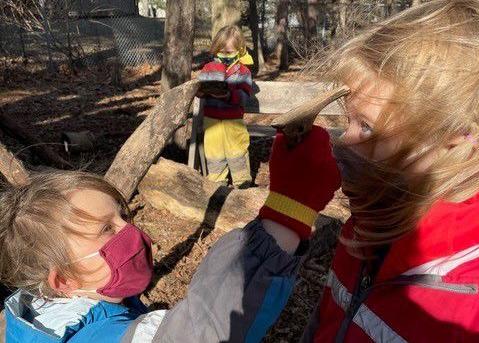 Readers of this column have a way of making my day.
Jon Traver, former Monona alderman and one of the leading lights in getting the Aldo Leopold Nature Center off Femrite Drive established years ago, sent a note the other day with an update on the center's goings on.
"Thought you'd be interested about what's happening at the nature center.
There's a principle in nature — adapt or die. Well, I'm pleased to report that the Aldo Leopold Nature Center has adapted and is alive and well! And, nobody has been more adaptive than the kids at the nature center," he wrote, including a picture of the children on the playground.
"There's a rule at the center that you don't point a stick at anybody. Our class educator was about to reprimand the kid in blue for doing that when she heard 'Beep, beep, your temperature is good, you don't have COVID!' That stick looks just like one of our thermometers that are used to check the kids' temperatures every morning, and the kids have made a game out of it! And masks are no problem. They just do it!"
It would be nice if more adults would do the same.
Then there's the note from my neighbor Lee Nelson with a link to a Salon piece with the headline "Republicans have perfected the troll two-step: The art of being a jerk and then playing the victim."
The piece by Amanda Marcotte goes on explain, "Step one: Say or do something wildly offensive. Step two: Whine that you're being 'canceled.' Bingo, it's payday."
She uses as one of her examples our own senator, Ron Johnson, of course.
"Republican Sen. Ron Johnson of Wisconsin, who is up for re-election in the 2022 midterms, has been performing the troll two-step in recent days with ugly comments that are both racist and making excuses for the insurrectionists Trump sent to overrun the Capitol.
"Luckily for Johnson, he is spared from having to actually defend his own racist comments because the 'cancel culture' nonsense means he can instead talk about his alleged victimization at the hands of imaginary leftist censors," she writes. "After Johnson was predictably called out by progressives, including his Senate colleague Sen. Bob Menendez, D-N.J., Johnson joyfully embraced his victimization narrative. 'I Won't Be Silenced by the Left,' blared the headline at the Wall Street Journal over an op-ed written by Johnson, in which he whines about progressives using 'the worst possible accusations to silence anyone who challenges their left-wing agenda.'
Note, of course, that this alleged champion of free speech is complaining not about being imprisoned or censored in any way, which has not happened, but that other people are using their own free speech to criticize him. As usual, "cancel culture" complaints are not defenses of "free speech," so much as they are conservatives asserting a unilateral right to say whatever they wish without criticism," she adds.
Yup, the Ron Johnsons of the world have perfected this two-step.
Dave Zweifel is editor emeritus of The Capital Times. dzweifel@madison.com, 608-252-6410 and on Twitter @DaveZweifel.
Share your opinion on this topic by sending a letter to the editor to tctvoice@madison.com. Include your full name, hometown and phone number. Your name and town will be published. The phone number is for verification purposes only. Please keep your letter to 250 words or less.