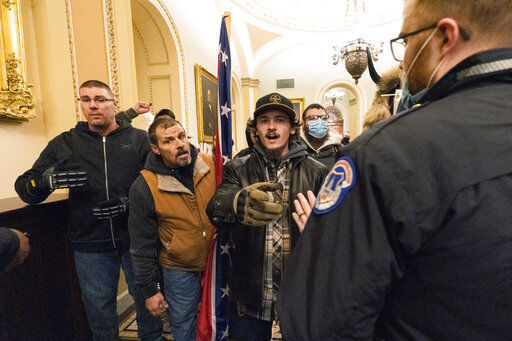 Corporate America is stumbling over itself to "reassess" its political contributions, especially contributions to the Republicans who have spent the past several weeks trying to overturn a U.S. presidential election.
According to the New York Times' Andrew Ross Sorkin, companies from Coca-Cola to Amazon to Citigroup are rethinking their funding of politicians who are willing to lie to the people about vote fraud that has been proven doesn't exist.
Sorkin suggested these corporate bigwigs trying to buy influence among members of Congress ought to follow the example of IBM, the iconic American corporation that has never contributed to a political candidate in its long history. It has no political action committee and even when it gives money to trade groups, it restricts its money from being funneled to candidates.
Even Major League Baseball suspended its political contributions, something I was surprised to learn it routinely has done. But, since 2016, the commissioner's office has funneled nearly $670,000 to Washington politicians it hopes will vote in baseball's interests, like a bill that passed in 2018 exempting minor league players making as little as $5,500 a year from minimum wage laws.
Many of those contributions went to Republicans who voted to overturn the election, including Sens. Ted Cruz of Texas and Cindy Hyde-Smith of Mississippi, and Rep. Kevin McCarthy of California.
Perhaps some Wisconsin corporations and their free-spending lobby juggernaut, Wisconsin Manufacturers and Commerce, ought to reexamine who they're supporting — Sen. Ron Johnson and Reps. Tom Tiffany and Scott Fitzgerald, for instance.
And now we learn there's a list of 15 Wisconsin state legislators who joined in the seditious attempt to overturn the election, signing a letter urging Vice President Mike Pence not to accept the Electoral College vote from the 50 states, including Wisconsin's. They sent the letter to Pence the day before the insurrection at the U.S. Capitol. Fine bunch of patriots these people are:
· Rep. Janel Brandtjen, R-Menomonee Falls
· Rep. Rob Brooks, R-Saukville
· Rep. Rick Gundrum, R-Slinger
· Rep. Cody Horlacher, R-Mukwonago
· Rep. Dan Knodl, R-Germantown
· Rep. Gae Magnafici, R-Dresser
· Rep. Dave Murphy, R-Greenville
· Rep. Jeff Mursau, R-Crivitz
· Rep. Timothy Ramthun, R-Campbellsport
· Rep. Joe Sanfelippo, R-New Berlin
· Rep. Michael Schraa, R-Oshkosh
· Rep. Shae Sortwell, R-Two Rivers
· Rep. Jeremy Thiesfeldt, R-Fond du Lac
· Rep. Chuck Wichgers, R-Muskego
· Sen. André Jacque, R-De Pere
If any of these so-called leaders had any principles at all, they'd resign and go home in shame.
Dave Zweifel is editor emeritus of The Capital Times. dzweifel@madison.com, 608-252-6410 and on Twitter @DaveZweifel.
Share your opinion on this topic by sending a letter to the editor to tctvoice@madison.com. Include your full name, hometown and phone number. Your name and town will be published. The phone number is for verification purposes only. Please keep your letter to 250 words or less.