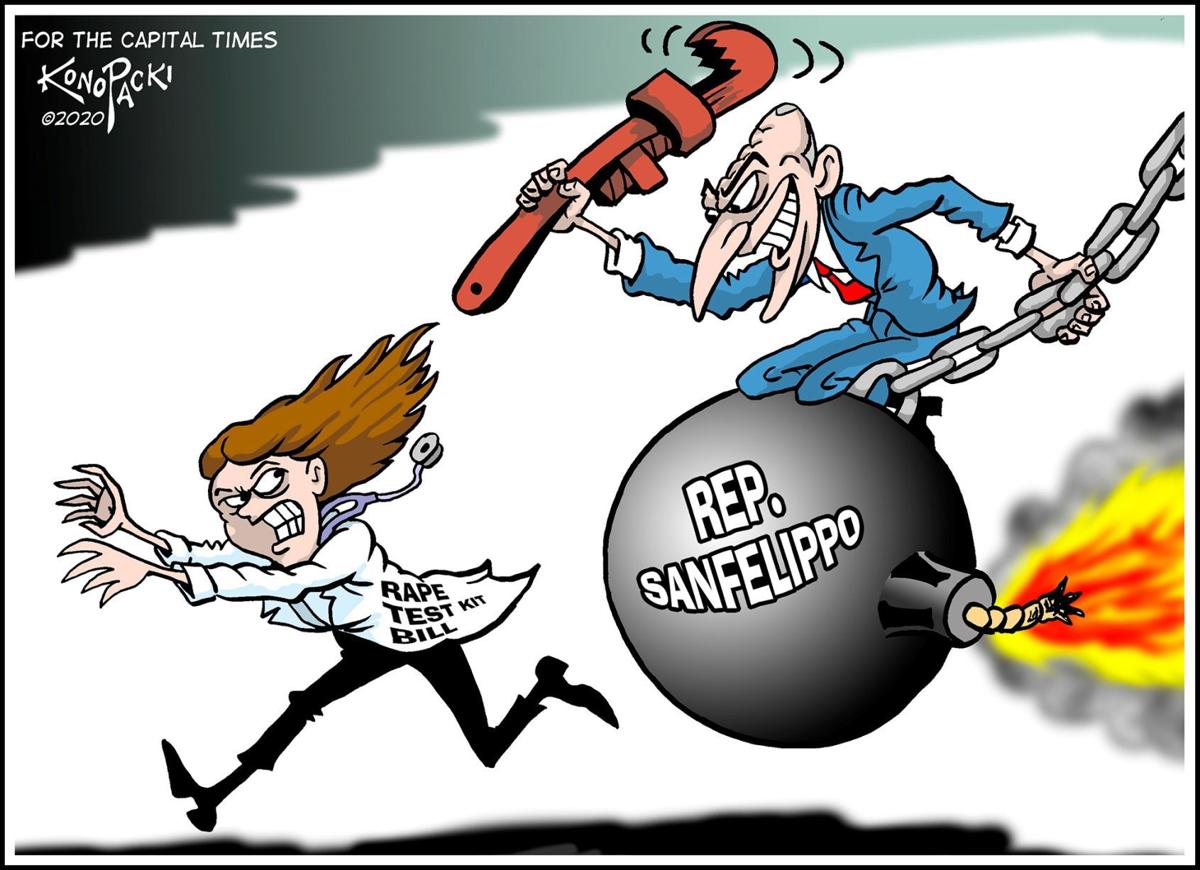 Now that the Wisconsin Legislature appears to have gone home for the year, I want to bestow an award to the legislator who went beyond the call of duty this past session to gum up the works — state Rep. Joe Sanfelippo, the Republican from West Allis.
It wouldn't surprise any observer of state politics if Sanfelippo set some modern-day record for being a human wrecking ball, sabotaging public interest legislation by inserting his own biases and skewed political agenda at just the right moment.
A skilled bomb thrower is he.
The prime example is what he did to the bipartisan bill aimed at preventing future backlogs of sexual assault kit testing. The measure had been authored by a bipartisan health care coalition to create the first statutory guidelines on how to process sexual assault kits, which can contain evidence that is crucial to finding sexual predators or freeing the wrongly convicted.
It was aimed a preventing another backlog like the one just a few years ago that saw the kits go untested for months and even years, a situation that denied justice for survivors of sexual assault by letting the attackers go free. Under the bill, hospitals and others collecting evidence for the kits would be required to immediately send them to the State Crime Lab for testing.
It was passed by the state Senate with ease, but when it came over to the Assembly, Sanfelippo didn't care about justice delayed or even denied. As chair of the Assembly's Committee on Health, he refused to call a public hearing on a bill that most regarded as good legislation. And then as the session neared its end, he found all sorts of problems with the bill and decided to insert an amendment to pander to his conservative constituency.
He decided that the bill should include a requirement that student rape victims be immediately eligible to attend a voucher school and one to require law enforcement to notify ICE if the test results point to an illegal immigrant. When Assembly Speaker Robin Vos decided to go along with Sanfelippo, which he regularly does, it effectively killed the bill for this session.
Not only did it now contain provisions that many Democrats didn't like, it would have to be sent back to the Senate for another vote. The result in the end was nothing passed. Rape kit procedures will have to wait another year. Thanks a lot, Joe.
But, this is modus operandi for Sanfelippo.
Last month, the West Allis Republican succeeded in scuttling a common-sense bill that he had, in fact, originally backed, to allow direct primary care clinics to operate more freely in Wisconsin. The bill included a strict anti-discrimination clause. But, at the last minute, Sanfelippo introduced an amendment that removed sexual orientation, national origin and ancestry from the language, once again thwarting any bipartisan agreement.
Sanfelippo's action sparked charges by state Sen. Tim Carpenter, an openly gay legislator from Milwaukee, that the new language amounted to bigotry. It passed the GOP-controlled Assembly and Senate anyhow, but not without rancor sparked by our favorite guy from West Allis.
But Joe's handiwork pops up all over the place, whether it's to ridicule gun safety efforts, fight criminal reform legislation to help reduce the prison population and, hence, taxpayers' costs, or push efforts to take local control away from Milwaukee, his favorite punching bag.
And to show you how much of a nice guy and team player he is, Sanfelippo didn't have a nice thing to say about fellow Republican, state Sen. Luther Olsen, who announced he's retiring after 25 years in the Legislature.
He was "one of the biggest roadblocks to school reform and accountability in the Legislature," snarled Joe. Apparently, Olsen didn't believe in throwing bombs.
Dave Zweifel is editor emeritus of The Capital Times. dzweifel@madison.com, 608-252-6410 and on Twitter @DaveZweifel.  
Share your opinion on this topic by sending a letter to the editor to tctvoice@madison.com. Include your full name, hometown and phone number. Your name and town will be published. The phone number is for verification purposes only. Please keep your letter to 250 words or less.
Catch the latest in Opinion
Get opinion pieces, letters and editorials sent directly to your inbox weekly!