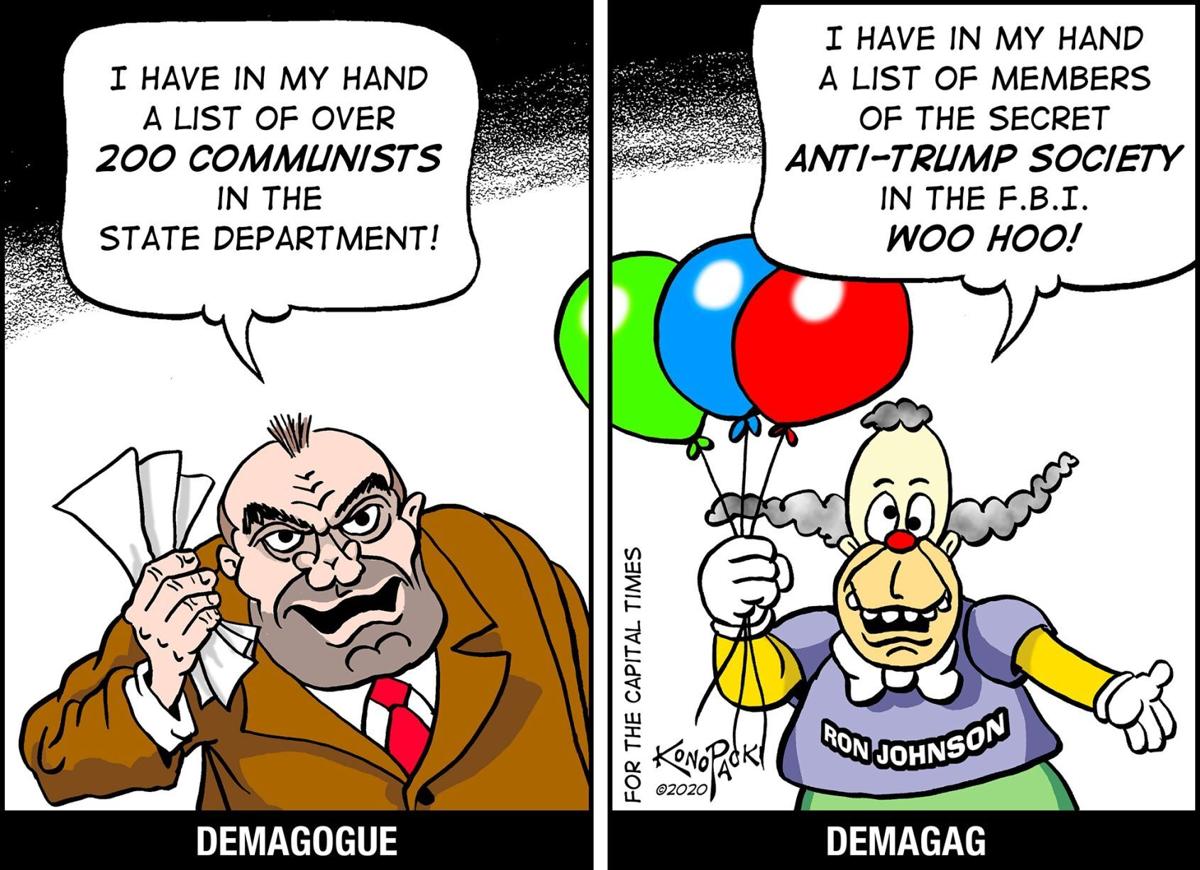 In an illuminating Wisconsin Book Festival virtual conversation last week, author Larry Tye teamed up with our own John Nichols to discuss Tye's just published and already critically acclaimed book, "Demagogue, the Life and Long Shadow of Senator Joseph McCarthy."
Tye, who has previously written two of my favorite biographies — "Satchel," the story of the legendary Negro League baseball pitcher Satchel Paige, and an unparalleled bio simply titled "Bobby Kennedy" — gained access to McCarthy's personal papers some 50 years after his death to craft this deep examination of the red-baiting senator who became a national embarrassment to Wisconsin.
Nichols and I met with Tye when he was in Madison doing research on the new McCarthy biography, picking our brains on William T. Evjue's and The Capital Times' legendary feud with the senator. The new book contains several references to those battles when McCarthy accused Evjue of employing communists and Soviet sympathizers and calling his newspaper the "Prairie Pravda."
It occurred to me while reading Tye's book that Joe McCarthy may not be our only national embarrassment. From the commentary I've been reading and hearing during the past several months, U.S. Sen. Ron Johnson is closing in on claiming that distinction.
Former New Yorker Washington correspondent Sidney Blumenthal only a few weeks ago produced a nearly book-length piece for the New York University School of Law's "Just Security" website detailing the machinations behind Johnson's relentless attempts to back Donald Trump's claim that the FBI conspired against him during the 2016 election.
Johnson, chair of the Senate's Homeland Security Committee, has morphed into one of the most vocal Trump defenders at a time when many GOP senators are lying low. But, what's been disturbing is that he appears to be using his committee to concoct a false narrative of what was behind Trump's Russia-Ukraine involvements that can be used in the upcoming presidential election.
Even Charlie Sykes, the former conservative Milwaukee radio talk show host who many credit for turning the Oshkosh plastics manufacturer into a viable Republican candidate back in 2010, now isn't so sure.
Now the editor of an anti-Trump website in Washington called The Bulwark, Sykes openly asks what has happened to Ron Johnson.
"What I liked about Johnson was his crusty, no-BS independence; and I imagined that he could be a senator in the mold of Wisconsin's legendary Bill Proxmire," Sykes wrote in a recent post. "Over the last three years, Johnson has emerged as one of the president's most ardent supporters, not just on policy grounds but in his zeal to push many of Trump's pet obsessions and conspiracy theories."
He went on to list a number of questionable actions Johnson has undertaken as the Homeland Security chair, including demanding the declassification of a memo from former national security advisor Susan Rice that Trump World imagined was the center of "Obamagate." It turned out to be a dud, Sykes noted.
And then Johnson went completely off the rails during an interview with Chuck Todd on Meet the Press a few weeks ago, and practically fell over himself so as not to embarrass Donald Trump when Todd questioned him about Ukraine.
Now in the middle of a pandemic, Sykes added, he wants to issue subpoenas so he can reopen the supposed scandal involving Ukraine's natural gas company, Burisma, and Joe Biden's son, Hunter.
Meanwhile, Politico reported that congressional Democrats are concerned that Johnson is a key behind an attempt to "launder" a foreign influence campaign to amplify disinformation to damage the Biden campaign.
What's historically interesting is that Joe McCarthy in the 1950s claimed that communists were rampant in the State Department. Ron Johnson claims that the FBI is infiltrated by a "secret society" out to get Trump.
"But the weaponization of Congress' power to investigate as a political tool reminds me most of another senator from Wisconsin who had a nice run in the 1950s.
"This time, the senator from Wisconsin seems to be relying on Russians to help him confuse the public mind. Even McCarthy would have bridled at that."
Dave Zweifel is editor emeritus of The Capital Times. dzweifel@madison.com, 608-252-6410 and on Twitter @DaveZweifel.  
Share your opinion on this topic by sending a letter to the editor to tctvoice@madison.com. Include your full name, hometown and phone number. Your name and town will be published. The phone number is for verification purposes only. Please keep your letter to 250 words or less.
Catch the latest in Opinion
Get opinion pieces, letters and editorials sent directly to your inbox weekly!