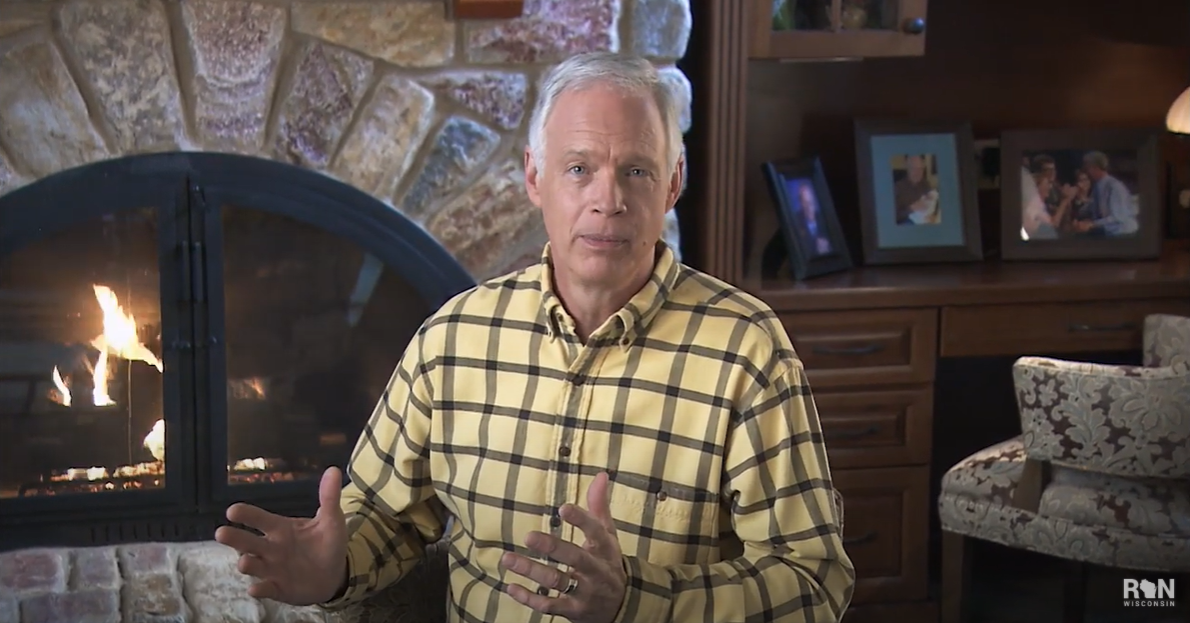 Remember that soft-spoken guy, wearing a plaid shirt while sitting serenely in front of the fireplace, telling you how much we in Wisconsin all care for each other and how you all give him hope for the future?
Your kindly old uncle? Nope, that was Sen. Ron Johnson. Who would have known from that reassuring campaign ad that he would turn into a snarling political hatchet man and a lackey for an unhinged and unprincipled buffoon who claims to be a president?
I don't know what it is about us Wisconsinites. We have this history of electing people to high public office who become examples for the nation. One of our senators spawned the environmental movement and put conservation at the top of the nation's priorities. Another reformed the out-of-control banking system and created the nation's first consumer protection laws.
Still another not only distinguished himself on national security issues, but co-wrote a new campaign finance law aimed at divorcing money from the nation's politics. It is still one of the U.S. Supreme Court's worst decisions when it stepped in, killed McCain-Feingold and opened the floodgates to even more corruption.
Then, every so often we decide to embarrass ourselves with a Joe McCarthy, who used his office for political gain by telling lies and destroying careers and even lives, and by the time he was exposed was rewarded with an "ism" in his "honor."
And now we have Ron Johnson, who spent the six years of his first term in relative obscurity, shilling for Mitch McConnell. Returned for a second term by the state's voters, he now has evolved into the Senate's biggest apologizer and errand boy for Donald Trump.
Along with nearly every other Republican in the Senate, he showed us just how much we can count on his honor.
"Let's let the voters have a choice in this through their vote for president," he declared when alibiing why it was good policy not to consider Barack Obama's nomination of Merrick Garland to replace Antonin Scalia nearly 10 months before the 2016 election. "In the politicized atmosphere of an election year, you probably shouldn't even nominate someone. It's not fair to the nominee, it's not fair to the court."
What a difference four years make — less than six weeks before another presidential election. His concern for the voters to have a choice has suddenly disappeared. Of course, he's got lots of company, explaining why so many Americans don't believe a thing politicians say.
But, more despicable was his naked partisan attempt to use the Senate's Homeland Security committee he chairs to smear Democrat Joe Biden over his son Hunter's role with a Ukrainian oil giant while Biden was vice president.
Although Johnson appeared constantly on Fox News and other venues to declare that his committee's report would demonstrate Biden's "unfitness for office," it landed with a thud this week. In 87 pages, Johnson's bombshell turned into a laughable report that found no evidence that young Biden's Ukrainian job had any influence on either the vice president or U.S. policy.
Like Joe McCarthy, Johnson used his Senate position and taxpayers' money to create a false scenario in an attempt to smear political adversaries. Worse, he violated Congress' tradition of not involving standing committees for partisan purposes on the eve of elections.
The Daily Beast called it a "hatchet job."
But, that's our Sen. Johnson.
Dave Zweifel is editor emeritus of The Capital Times. dzweifel@madison.com, 608-252-6410 and on Twitter @DaveZweifel.  
Share your opinion on this topic by sending a letter to the editor to tctvoice@madison.com. Include your full name, hometown and phone number. Your name and town will be published. The phone number is for verification purposes only. Please keep your letter to 250 words or less.
Catch the latest in Opinion
Get opinion pieces, letters and editorials sent directly to your inbox weekly!