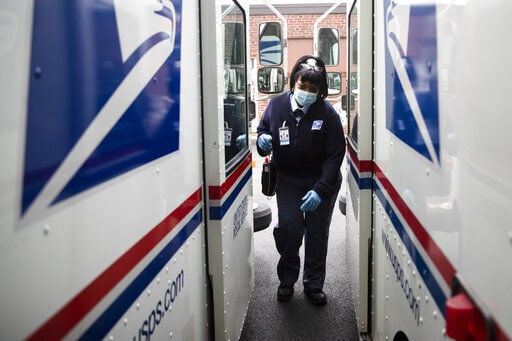 A recent column urging the federal government to come to the aid of the U.S. Postal Service during these unprecedented times generated a host of emails — some heartwarming, some upset with Donald Trump and Mitch McConnell.
And, oh yes, because I insisted that Trump is the joke, not the post office as he keeps claiming, there were a few who were delighted to call me names and tell me where to go.
I particularly liked the one from the woman who called me a low-life and labeled me with names I can't print and, when I replied thanking her for her "well thought out" argument, she promptly blocked me. Oh, yes, civil discourse.
But, here's a sampling of others:
From Gene Wood, Baraboo: "Dave, I was a postal worker for 32-plus years and proud of it. I strived my best to deliver the mails to my customers, be it letters or packages. I remember delivering letters to a young lady whose boyfriend was in the service overseas, and she was happy to get them. Although she lived a number of houses away from where I was at the time, I would page down through my pile of letters just to find her letter.
"I remember delivering packages to people at Christmas time from their loved ones. I delivered their welfare checks, tax returns, and love letters from family members, and they got to know me as well as I knew them. I knew their anniversary dates, birthdays of the children, and all their names, as well as mom and dad.
"I even rescued a toddler from nearing a very very busy thoroughfare in the city where I worked and taking her back to her mother, who didn't even know that the child had gotten out of the house. I found the babe about 2 or 3 blocks away from where she lived, so I knew exactly where she was to be. I put her on my lap, in my truck, and delivered a very special package back home. I was darn proud of the many miles I put on to bring joy to people."
From Vickie Richeson: "Thank you for your article supporting the USPS. They have been criticized for years — decades -— for not operating like a business. All the while, the board of governors and Congress have tied the hands of the service, not allowing them to compete with private businesses as UPS and FedEx are. That list goes on.
"So many people don't know or care that the USPS was set up to be, indeed, a service, not a business, serving the less profitable areas, such as inner city and rural areas equally with the profitable regions. Now, as I'm sure you are aware, I understand that Trump has appointed one of his cronies to be the new postmaster general. The Service, I fear, is doomed. I pray I am wrong. Thank you again."
From Scott Dudek: "My dad recently passed away at 90 years old. He was a very proud member of the postal service until he retired many years ago. With his postal pension and medical benefits after retirement, he was able to live a comfortable life. Your article about the postal service was so correct."
From Tom Brayton: "Republicans get campaign contributions from UPS. They probably own UPS stock, a consistently good stock to own if they can close down the post office. And it leaves the post office's budget to be siphoned off to other special interests. The government has hired UPS to move PPE around the country instead of using the post office, proving that they are hardly at all fiscally conservative."
And, finally, one from someone who identifies him or herself as "Just Me.": "I don't know if you are aware of this but I just read that FedEx and UPS are funding Mitch McConnell ... they want the postal service to end ...they should be glad they're not bankers on the Titanic."
Dave Zweifel is editor emeritus of The Capital Times. dzweifel@madison.com, 608-252-6410 and on Twitter @DaveZweifel.  
Share your opinion on this topic by sending a letter to the editor to tctvoice@madison.com. Include your full name, hometown and phone number. Your name and town will be published. The phone number is for verification purposes only. Please keep your letter to 250 words or less.