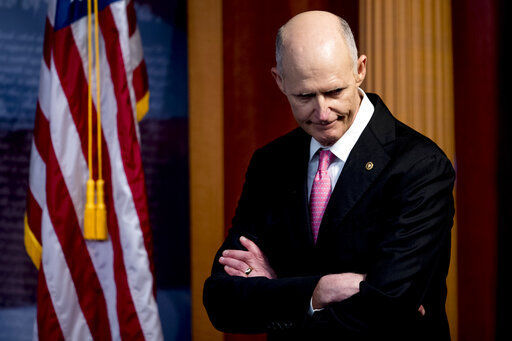 U.S. Sen. Rick Scott, of Florida — the guy who was elected governor and then senator even after the health care company he oversaw in the 1990s committed the largest Medicare fraud in U.S. history (those retired Republicans in Florida are such forgiving people) — was in the news earlier in the month taking President Donald Trump's side that states run by Democrats shouldn't get federal help for their coronavirus-ravaged budgets.
"It's not fair to the taxpayers of Florida," Scott said. "We sit here, we live within our means, and then New York, Illinois, California and other states don't. And we're supposed to go bail them out? That's not right."
In his view, only states run by GOP governors are responsible with their finances while those liberal Democrats spend foolishly, the not-the-brightest-bulb on the Senate floor proclaimed. So why bail them out in a pandemic?
That, of course, is Trump's view.
"Republican states are in strong shape," Trump declared. "There just seems to be no effort on certain blue states to get back into gear."
Once again, it's a myth perpetrated by disingenuous politicians of which Trump and Scott are prime examples.
Florida, Texas and a host of other states run by politicians who proclaim their opposition to big government have been milking the feds for decades. It is estimated that Florida nets $1,169 more per capita than its taxpayers send to Washington. The Kentucky constituents of Senate Majority Leader Mitch McConnell, another of those 'big government is bad' bloviators, enjoy a whopping $10,000 more in federal money than they pay in U.S. taxes.
Many of those blue states don't fare so well. New York sends $1,125 more per capita to finance the federal government than it gets in return. Same is true in states like New Jersey, Connecticut and California.
Our own politically divided state is an anomaly. We break about even in what we pay in and get back, but compared to other states, federal funds to Wisconsin represent just 23.2% of our total state budget revenue, putting us 45th in the nation.
Interestingly, federal funds back in 2010 accounted for 33% of the state budget, but then Republican Gov. Scott Walker came along. He refused federal grants for passenger rail infrastructure and famously refused to accept more than a billion dollars in federal money to expand Medicaid. Walker's compatriots in the Legislature still refuse that money, so Wisconsin taxpayers don't get federal help like other states.
The American Prospect's Harold Meyerson noted that Scott shouldn't be bragging about his and current Gov. Ron DeSantis' "responsible" governing.
"Allegedly well-managed Florida has had perhaps the most inefficient unemployment insurance system in the country," he commented. "As of mid-April, 850,000 Floridians had filed for unemployment while a bare 34,000 had actually received checks. The number of applicants has now grown to 1.9 million of whom just 28 percent have received their UI from the state.
"Had Scott and his Republican successor invested a sufficient level of public funds to create a more well-run system, Floridians wouldn't now be subjected to this breakdown in necessary state services," he said, adding that "perhaps it's the blue states that are truly pro-life."
Dave Zweifel is editor emeritus of The Capital Times. dzweifel@madison.com, 608-252-6410 and on Twitter @DaveZweifel.  
Share your opinion on this topic by sending a letter to the editor to tctvoice@madison.com. Include your full name, hometown and phone number. Your name and town will be published. The phone number is for verification purposes only. Please keep your letter to 250 words or less.
Catch the latest in Opinion
Get opinion pieces, letters and editorials sent directly to your inbox weekly!