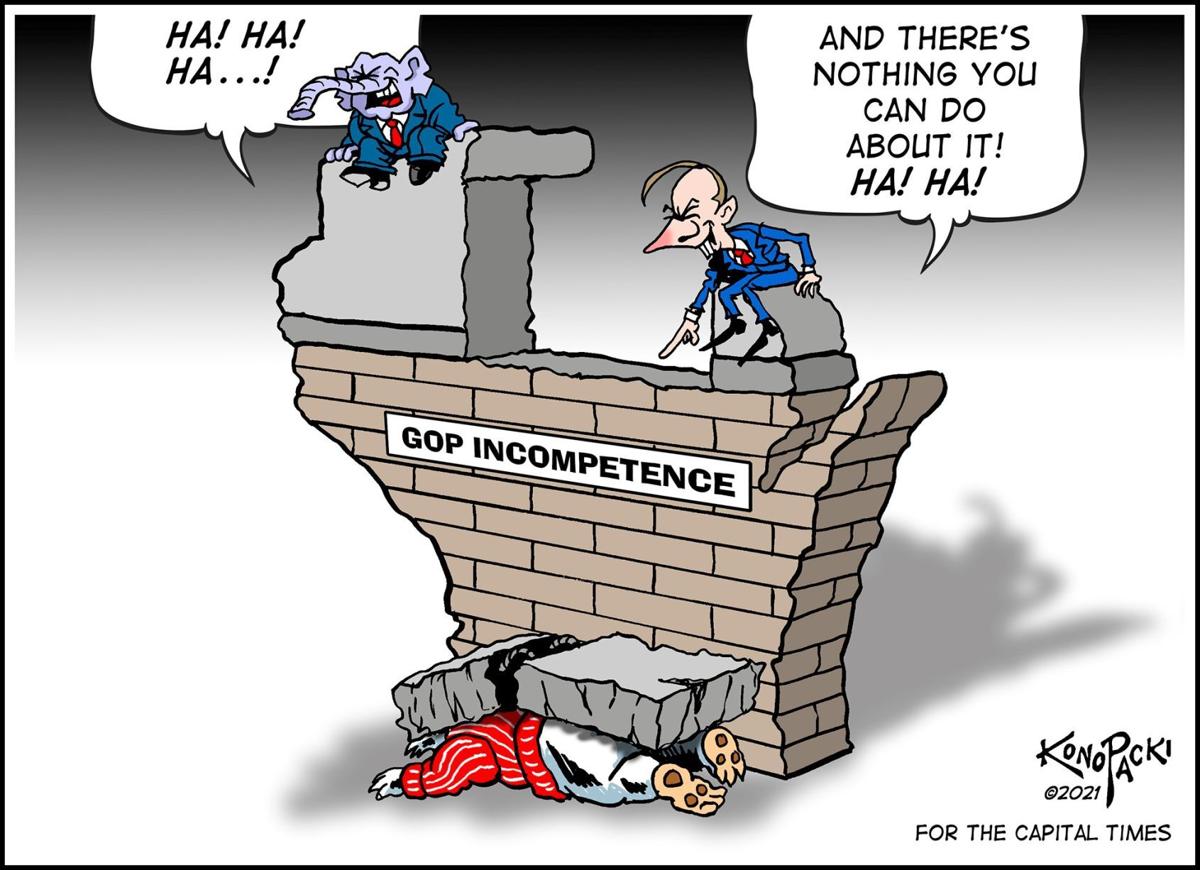 You'd be wrong to think that the batch of Republicans who control the state Legislature would ever show remorse for the blunders they routinely commit under the guise of governing Wisconsin.
They always like to claim that government should be run like a business, but if a business were run the way they continue to operate, they'd have been out of jobs long ago. Unfortunately, they've been so adept at rigging voting boundaries — one of the few things at which they demonstrate any real talent — that getting rid of them is a long shot at best. And they have the audacity to complain about union rules making it difficult to fire people who don't perform up to par.
The sad truth is that many of these pious legislators didn't run for office to make government work for the state's citizenry. All too many of them aspired for office so they could impose their ideological grievances on the people instead.
They don't want to help people get health care, but work to make sure many people don't. They don't want to help low-income Wisconsin citizens achieve family-supporting wages, but do everything in their power to make sure they don't. They don't want to help make it easy for the citizenry to vote, but spend their time figuring out how to make it tougher. All that's just for starters.
Let's take a look at what these legislators have cost the state in recent years.
True, they didn't file the challenge to Gov. Tony Evers' latest mask mandate, but they cheered on one of their biggest campaign donors to carry the ball for them. When the state Supreme Court by a 4-3 vote struck it down at the end of March, they uncorked the figurative champagne bottle. Senate Majority Leader Devin LeMahieu and Assembly Speaker Robin Vos praised Jere Fabick, a Caterpillar equipment and engine dealer and board member of the right-wing Heartland Institute, for putting the governor in his place.
Trouble is, since Wisconsin, as a result, didn't have a COVID-19 emergency plan, the state stood to lose a cool $50 million per month in federal food aid for the pandemic's victims.
Thankfully, Evers was able to negotiate with the federal government to keep the funds coming for now.
All of that would have been unnecessary had these same legislators not sat on their hands for a year and, instead of fighting the governor's every attempt to deal with the virus, had met to cooperate on a safety plan.
Throwing away federal money that could help address the state's needs has become standard operating procedure for these full-time politicians. When their recklessness costs the state, there never are any apologies, just "ho-hums" from the GOP caucus.
Remember early on in the pandemic when inaction by Vos and then-Senate Majority Leader Scott Fitzgerald cost the state $25 million in federal CARES Act funds to help the unemployed?
Or the millions of taxpayer dollars they spent on defending their own gerrymandered redistricting of 2011? Or the several million dollars of taxpayer money they have already decided to set aside so they can defend another gerrymandered redistricting at the end of this year? Or the more than $2 million they spent fighting Evers' attempts to delay last year's April primary at the height of the COVID-19 outbreak?
But, all of that pales to the billions of dollars of federal money they have squandered because of their ideological opposition to the decade-old Affordable Care Act that all but 12 states have now accepted by expanding their Medicaid coverage.
Since Obamacare was enacted in 2010, by refusing Medicaid expansion, the state has lost out on $1.6 billion ($330 million per biennium) of federal money that would cover an additional 80,000 low-income folks.
Worse, even now under Joe Biden's American Rescue Plan, Wisconsin could immediately claim more than a billion dollars if it expanded Medicaid, but these politicians, led by Vos, of course, say they still won't accept it. It's more important to impose their ideology than actually make life a bit better for the state's citizens.
While buildings on UW campuses around the state are deteriorating — a facade on one of them on the Madison campus came crashing down the other day, luckily when no one was around — they use their votes on the State Building Commission to pull political stunts like refuse to consider even one penny of the governor's capital budget proposal aimed at updating and improving infrastructure at the universities and elsewhere.
And we haven't heard one word of remorse out of this gang that pushed hundreds of millions of dollars for a foreign conglomerate to build a 10,000-worker plant in southeast Wisconsin, a plant that is still not operating with no signs that it ever will.
Now they want to have the say-so over how Wisconsin uses the federal funds from the American Rescue Plan that they publicly opposed along with their congressional counterparts.
Until they show some responsibility in helping govern the state, that gambit should never fly.
Dave Zweifel is editor emeritus of The Capital Times. dzweifel@madison.com, 608-252-6410 and on Twitter @DaveZweifel.
Share your opinion on this topic by sending a letter to the editor to tctvoice@madison.com. Include your full name, hometown and phone number. Your name and town will be published. The phone number is for verification purposes only. Please keep your letter to 250 words or less.