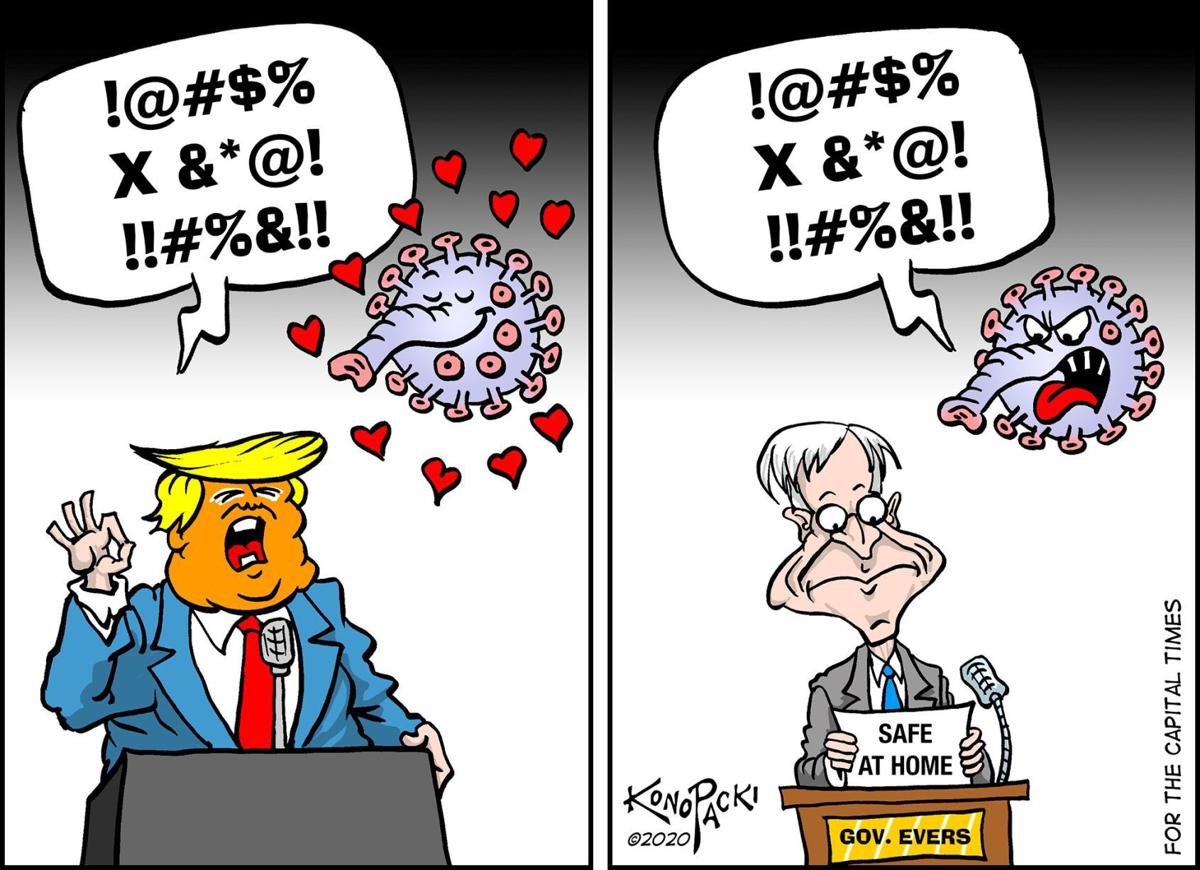 Not long after it became painfully apparent that this coronavirus thing wasn't going to be your average crisis, I got an email from an anonymous supporter of Donald Trump.
He asked me to put aside my differences with him, quit criticizing Trump in my columns and come together with other Americans to back his efforts to beat this thing. The plea was no doubt sincere, if terribly misguided.
Absolutely, we all need to be cheering for the Trump administration to get ahead of this scourge and bring us and the rest of the world back to normalcy. He is, after all, the only president we have — like it or not. But, we'd all be doing the country a disservice if we simply looked the other way when we believe and all too often know that what he's doing is wrong and making the crisis worse, not better.
It's well documented now that the president's early insistence that the virus wasn't a threat to America — he had early on, he constantly repeats, imposed a ban on Chinese people from entering the country — caused the nation to lower its guard for too long. And instead of immediately ramping up the nation's health supply chain, he still complains that it's the states' fault, not his, when asked why masks and ventilators aren't getting through to hospitals and clinics.
But, that's water under the bridge, and we can all hope that lessons have been learned and we still have time to get ahead of the curve — although his continued obsession with himself and penchant to blame others give us little confidence.
What can't be dismissed, though, is how he blatantly commandeers his daily update on the coronavirus fight into a campaign event, using them to replace his boisterous political rallies by insisting that every one of his acolytes praise him for his outstanding leadership.
Instead of a just-the-facts review of where we are and what may lie ahead, the American people are treated to a parade of cabinet members and business executives extolling platitudes for Trump before they even begin talking. That's not leadership, it's taking advantage of the situation in a way that others can't.
Instead of bringing people together, he can't help himself from spitting insults, attacking those he doesn't think praise him enough — particularly women leaders like Michigan Gov. Gretchen Whitmer, and referring to political opponents with charged nicknames like "Sleepy Joe" Biden. We should just let that go?
I've noticed, though, that while Trump backers insist we should overlook his lies and shoddy leadership, they don't mind tossing grenades of their own.
The right-wing cabal of Trump zealots in suburban Milwaukee aren't yielding an inch to Wisconsin Gov. Tony Evers. While they insinuate that any criticism of Trump is a devious plot by Democrats and, of course, the media to make their man look bad, they have no such qualms about Evers.
One of the most outlandish has been M.D. Kittle, a self-styled investigative reporter who's worked for right-wing fronts for years now. His latest employ is at a far-right site called Empower Wisconsin, the brainchild of former state Rep. Adam Jarchow, a staunch conservative lawyer who lost a bid for the state Senate, and Eric O'Keefe, the infamous Koch brothers' front man in Wisconsin.
Kittle discovered the other day that the governor's voicemail system was full — imagine that at the height of a crisis — and the automated voice telling you so "is almost as dull and uninspiring as Evers.'" Must be time for impeachment.
Then there's Milwaukee talk show host Dan O'Donnell, who hounds every move Evers makes on the equally right-wing MacIver Institute, insinuating that Evers is single-handedly destroying Wisconsin.
And where would we be without the advice from the right's biggest legal protector, the sanctimonious Rick Esenberg of the Wisconsin Institute for Law & Liberty? WILL has provided cover for all of the right's vote suppression moves and its efforts to scuttle expanded health care or sick pay benefits, and now is giving solace to the right-wingers who believe Evers' "safe-at-home" edict is unlawful. In the long run, it just might be, he recently wrote.
Last weekend's cavalier dismissal of a plan that Evers had to stop in-person voting with a mail ballot through the end of May was an example of playing politics with a critical health threat.
Guess all this talk about pulling together applies only to one side.
Dave Zweifel is editor emeritus of The Capital Times. dzweifel@madison.com, 608-252-6410 and on Twitter @DaveZweifel.  
Share your opinion on this topic by sending a letter to the editor to tctvoice@madison.com. Include your full name, hometown and phone number. Your name and town will be published. The phone number is for verification purposes only. Please keep your letter to 250 words or less.
Catch the latest in Opinion
Get opinion pieces, letters and editorials sent directly to your inbox weekly!