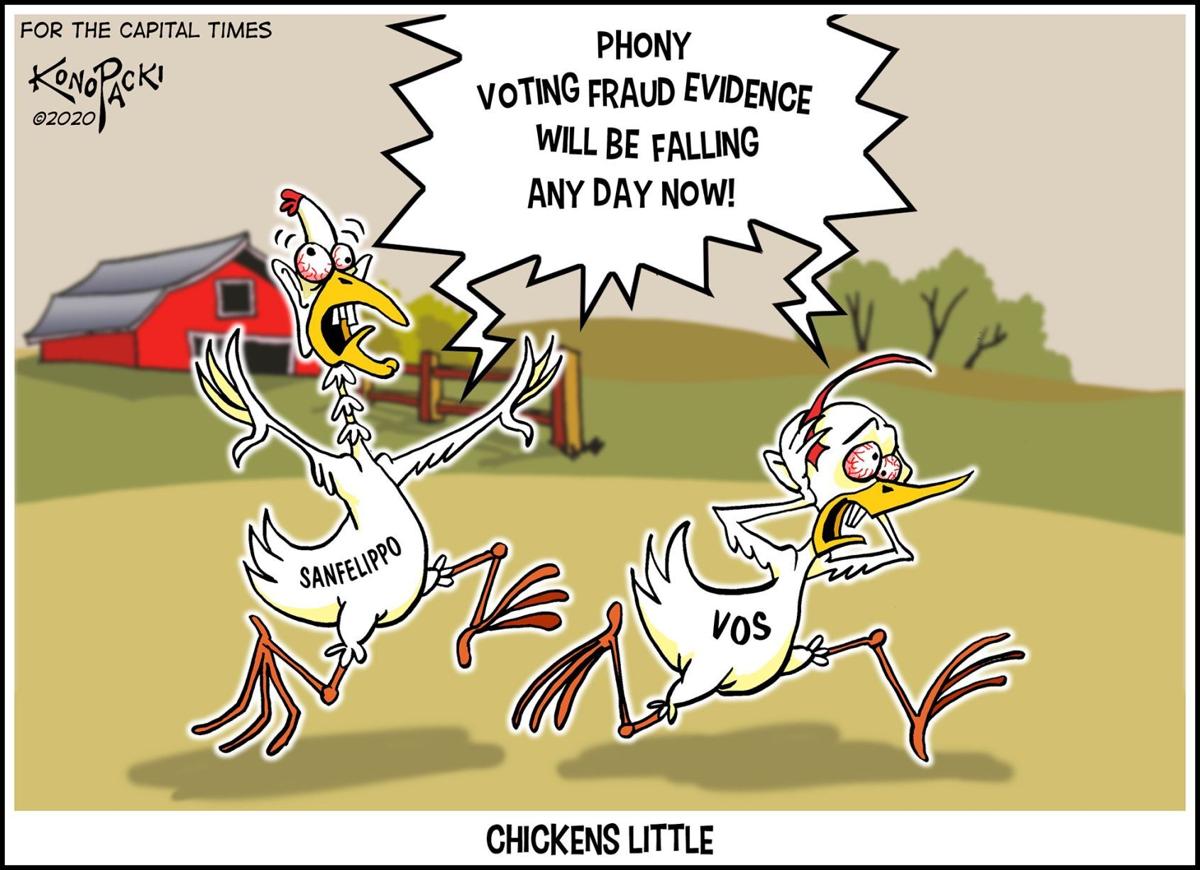 In my book, there's nothing more despicable than trying to prevent people from voting, the most sacred right in American democracy.
Yes, at least 150 million Americans marched or mailed their way to the polls earlier this month, which is a strong indicator that this year's voter suppression tactics didn't work.
But, they tried. Oh man, did they try.
Prominent Republican election lawyer Ben Ginsberg was so put off by the blatant attempts to suppress the vote that he wrote an op-ed for the Washington Post two days before Election Day.
"Trump has enlisted a compliant Republican Party in this shameful effort," he wrote. "The Trump campaign and Republican entities engaged in more than 40 voting and ballot court cases around the country this year. In exactly none — zero — are they trying to make it easier for citizens to vote.
"All of the suits include the mythical fraud claim. Many are efforts to disqualify absentee ballots, which have surged during the pandemic," he added. "The grounds range from supposedly inadequate signature matches to burdensome witness requirements. … Voter-convenience devices such a drop boxes and curbside voting have been attacked."
During early voting, particularly in Texas, several polling places were blocked by Trump-Pence partisans, and the right-wing governor, Greg Abbott, limited drop boxes to one per county, forcing voters if they didn't trust the U.S. mail to drive miles to deliver their ballots. In Philadelphia, the campaign videotaped voters at the drop boxes in an attempt to intimidate others from using them.
But, we don't have to look at other parts of the country to find voter suppression. We've got plenty of it right here at home.
Wisconsin was once a national beacon in finding ways to make it easier for its citizens to vote. Back in 1975 under then-Gov. Patrick J. Lucey, the state passed one of the first laws to allow voters to register on Election Day. That allowed more people to cast votes, particularly those who had moved since the last election or had simply forgotten to register with their municipal clerks.
The argument back then was that citizens shouldn't be stopped from voting because of a technicality. The Legislature and Lucey insisted that voting should always be as easy as possible. The vote, after all, is a basic right and the linchpin of our democracy.
It was thought to be criminal to stop a citizen from voting — thus the outrage over Jim Crow tactics in the South back then to make Black Americans jump through hoops to exercise their right.
My, have times changed in Wisconsin — brought to you courtesy of the current Republicans who control our Legislature and their former leader, Scott Walker.
About the same time the Legislature was busy at work configuring the most gerrymandered political districts in the country, it set to work to require Wisconsin voters to carry an identification card to the polls.
They used the bogus argument that it would prevent "voter fraud," but it was really aimed at making it more difficult for low-income people and the elderly without drivers' licenses to vote. They, a majority of them Democrats, would have to visit the state's Department of Motor Vehicles to get an ID card. In other words, it's easier to suppress voters than to win them over on the issues.
After one election, federal district court Judge Lynn Adelman struck down the law, but after several appeals, the U.S. Supreme Court eventually approved it and it has now been in effect for two presidential elections.
The 2020 Wisconsin vote, the most cast in history, turned state GOP leaders into modern-day Snidely Whiplashes, proclaiming, "curses, foiled again."
Obviously fraud had to be involved, they fumed. Assembly Speaker Robin Vos called for an investigation into Milwaukee's vote. Seems a lot of folks in the inner city got to the polls, to his utter disgust. Rep. Joe Sanfelippo — fresh off another win in his gerrymandered suburban Milwaukee district — proclaimed that, of course, an investigation was necessary.
"If an investigation shows these actions affected the outcome of the election, we need to either declare this past election null and void and hold a new election or required our Electoral College delegates to correct the injustice with their votes," the Donald Trump toady snarled.
It was an incredibly undemocratic statement, showing the lengths to which some self-righteous legislators will go to disenfranchise fellow citizens who might disagree with them.
Since the efforts to hold down the vote didn't work, the next best thing is to cast suspicion that somehow fraud caused Trump's defeat in Wisconsin.
The fact is, there can be no gerrymandering in a statewide race. And when people foil the vote suppressors, as Wisconsin citizens did on Nov. 3, the real cheaters lose.
Dave Zweifel is editor emeritus of The Capital Times. dzweifel@madison.com, 608-252-6410 and on Twitter @DaveZweifel.
Share your opinion on this topic by sending a letter to the editor to tctvoice@madison.com. Include your full name, hometown and phone number. Your name and town will be published. The phone number is for verification purposes only. Please keep your letter to 250 words or less.
Catch the latest in Opinion
Get opinion pieces, letters and editorials sent directly to your inbox weekly!