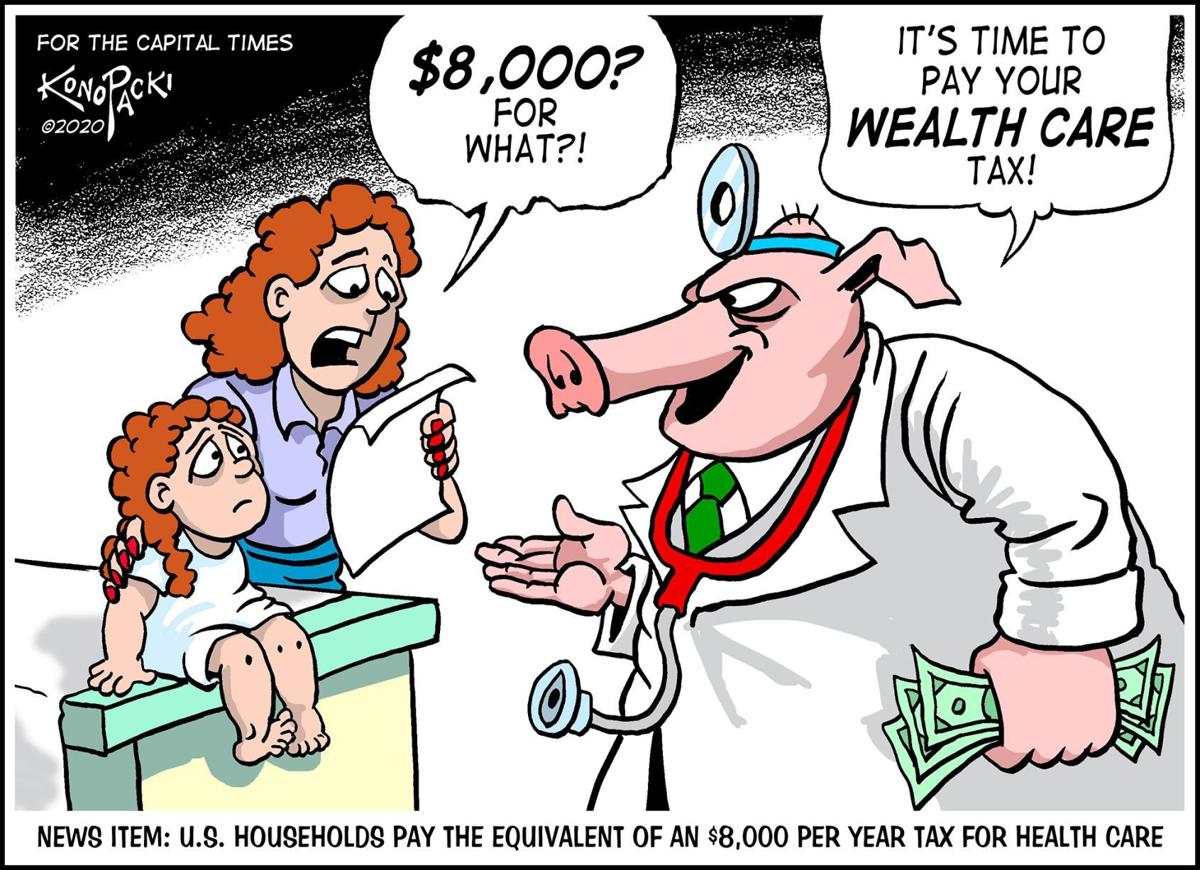 Two Princeton University economists who have spent the past several years studying America's health care system (if indeed you can call it a system) say they're surprised Americans aren't revolting against it.
"A few people are getting very rich at the expense of the rest of us," Case reported to a recent health care conference in San Diego, adding that it's "like a tribute to a foreign power, but we're doing it to ourselves."
It's long been known that our health care system is the most expensive in the world and is not necessarily achieving better results, despite all that expense.
Americans pay roughly a trillion dollars more per year than Switzerland, the next most expensive system. That means, the professors add, that U.S. households pay an extra $8,000 per year — which they insist is actually a "poll tax" because it is levied on every individual regardless of ability to pay.
Case and Deaton, who is a Nobel laureate, are known for their work on what they describe as "deaths of despair" — suicide, opioid overdose and alcohol-related liver disease. It was in researching the causes of these deaths, which have shown alarming increases in recent years, that they observed the deep problems with America's health care.
It's not that they're the first to reach that conclusion.
What's remarkable is that the system is able to thwart every attempt to fix it. The industry has succeeded in essentially brainwashing an entire country into believing that there is no better way to provide for the people's health, even though there are dozens of examples throughout the civilized world that prove otherwise.
The Affordable Care Act, aka Obamacare, did a lot to at least extend coverage to millions of Americans who had been left out in the cold for decades. While it was and continues to be a step forward, it has done little to address the costs and layers of bureaucracy that are rampant in the private health care market.
That the ACA was passed was a remarkable feat by itself. The two economists note that any change in our system is next to impossible with so many powerful interests lobbying to keep it intact.
We're in the midst of that right now. Alarmed by polls that show Americans are becoming more comfortable with single-payer health care proposals — whether it be Bernie Sanders' and Elizabeth Warren's Medicare-for-all, or proposals by other Democratic candidates to add a public option to Obamacare — private for-profit hospitals, insurance companies and pharmaceutical manufacturers banded together to form the innocuously titled "Partnership for America's Health Care Future."
Its aim is to spread half-truths, rumors and wildly inaccurate information about changing the status quo. Armed with millions of dollars, the organization peppers news media and other opinion outlets with daily dispatches on how taxes would skyrocket, patients would lose their doctors and millions of jobs would be lost.
Sadly, many buy it. How many stories have you seen or read in recent weeks that quickly proclaim that the cost of Medicare-for-all would be monstrous — $32 trillion over 10 years and counting?
What those stories don't point out is what Professors Case and Deaton have. Every American household already pays the equivalent of an $8,000-per-year tax for health care — everything from deductibles, co-pays to outrageous drug charges.
That alone is far and above what a single-payer system would cost Americans.
Dave Zweifel is editor emeritus of The Capital Times. dzweifel@madison.com, 608-252-6410 and on Twitter @DaveZweifel.  
Share your opinion on this topic by sending a letter to the editor to tctvoice@madison.com. Include your full name, hometown and phone number. Your name and town will be published. The phone number is for verification purposes only. Please keep your letter to 250 words or less.
Catch the latest in Opinion
Get opinion pieces, letters and editorials sent directly to your inbox weekly!