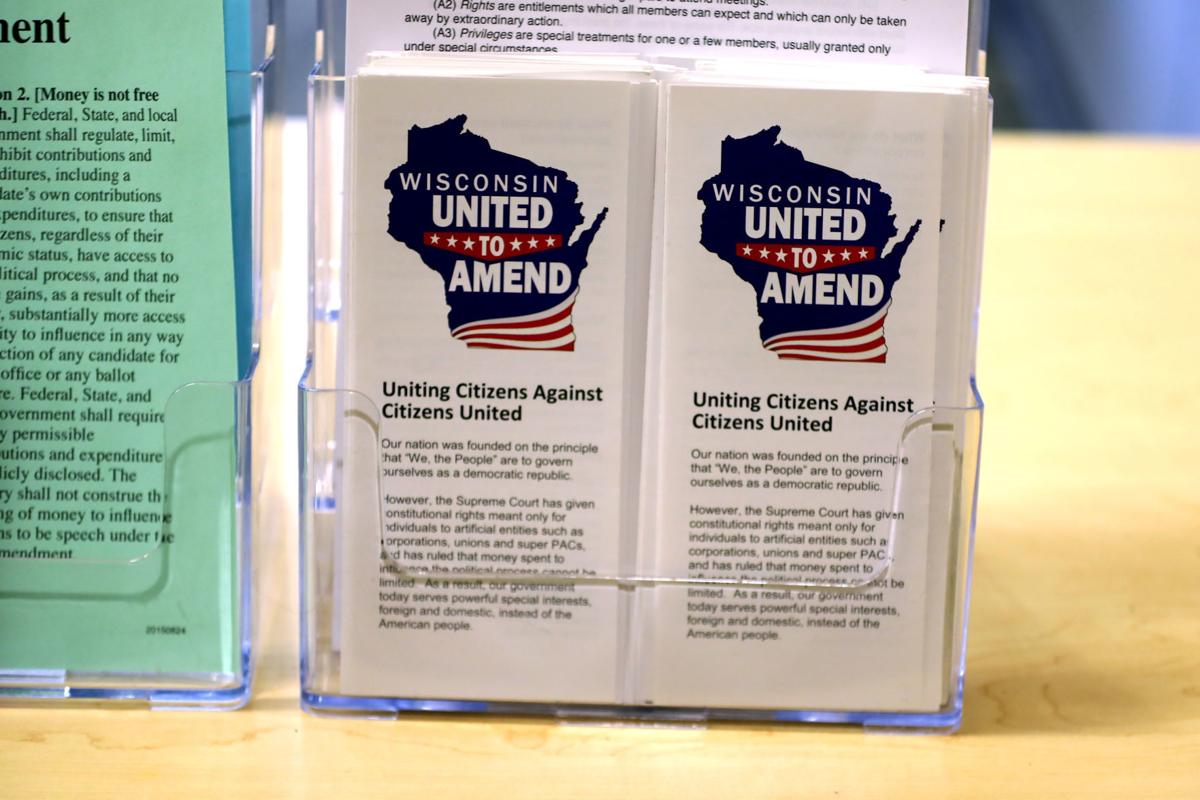 Wisconsin United to Amend, a nonprofit organization working to convince Congress that the American people want a constitutional amendment that makes it clear that corporations don't have the same rights as citizens, reports that 144 communities in the state have overwhelmingly said they agree.
It's estimated that those communities represent about 3 million people, many of them voting in local and countywide advisory referendums by margins of 3-1 to overturn the U.S. Supreme Court's infamous ruling in the so-called "Citizens United" decision. That's about 52 percent of Wisconsin's people.
Now two legislators, Madison Rep. Lisa Subeck and Green Bay state Sen. Dave Hansen, are aiming to get the whole state involved, an important step in the process of getting the U.S. Constitution amended.
Earlier this week, the two Democrats introduced a resolution to place the Citizens United question on the November 2020 statewide ballot. Some 19 states have already voiced their opposition to Citizens United.
"With each election, it becomes clearer that people are fed up with the corrupting influence of special interest spending on our elections," insists Subeck. "Through its ruling on Citizens United, the Supreme Court has handed a giant megaphone to corporations and billionaires who can afford to drown out the voices of the average citizens."
Subeck's and Hansen's amendment would read:
"1) Only human beings — not corporations, unions, nonprofit organizations or similar associations — are endowed with constitutional rights and 2) Money is not speech, and therefore limiting political contributions and spending is not equivalent to restricting political speech."
Although such an amendment makes perfect sense to combat the out-of-control corporate and special interest spending that dominate so many elections today, not to mention that the enormous costs prevents many from running for office, getting it on the ballot — even as an advisory referendum — isn't going to be easy.
The two Democrats aren't naive. They know that Wisconsin's legislative Republicans have already refused to take up the resolution during the last two sessions, even though it is only advisory.
Meanwhile, the grip of money continues out of control — outside groups spent $61 million during the recent 2018 midterms in the state, more than was spent in 2010 and 2014 combined.
Passing a referendum here would lend Wisconsin's voice to those across the country who have long been asking Congress to effectively overturn the high court's 5-4 decision that opened the big money spigots and corrupted the nation's political system.
The hope is that the clamor will grow so loud that someone in Congress will introduce a resolution, two-thirds of the members of the House and Senate will vote for it and then three-fourth of the state legislatures will ratify it.
If the Republican-controlled Wisconsin Legislature refuses once again to consider a statewide referendum, there could be only one reason why: They like getting all those unregulated corporate donations.
Dave Zweifel is editor emeritus of The Capital Times. dzweifel@madison.com, 608-252-6410 and on Twitter @DaveZweifel.  
Share your opinion on this topic by sending a letter to the editor to tctvoice@madison.com. Include your full name, hometown and phone number. Your name and town will be published. The phone number is for verification purposes only. Please keep your letter to 250 words or less.