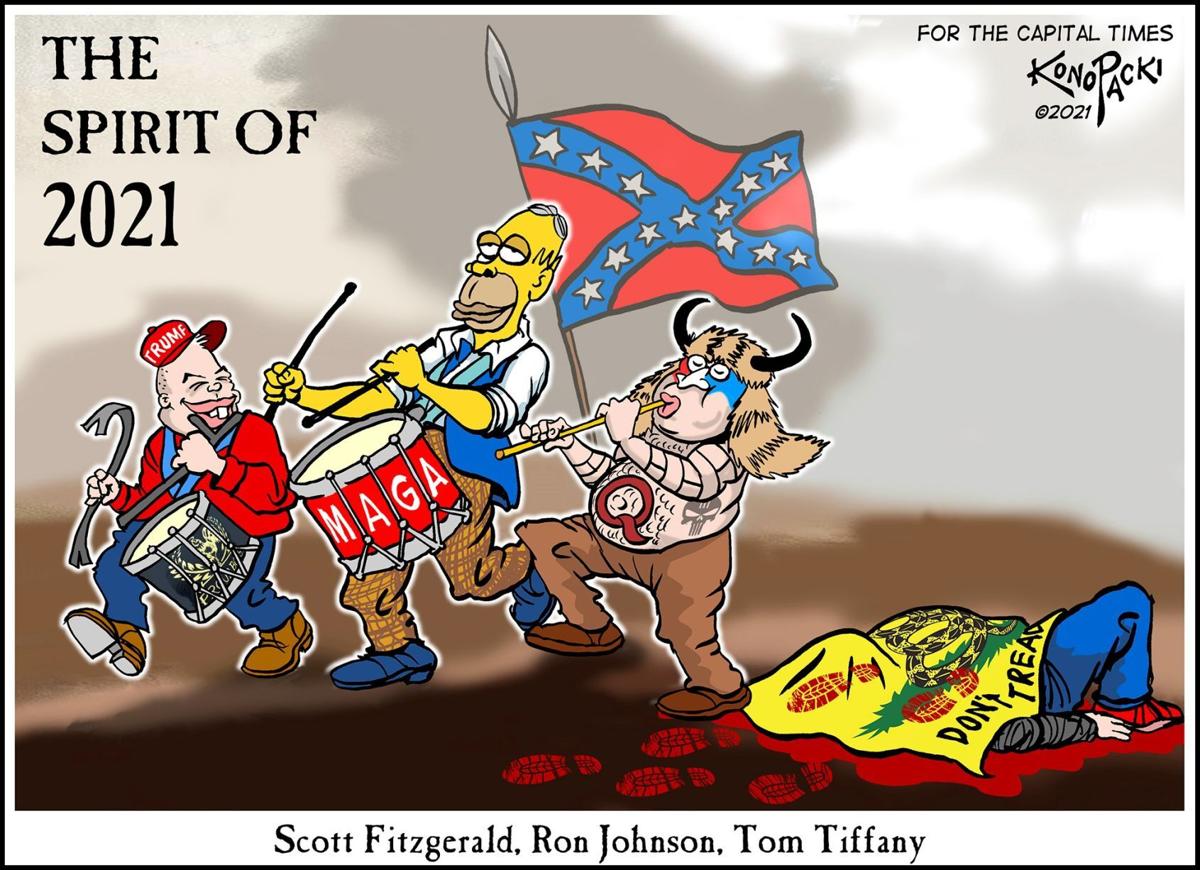 Joe Biden becomes president of the United States today, glory hallelujah.
If there's any justice in the world, his predecessor, Donald Trump, will wind up in prison paying for the crimes he's committed during most of his adult life and the treasonous actions he took while serving as president of the country. We may have adversaries around the world, including Russia, China and Iran, but none has been as big an enemy of what America has always stood for as has Donald Trump.
What I'm still having trouble getting my head around, though, is the behavior of Wisconsin's two rookie members of Congress, Republican Reps. Tom Tiffany and Scott Fitzgerald.
Even after the stunning and deadly assault on the U.S. Capitol, they continued to carry water for Trump's lies that the election was somehow stolen from him, inciting a crazed political base that is still attempting to overthrow an American election — if not the entire government. Even Trump's biggest water boy, another Wisconsin elected official named Ron Johnson, decided to drop his challenge to several states' votes after witnessing the mob that Trump had sent to the Capitol.
But, not Tiffany and Fitzgerald. While they were in the Legislature until late last year, they were two of Trump's most unapologetic supporters. There was nothing illegal or abhorrent Trump could do to sway their fealty to the most corrupt president in U.S. history. Like so many modern day Republicans, they put their political careers ahead of principled government. Then earlier this month they were willing to join hands with the disgraced Texas Sen. Ted Cruz and Missouri's Josh Hawley, who have rightfully been branded as unfit to remain in the Senate.
Tiffany, in particular, was a terrible bomb-throwing legislator, first in the Assembly and then later in the Senate. He earned the nickname "Toxic Tom" for working to eviscerate long-standing state mining regulations and handcuffing the Department of Natural Resources' ability to enforce water and air pollution rules. The Wisconsin Conservation Voters named him the most anti-environment legislator in the state.
All this while representing the the very part of the state that produced Wisconsin's most famous environmentalist, Gaylord Nelson.
And we've long known about Fitzgerald, the bully of a majority leader who claimed to be an advocate for the working people, but spent his entire time in the Legislature making sure it would never consider raising the minimum wage and doing all he could to kneecap workers' unions while giving away millions to corporate interests like Foxconn.
Both men have been lackeys for the special interests all of their political lives.
But what they did on the House floor on the night of Jan. 6 will forever paint them as traitors to the Constitution they swore to uphold. They had a lot of company, of course, from 124 other House members who chose to undermine the public trust in America's sacred right to elect its leaders. They chose to help foment a revolution based on the abject falsehood that the election was somehow rigged.
Tiffany had the gall to alibi for his vote by claiming Dane and Milwaukee counties had illegally allowed thousands to declare "indefinite confinement" so they could vote absentee without a voter ID, a law that they themselves had enacted the year before. It was yet another Tiffany lie, of course. Dane and Milwaukee counties, because of the coronavirus pandemic, did indeed have more voters claiming confinement — but not any more so than virtually every other county in the state, including several in Tiffany's and Fitzgerald's own districts.
And then there was the audacity to compare the insurrection he helped foment at the U.S. Capitol with the Black Lives Matter protests of last summer. Those mostly peaceful protests were against visible racist behavior on the part of law enforcement, not riots based on lies that were exposed by 60 judges who could unearth no fraud or any other illegalities.
In other words, the law doesn't count for these two Wisconsin Republicans.
The Milwaukee Journal Sentinel put it bluntly: these two congressmen and Ron Johnson, too, all deserve to be expelled from Congress just as 10 senators were expelled in 1861 for refusing to accept the will of the voters who elected Abraham Lincoln.
And if they aren't, then the Wisconsin voters in the 7th and 5th Congressional Districts need to get rid of them in 2022. If not, they will share the shame these unpatriotic politicians have bestowed on our state.
Dave Zweifel is editor emeritus of The Capital Times. dzweifel@madison.com, 608-252-6410 and on Twitter @DaveZweifel.
Share your opinion on this topic by sending a letter to the editor to tctvoice@madison.com. Include your full name, hometown and phone number. Your name and town will be published. The phone number is for verification purposes only. Please keep your letter to 250 words or less.