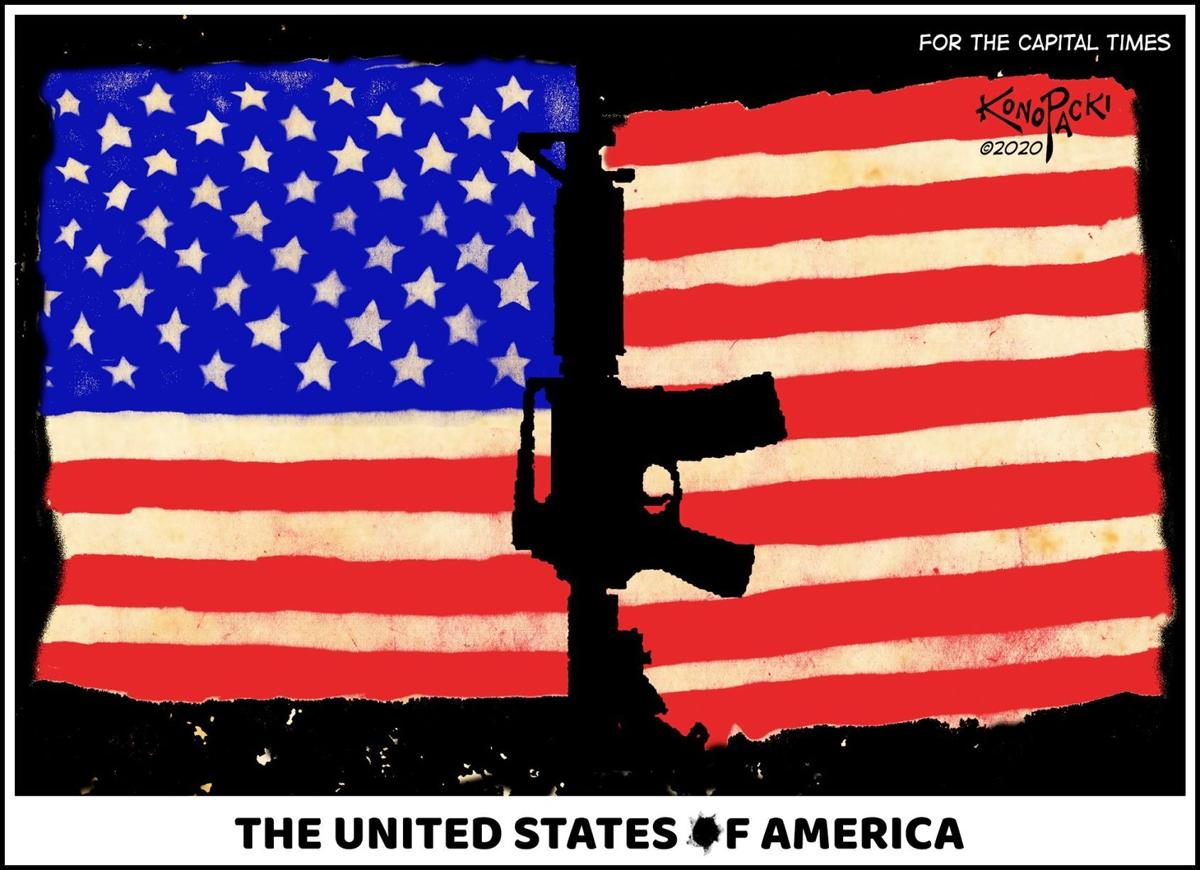 Donald Trump's failure to condemn the shooting of three protesters in Kenosha at the end of last month, while painting virtually everyone protesting police violence as thugs and terrorists, has dominated this country's dysfunctional politics the past several days and will continue to so during the weeks and months ahead.
But, once again lost in the war of words, the charges and counter-charges, is any discussion of how this nation's infatuation with guns continues to mask the root of what we've become.
Firearms are everywhere. There are more of them in the United States than there are people. They wind up in the hands of gangs, robbers and thieves. They have become the go-to choice for police, some of whom see a need to resort to firearms even when it makes absolutely no sense.
As we saw in Kenosha and other American cities, they have emboldened people to take matters into their own hands, brandishing their firearms as if on a military battlefield.
It was insane, not to mention illegal, that 17-year-old Kyle Rittenhouse — a cop wannabe from Antioch, Illinois — possessed a military-style rifle that he wound up using to kill two protesters in the streets of Kenosha. But, he is the perfect example of how easy it is to possess a firearm in America. The laws are so weak, the safeguards so porous that, in most cases, they're useless.
And for Donald Trump to insinuate that this white kid was some sort of hero was as irresponsible as the Kenosha cops letting him go, two days after one of their own shot a Black man in the back seven times, sparking a protest that regrettably turned violent itself.
But, this is the kind of America we get when our leaders allow a smarmy organization like the National Rifle Association dictate that we shouldn't exercise some sensible control over what has obviously gone so far off the tracks.
Whenever there's doubt, we shoot. Whenever we don't like some people, we grab the guns. Whenever we have a beef, we pull out our weapon. Meanwhile, thousands of people die every year.
It isn't just misguided 17-year-olds who think brandishing a firearm is going to solve problems. It's those who shoot people in nightclubs, fans at a music concert, prayer groups in churches, little kids in an elementary school, bigger kids in high school or on college campuses. And, no, they're not all mental cases as the NRA and their political apologists try to tell you. Many are just ordinary people who have become convinced they can settle their grievances because they have a gun.
Some, like the St. Louis couple, Mark and Patricia McCloskey, who brandished an assault rifle and a pistol as peaceful demonstrators marched past their home, even get invited to tout their "bravery" at a national political convention.
It would be poetic justice if New York's district attorney, Letitia James, succeeds in her Aug. 6 lawsuit to dissolve the NRA for its officers' decades-long pattern of fraud, raiding the coffers of the supposedly nonprofit organization for their personal gain.
The NRA began as a sensible nonprofit to promote gun safety and instruction for young hunters, even encouraging laws to provide control over their use.
But, then, a smug bully named Wayne LaPierre grabbed the reins and turned it into an organization that decried any attempt to even check if a gun buyer should have a weapon in his or her possession. Its advertising and public relations campaigns convinced millions that the government was coming to get their guns.
James charged the NRA president with flouting state and federal laws and signing off on reports and statements they knew were fraudulent, while diverting millions of dollars away from the NRA's charitable mission to benefit themselves. These were the people that politicians of all stripes have enabled through years in exchange for millions of dollars in campaign contributions. Little did they know, nor apparently care, that they were apparently dealing with crooks.
Meanwhile, the organization has helped turn America into the only first world country to be consumed by a culture that embraces weaponry as a solution to most of our problems.
If we continue along this path, the violence will never end.
Dave Zweifel is editor emeritus of The Capital Times. dzweifel@madison.com, 608-252-6410 and on Twitter @DaveZweifel.
Share your opinion on this topic by sending a letter to the editor to tctvoice@madison.com. Include your full name, hometown and phone number. Your name and town will be published. The phone number is for verification purposes only. Please keep your letter to 250 words or less.
Catch the latest in Opinion
Get opinion pieces, letters and editorials sent directly to your inbox weekly!