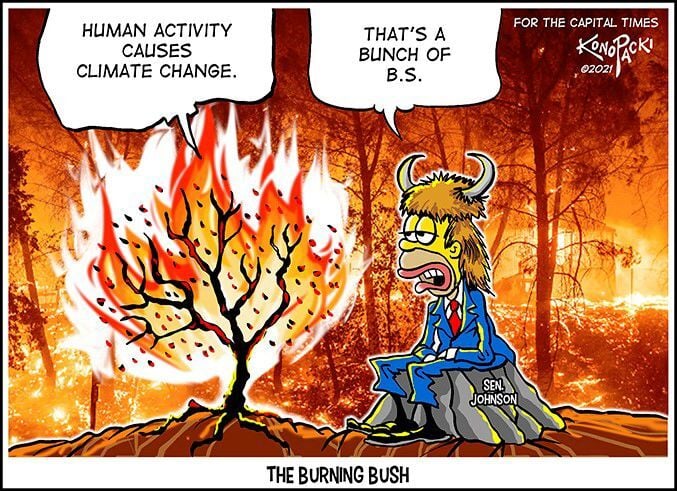 Among his many other shortcomings, our senior U.S. senator, Ron Johnson, doesn't have good political timing.
Just after he's caught telling a Wisconsin Republican Women's luncheon that climate change is "bull----," a barrage of research was released warning of new dangers to the earth's environment.
Of immediate alarm was the unprecedented heat dome that sent temperatures to the hundreds last month in places otherwise known for their cool summer weather.
"Many have expressed shock about this unprecedented heat wave. Yet the writing has been on the wall for decades," said veteran meteorologist Jason Samenow. "Since the 1970s and 1980s, climate scientists have warned that global warming would make heat waves more frequent, long-lasting and intense."
Nevertheless, as temperatures soared to 104 degrees in Seattle and an unheard of 120 degrees in Canadian British Columbia, the extent of the heat was nothing short of startling. Meteorologists estimated that a heat dome of this size and scope is so rare it should be expected only once every several thousand years.
But human-caused warming makes extremes like this more common, scientists say. Unless we drastically reduce greenhouse gas emissions in the coming years, this heat wave may just be a mild sample of what's to come. And it isn't just that the heat is so uncomfortable for humans. People, especially the elderly, die in those heat extremes.
"Although it was a rare event, it would have been virtually impossible without climate change," said Geert Jan van Oldenborgh of the Royal Netherlands Meteorological Institute, who conducted a study with 26 other scientists, part of a collaborative group called World Weather Attribution.
If the world warms another 1.5 degrees Fahrenheit — which could occur this century barring drastic cuts in greenhouse-gas emissions — similar events would not be so rare, the researchers found, according to a report in the New York Times. The chances of such a severe heat wave occurring somewhere in the world would increase to as much as 20% in a given year.
But the Pacific Coast's heat dome was just part of the new warnings. California was once again suffering from wildfires that many scientists say are attributable to climate change. Extreme weather is afflicting many parts of the country — floods in some areas, droughts in others, as rainfall patterns don't follow historic trends.
There was even a report that a major Midwest city like Chicago, normally free from extreme weather events, could face disruptions in its water supply as climate change leads to unusual decades-long periods of low, then high, rainfall, impacting Lake Michigan's water levels. The report pointed out that because of climate change the differing levels in the Great Lakes are entering uncharted territory.
When it's too high, Chicago's beaches begin to disappear, as does lakefront in Johnson's own state here in Wisconsin. If the lake level drops too low, the report pointed out, it could reverse the flow of the Chicago River. That's not a good scenario since the Chicago metropolitan area of 9 million people relies on the lake for its drinking water. If the river starts flowing into the lake, so does the millions of gallons of waste water that now travels downstream. And that, the scientists report, isn't in the abstract. It's quite possible.
And of course Milwaukee and several Wisconsin cities rely on Lake Michigan as well.
Even though in the face of all this Johnson called climate change bull----, he still maintains he's not a climate change denier.
And then he says things — as he did to the Milwaukee Journal Sentinel last year — like this:
"I absolutely do not believe that the science of man-caused climate change is proven. Not by any stretch of the imagination. I think it's far more likely that it's just sunspot activity or something just in the geologic eons of time where we have changes in the climate. ... The Middle Ages was an extremely warm period of time, too. And it wasn't like there were tons of cars on the road."
Thankfully, politicians like Johnson are being exposed for the dangers they represent to the future of the planet.
There are movements around the world to pressure governments to get serious about protecting the only planet we have. Individuals are becoming involved, and it's more than young people. My retired brother-in-law, Bob Kihslinger, and a group of friends, for instance, have been running a website entitled "10,001 ways to fight climate change and save the environment." Each day they post new ideas — many of them not costing a penny — to show people how just one person can make a difference.
Maybe it's "bull----" to Ron Johnson, but to them it's the future of the world.
Dave Zweifel is editor emeritus of The Capital Times. dzweifel@madison.com, 608-252-6410 and on Twitter @DaveZweifel.
Share your opinion on this topic by sending a letter to the editor to tctvoice@madison.com. Include your full name, hometown and phone number. Your name and town will be published. The phone number is for verification purposes only. Please keep your letter to 250 words or less.