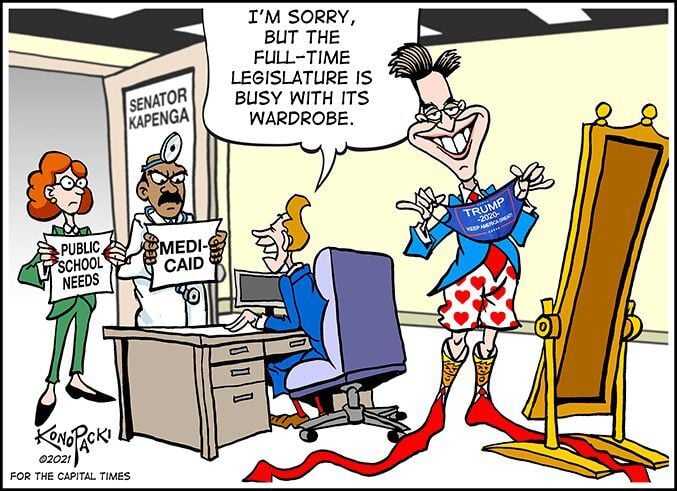 Just before the Republican-controlled Legislature sent its flawed budget to the governor, Democrats made one more attempt to expand Medicaid in the state, a move that would have brought $1.5 billion in federal money to Wisconsin.
But no Wisconsin Republican had changed his or her mind. It was more important to deny about 90,000 Wisconsin citizens health care coverage than accept federal funds that indirectly come from what these hard-headed politicians hate the most — Obamacare.
Now that these legislators have done their best to make sure Wisconsin doesn't do a thing to move the state forward and make it more fair for all its citizens, I would suggest they now get out of town before they cause any more damage.
Problem is, these politicians like to hang around, directing their bloated staffs to dream up frivolous legislation to keep their names before the folks back home at taxpayers' expense. Their legislative jobs are really part time, but they pay themselves as full-timers.
Where once members of the Wisconsin Assembly and the state Senate convened for a few weeks to pass the biennial state budget and deal with pressing problems and then went home to live and work with their constituents, these current legislators find a plethora of excuses to hang around Madison all year, collecting per diem payments for rooms and meals and padding their office expense accounts.
Paradoxically, those old part-timers got much more done with less rancor and actual bipartisanship than these woodenheads currently running the place. Under that part-time Legislature, Wisconsin was often held up as an example of bold, efficient government. Today it is more often ridiculed for its abject shortsightedness.
A recent example was the Senate's president, Delafield Republican Chris Kapenga, attracting national attention for his fawning letter to Donald Trump after Trump's outburst that Wisconsin Republicans weren't doing enough to overturn Wisconsin's presidential election vote. After telling Trump that the president had received bad information about his and other Wisconsin Republicans' efforts, Kapenga made sure Trump wasn't offended, declaring that he was writing the letter to the defeated president while boarding a plane.
"In addition to my Trump socks, I will pull up my Trump/Pence mask when I board the plane, as required by federal law," he added, blaming the masking requirement on the 'liberals.' "Thank you for doing great things as our President."
Guess you need to be a full-timer to come up with gems like that.
Aside from making sure the state didn't expand Medicaid to 90,000 of the state's uninsured, even as the feds dangled $1.5 billion to help it do so, these full-timers went on to play misers to the state's beleaguered schools — beleaguered, frankly, because of previous actions by these legislators.
While the state was unexpectedly sitting on more than $4 billion extra in projected revenue, the lawmakers decided that instead of using some of that to shore up struggling school districts, they would give the money back to taxpayers.
"We're really concerned we're going to hit this fiscal cliff again when they had a chance to do some good things," Kim Kaukl, executive director of the Wisconsin Rural Schools Alliance and a former high school principal in Spring Green, told the Milwaukee Journal Sentinel.
"I'm Republican and I am conservative, but I'm disappointed in the way they are portraying this," Glen Allgaier, Elmbrook School Board treasurer, told the paper. "It does a disservice to K-12 education."
Without that increase in state revenue, Allgaier said, the district will be short about $1.5 million to keep up with inflating costs and will have to make cuts.
Local school districts made all these points to the Republican-led Legislature during the budget process, but they were ignored. The GOP leaders used as their excuse the fact that schools would be getting millions in federal pandemic aid. Attempts to set them straight by pointing out that the federal money was to pay for expenses caused by the health crisis fell on deaf ears.
The Elmbrook treasurer noted that the federal stimulus funds are only helpful for short-term expenses related to the pandemic, while the budget plan sets the district up for years of budget shortfalls.
Thankfully, Gov. Tony Evers was able to soften the blow to the state's education system with his line-item veto power, restoring $100 million to the schools that the GOP had cut.
But what was once again clear is that these legislators demonstrate no concern for the state's future. These politicians are content to let problems fester, starve the public schools, and for goodness' sake don't help poor folks get health care coverage. It's more important to give higher income people a couple of hundred dollars. Someone else can deal with the problems when they become a crisis.
That's what we get from a full-time Legislature.
Dave Zweifel is editor emeritus of The Capital Times. dzweifel@madison.com, 608-252-6410 and on Twitter @DaveZweifel.
Share your opinion on this topic by sending a letter to the editor to tctvoice@madison.com. Include your full name, hometown and phone number. Your name and town will be published. The phone number is for verification purposes only. Please keep your letter to 250 words or less.