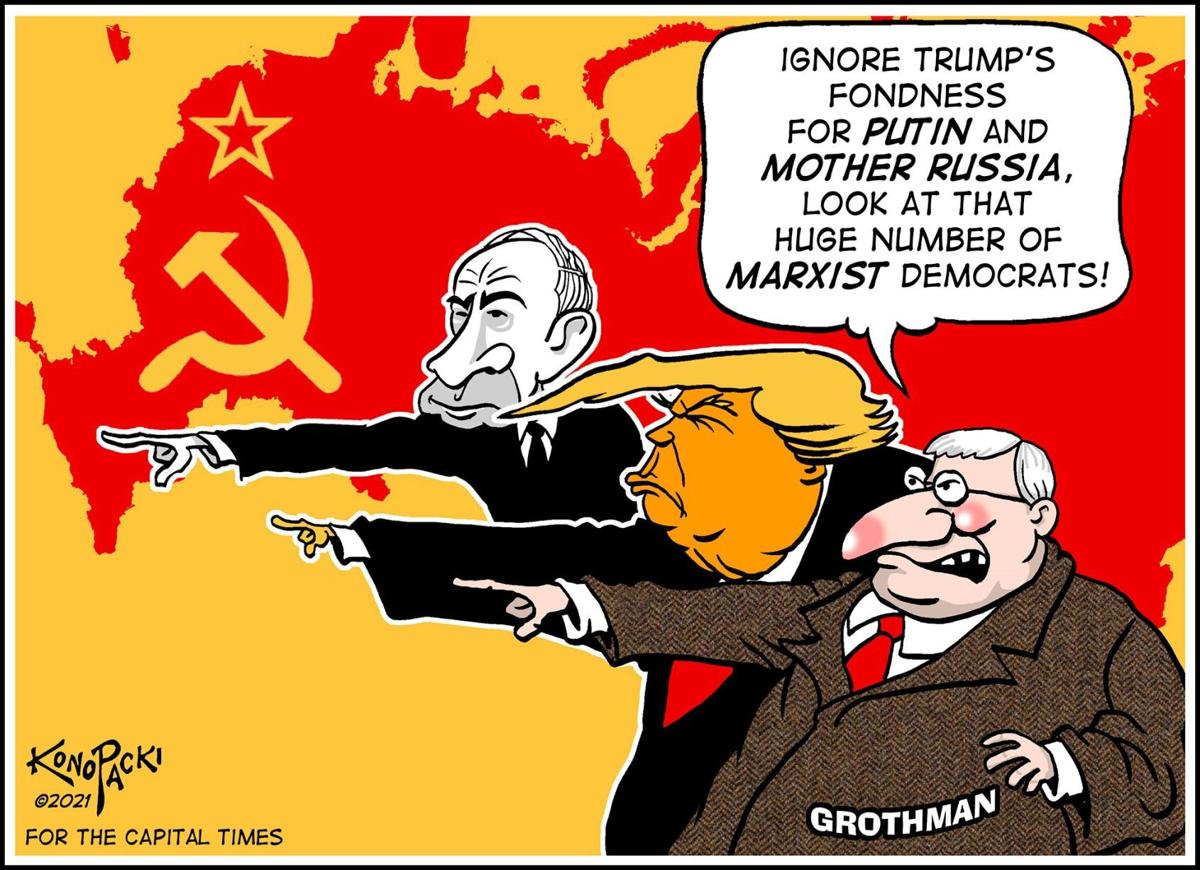 No one has ever accused Wisconsin's Rep. Glenn Grothman of being the brightest bulb in the pack, but his performance in a recent local TV interview has to rank among the top of his many public examples of absurdity.
Grothman, a proud member of the Donald Trump-worshipping wing of the Republican Party, was a guest on the Feb. 7 WKOW-TV Sunday morning talk show, "Capital City Sunday," in which host A.J. Bayatpour asked him about President Joe Biden's stimulus package and about his votes not to punish conspiracy theorist and 9/11 denier Marjorie Taylor Greene.
House Republicans all over the country are being asked by folks back home why they didn't feel it necessary to discipline Greene by removing her from at least the education committee especially after her many comments that claimed school shootings at Sandy Hook Elementary School and Majory Stoneman Douglas High School in Florida were staged. Not only that — she was proud of stalking one of Parkland's survivors, David Hogg, as he tried to convince members of Congress to do something about gun violence, calling him out as an "idiot."
"I think her belief in QAnon in the past, she kind of apologized for it," Grothman told Bayatpour. "I think there are a lot of people who get on the internet and believe things that, in retrospect, are kind of silly."
And now, he continued, "I think, she's gonna be a very enjoyable person. I've had a a chance to meet with her now and look forward to working with her."
Alas, the former Wisconsin legislator didn't stop there. She's no worse than the "huge number" of members of Congress who affiliate themselves with organizations founded by Marxists, he charged.
He went on to claim that millions of people have died during the Russian Revolution, in Communist China, in Ukraine, Cambodia and God knows where else, yet many members of Congress still support Marxists.
Bayatpour tried to point out that there's a difference between believing in different political philosophies and conspiracy theories, but Grothman would have nothing of it, contending that the Marxists, who he didn't identify, are a bigger problem than Taylor Greene.
Grothman wasn't alone among Wisconsin Republicans in the House, of course, who voted against impeaching Donald Trump for inciting the insurrection at the Capitol, but sided with keeping the Georgia congresswoman on the education committee. The four other GOP congressmen from Wisconsin did so, too.
He was the only Wisconsin member who justified his actions by insisting the Marxists are posing a bigger threat, but a column by the New York Times' Frank Bruni indicated Grothman's perspective may not be that rare.
Bruni detailed the reaction from several Republicans over the installation of metal detectors along the way to the House floor. That they are freaking out is no exaggeration, he wrote.
"Apparently, if you can't pack heat in proximity to Nancy Pelosi, you're living in a totalitarian state," Bruni said. "That's not me being sarcastic. That's Rep. Debbie Lesko's actual interpretation of the events. Lesko, an Arizona Republican, tweeted that the new security screening was proof that lawmakers 'now live in Pelosi's communist America.'"
"Rep. Devin Nunes, apparently forgetting how little trouble he had with Donald Trump's fondness for Mother Russia, echoed that theme." Brunie continued.
"'I'm not joking — when you talk about the fall of the Soviet Union, what did they start to do?" said Nunes, a California Republican. 'They started to crack down. They started to crack down on people, and that's what you see here.'"
Alas, apparently, those Marxists lurking in the corridors.
And don't forget Florida Sen. Marco Rubio, still hoping to curry favor with Donald Trump's crazy right-wing base so he can run for president in 2024. He claimed it's the "radical left" that's out of control. It's socialists, the cancel culture that's the real problem.
Last I looked I didn't see any of these so-called Marxists that Glenn Grothman fears are under his bed storming the U.S. Capitol, smashing everything in sight, killing a policeman, threatening to hang Mike Pence and shoot Nancy Pelosi in the head.
No, these were Marjorie Taylor Greene's friends, and congressmen like Glenn Grothman have got her back.
Dave Zweifel is editor emeritus of The Capital Times. dzweifel@madison.com, 608-252-6410 and on Twitter @DaveZweifel.
Share your opinion on this topic by sending a letter to the editor to tctvoice@madison.com. Include your full name, hometown and phone number. Your name and town will be published. The phone number is for verification purposes only. Please keep your letter to 250 words or less.