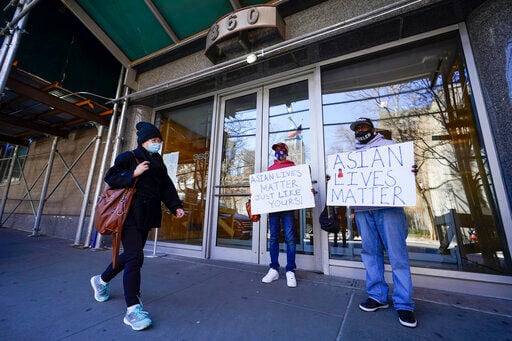 The story on the front page of the New York Times was more than troubling.
It told of an attack on a 65-year-old woman from the Philippines near Times Square. In broad daylight, a man suddenly kicked her in the stomach and, when she fell to the sidewalk, he continued kicking her in the head while shouting obscenities at her.
And while all this was unfolding, three men watched from the lobby of a nearby luxury apartment building. When the woman tried to get up, one of the men, a security guard, closed the front door of the building. No one was willing to help.
By coincidence, former Lt. Gov. Barbara Lawton a few days before sent me a copy of a Facebook post by a Madison friend of hers who happens to be of Asian descent.
"This is what makes racism so damn hard. The silence of the majority. Madison is supposed to be this liberal haven, but I've personally experienced the humiliating silence that follows over racism — once at a food cart on the Square across from the Capitol, where I was surrounded by male business workers in suits who silently watched as a crazy man screamed in my face that I was illegal and needed to get the f*** off his lawn, and once at Target where a woman screamed about the 'Chinese virus' and my "infecting" offspring at the checkout line.
"Dozens of people witnessed as she screamed at me and followed us out of the store to the parking lot. A dozen or more people on the Square that afternoon similarly did nothing.
"I don't want sympathy. I don't want 'That's terrible! I'm sorry' or 'Why didn't you report it?' from anyone. I want you to read this and vow to speak up for the minority when you witness this firsthand. I want you to understand that I know I'm a strong ass mom/lawyer/Korean adoptee, but I have zero faith that law enforcement would take this seriously, because I'm one of the 'model minorities' and 'it's not THAT bad.'
"How do I know? Because there were Target rent-a-cops 20 feet away who silently watched. Because there was a Madison cop on the same block who did nothing. Who didn't even look in my direction as the man screamed at me in broad daylight.
"Don't be silent. Don't give platitudes after the fact. Be an ally in the moment. Speak up in the moment. Tell the racist attacker to STFU and walk me to safety. Report it to police as they're more likely to come help and take down a report if a white person is watching. Speak up and use your white privilege to support us."
Why good people stand by and do nothing while others are visibly attacked either with words or physical force has been a question society has asked seemingly forever. It's become more noticeable during what seems like an epidemic of attacks on Asian Americans, many of them elderly and frail, by ignorant believers in the rhetoric championed by our former president.
Lawton sent me a link to a website that is trying to educate people what they can do to help by offering bystander intervention training. It can be accessed at advancingjustice.org.
This problem is going to require action by us all.
Dave Zweifel is editor emeritus of The Capital Times. dzweifel@madison.com, 608-252-6410 and on Twitter @DaveZweifel.
Share your opinion on this topic by sending a letter to the editor to tctvoice@madison.com. Include your full name, hometown and phone number. Your name and town will be published. The phone number is for verification purposes only. Please keep your letter to 250 words or less.