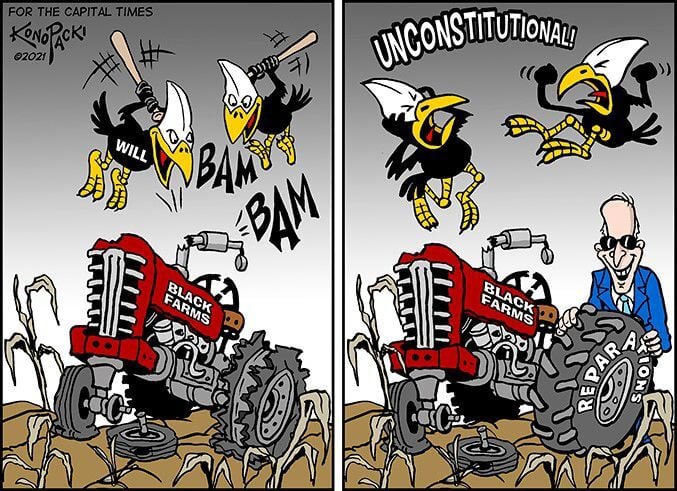 In 1920, African-Americans owned some 14% of the farms in the United States.
Today, thanks to a century of racial discrimination, from land theft in the Jim Crow South to banks and governmental farm services refusing to consider them for loans or other financial assistance, that number has dropped to just 1.4%. There are now fewer than 49,000 farms left in America that are owned by Blacks.
New U.S. Sen. Raphael Warnock, a Georgia Democrat, has pointed out that in his state there were once 50,000 farmers of color. Today there are fewer than 2,900.
That history is what prompted the Biden administration to earmark $4 billion of the $1.9 trillion American Recovery Act specifically to help the non-white farmers still left and help right some or the wrongs they endured through the years. That aid, for instance, can be used to pay off mortgages, some backed by the Department of Agriculture, on the farms owned by Black, Hispanic and Indigenous farmers. It's hoped that about 16,000 mortgages will be paid sometime this summer.
Of course, this attempt to address the injustices of the past is being met with disdain in several quarters. Banks, many of them participants in denying loans to non-white farmers in the past, now are complaining that for the government to pay off the mortgages they did make will deny them the interest they were counting on. Some bankers are calling for the government to just make the payments, including interest, over the life of the mortgage. Either that or give the banks the money they would have earned.
Meanwhile, many white farmers, many of them large landowners, are livid, contending that it's nothing more than reverse racism to give Black farmers help and not them.
Not surprisingly, the Wisconsin Institute for Law and Liberty has come rushing to represent some Midwestern white farmers in a lawsuit that claims the program is unconstitutional. Of course, there were no well-funded law groups that came rushing to provide legal help to the African-American farmers when they were forced to sell their farms when lenders refused to consider their applications.
WILL is joined by Stephen Miller, the infamous Donald Trump immigration advisor who now runs a WILL-like law firm called America First Legal in Texas. Miller is representing a group of ranchers who insist the aid package for the Black farmers amounts to illegal discrimination. As opposed, I guess, to the "legal" discrimination endured by farmers through the past several decades.
The aim of the suits is to get the program enjoined, putting on hold any help for non-white farmers.
Those same farmers received less than 1% of the billions of dollars in subsidies that flowed to rural America last year under Trump to compensate farmers hurt by the coronavirus pandemic and Trump's trade war with China. Like so many farm programs of the past, the biggest benefactors were large, factory farms. Family farmers, be they white or not, typically got the dregs.
Biden's agriculture secretary, Tom Vilsack, defended the debt-repayment program at a briefing in May, saying that earlier coronavirus relief had gone disproportionately to white farmers. He also said the government had never addressed the cumulative effects of years of racial discrimination against farmers.
"We know for a fact that socially disadvantaged producers were discriminated against by the United States Department of Agriculture," Vilsack commented. "There is a very legitimate reason for doing what we're doing."
In a New York Times story a couple of weeks ago about the divide the aid package has created among white and non-white farmers, the WILL and Miller lawsuits have sowed concern and anger through networks of Black farmers.
Some have spent decades fighting unsuccessfully to get their share of legal settlements over past discrimination by the Agriculture Department. Now, they are worried that the money set aside for debt repayment could get delayed for years in legal challenges.
"We're getting the short end," John Wesley Boyd Jr., a Virginia bean and grain farmer who is also founder of the National Black Farmers Association, told the newspaper. "Anytime in the United States, if there's money for Blacks, those groups speak up and say how unfair it is. But it's not unfair when they're spitting on you, when they're calling you racial epithets, when they're tearing up your application."
It's another example of how we as a country ]continue to drag our feet by doing the right thing to correct our past mistakes.
Dave Zweifel is editor emeritus of The Capital Times. dzweifel@madison.com, 608-252-6410 and on Twitter @DaveZweifel.
Share your opinion on this topic by sending a letter to the editor to tctvoice@madison.com. Include your full name, hometown and phone number. Your name and town will be published. The phone number is for verification purposes only. Please keep your letter to 250 words or less.