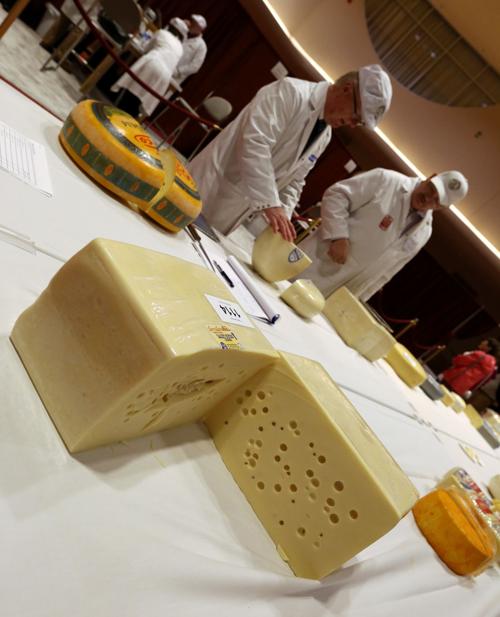 The debate over whether Colby ought to be named Wisconsin's official cheese has provided some summer diversion from an otherwise depressing and typically acrimonious legislative session.
But being a native of Green County I'd be remiss if I didn't view with alarm this proposal to give a cheese that isn't even among the most popular in the state a place among the other state designees: the robin, the badger, the sugar maple tree, the white-tailed deer and the musky, for instance.
Now I suppose I could label this a cheap political trick, since the legislation is the brainchild of two Republican legislators, state Sen. Kathy Bernier and state Rep. Donna Rozar, both of whom have the Marathon and Clark County city of Colfax in their district. Besides, the lobby for corporate farms, the Wisconsin Dairy Council, has endorsed the proposal. It fell flat when it was introduced last time, but is back again.
But, I'm sure it's just some local boosterism.
"Colby was real innovation — its inventive processing led to breakthroughs in cheesemaking that have truly changed cheese and put Wisconsin on the cheesemaking map," the two legislators claimed in a press release. "This bill celebrates that history and innovation, but it's about more than just cheese — it's a reminder that just one small person from one small place can take an idea and change history — even cheese history."
Well, Rep. Rozar and Sen. Bernier, not so fast.
As fellow Green Countian and New Glarus native Todd Klassy wrote on the Facebook group page called "You Know You're from New Glarus if ... ":
"Here's some malarkey for you ... the state assembly is seriously considering legislation that would make Colby cheese the state cheese because 'Colby cheese put Wisconsin on the map.'
"Sorry, but the first commercial cheese factory in the state was between New Glarus and Monticello and the first cooperative on the Streiff farm. They both made Emmental (Swiss) cheese. Their birth and proliferation of dairy farming in Green County, once considered the cheese capital of the world, gave rise to America's Dairyland.
"If anything, Swiss cheese put Wisconsin on the map. Just because Colby invented a cheese if named after itself doesn't mean it is an exemplary example of Wisconsin cheese.
"It's not even on the top 10 list of cheeses sold in Wisconsin," he noted and added, "New Glarus and Monticello citizens unite!!"
Klassy, a student of Green County history, makes a good point. Nothing has defined cheese in Wisconsin like the iconic cheese blocks with holes in them that paved the way for cheese making throughout the state.
Except, of course, my favorite: limburger — with a slice of raw onion on two slices of rye. Green County also can lay claim to that pungy cheese as well. It's home to the only limburger cheese factory in America — the Chalet Cheese Co-op just north of Monroe.
So let's not let some cheesy-come-lately claim the title that belongs to us.
Dave Zweifel is editor emeritus of The Capital Times. dzweifel@madison.com, 608-252-6410 and on Twitter @DaveZweifel.
Share your opinion on this topic by sending a letter to the editor to tctvoice@madison.com. Include your full name, hometown and phone number. Your name and town will be published. The phone number is for verification purposes only. Please keep your letter to 250 words or less.