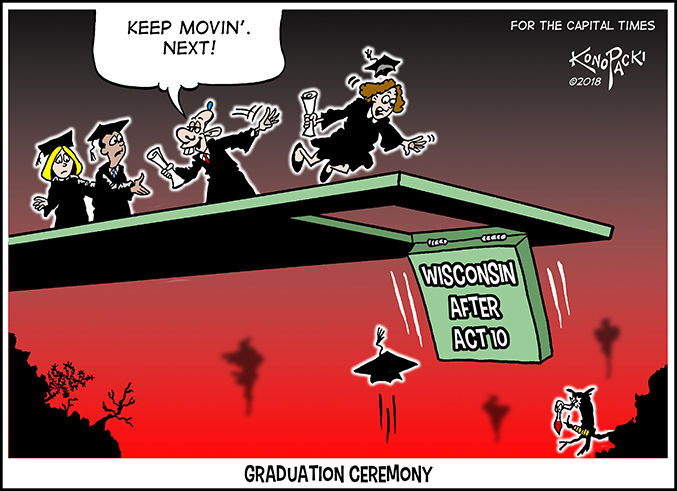 While attending my granddaughter Emma's graduation earlier this month and watching the Monona Grove High School teaching staff wish their goodbyes to the kids they nurtured these past four years, I couldn't put it out of my head that Scott Walker's infamous Act 10 is on the front burner again.
Several of those in the crowded field of Democratic candidates for the gubernatorial nomination have promised to work for its repeal if they're elected governor. Republicans are insisting "no way" — the 2011 law that essentially eviscerated public employee unions and reduced workers' take-home pay is here to stay.
The taxpayers have been the winners, conservative columnists, talk radio hosts and bloggers claim. There's no appetite to revert to the days when unions represented teachers on everything from pay and benefits to workplace safety.
Among the hardest hit have been the state's public school teachers. Not only were they required to pick up a significant portion of their health insurance and pension costs, Act 10 also significantly hamstrung local school districts from raising some revenue on their own even as the state cut $750 million from public education while enacting tax breaks for many of the state's big businesses.
To state the obvious, the act has significantly altered the relationship among teachers, administrators and school boards. Just how big this impact has been was detailed in a study conducted last year entitled: "In the aftermath of Act 10: The changed state of teaching in a changed state." The statewide study was compiled by five educational researchers, who began by examining the changes between collectively bargained teacher contracts and the "handbooks" that replaced them in the 236 school districts that responded to the study.
The districts were divided into urban, suburban and rural districts, and further cross-ranked into blue (liberal), red (conservative) and purple (politically mixed) based on the gubernatorial 2010 election results. From there, 26 middle- and high-school social studies teachers were selected from the targeted districts to participate in extensive one-on-one interviews on the changes they have seen.
Researchers Eleni Schirmer and Simone Schweber of UW-Madison, Kristin Sinclair of University of Maryland-College Park and Jennifer Gallagher and Katy Swalwell of Iowa State found that Act 10 has had a big impact on the teachers' relationships with their districts and the way they teach in the classroom and has also contributed to emotions that include feeling vulnerable, indifferent and sanguine.
Although some districts have continued to include teachers and seek their advice in policy-making, many of them have not, making it clear that decisions will be made by the school board and administrators only.
One of the toughest problems for teachers, the study found, is that because Act 10 took away the requirement that teachers could be fired only for just cause, there's constant pressure to be extra careful. In other words, you never know when an official will visit your classroom, not like what you're doing and soon you're out the door.
The study also revealed that class sizes have increased in most of the districts and there is now seldom enough time to "sit down with kids" and build relationships. The "churn" among the teaching force is significant, many have retired early, and others leave for better and, often, less-stressful jobs.
To be sure, some didn't view the Act 10 impact as negatively. Some were happy they no longer had to pay union dues and believed their jobs were just as secure as before Act 10.
Overall, though, the study maintains: "This policy has dramatically shifted these teachers' lived experiences and emotional connection to their work in a negative direction."
"Because enough districts seized the opportunity to dramatically alter power relations in ways that marginalized or totally silenced teachers, and because power grab was used in enough places to make changes that made their work simultaneously more difficult and less stable, even those teachers in 'good' districts felt fearful of what could happen," the study found.
Let's, however, face the bottom line here. If we're going to pay our teachers less, marginalize them when it comes to having a voice and make them look over their shoulder at every turn, how many of those smart kids I watched walk across the stage to get their diplomas will be attracted to what is undoubtedly the most important job for our future?
When our bright kids choose not to be our future teachers, we've lost the battle.
Dave Zweifel is editor emeritus of The Capital Times. dzweifel@madison.com and on Twitter @DaveZweifel. 
Share your opinion on this topic by sending a letter to the editor to tctvoice@madison.com. Include your full name, hometown and phone number. Your name and town will be published. The phone number is for verification purposes only. Please keep your letter to 250 words or less.