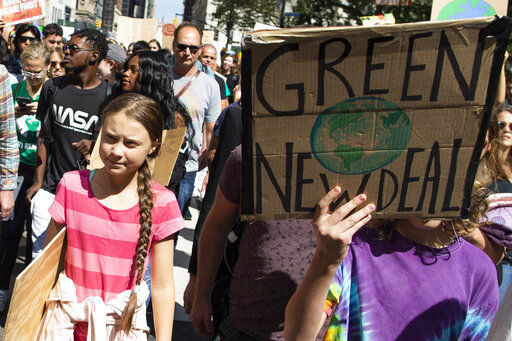 Many world leaders and climate change experts were disappointed with the results of last December's United Nations Climate Change Conference in Madrid, but one longtime local activist who was among the 27,000 who attended came away with hope for the future.
Carol Phelps of Middleton, who labels herself as a "freelance climate activist," says she was lucky to snag a ticket to the much-watched conference known as COP 25 because it was the UN's 25th conference dealing with the stark realities of our changing climate.
Readers of The Capital Times' Voice of the People may recognize Phelps' name. She's a frequent contributor, reminding people of our warming earth and urging respect for the environment and a staunch supporter of saving trees.
I ran across a column she had written for the newsletter of the respected Madison nonprofit, Sustain Dane, which strives to get businesses and people to create a sustainable future. She described her experiences at the huge international meeting and it surprised me that she had found a silver lining.
The COP 25 conference, after all, was derided for showing little progress in combating what many UN experts see as a climate catastrophe that is already underway. While it did result in many world countries agreeing to increase carbon cutting commitments during the coming year, critics complained it didn't do enough. Part of that was blamed on several of the world's biggest polluters, including the United States, blocking any progress. Donald Trump famously withdrew the U.S. from the climate change treaty that came out of the Paris conference while Barack Obama was president.
Those who attended the UN meeting were greeted with a series of alarming findings on the growing impact of climate change on the world's oceans, forest and glaciers. And when little progress was reported during the meetings, the conference was greeted with large demonstrations in protest.
Still Phelps tries to remain optimistic.
"In the U.S. there seems to be an alternate universe in which the climate crisis is not big or urgent or man-made, or perhaps even happening at all," she told me in an email. "At the climate change conference I found encouragement simply from being around thousands of people who all live in the same universe that I do.
"To have everyone agree that there's a huge problem — to hear that said by a whole heap of prime ministers and presidents and banks and scientists and businesses — is phenomenal," she added. "It's the first step to constructive action. If the house is on fire, it's going to work a whole lot better if you organize a buck brigade than if individual people start flinging a bucket or two on the fire."
She mentioned the influence that Swedish teenager Greta Thunberg is exerting, giving voice and moral authority to young people.
"But I hadn't expected to see dozens and dozens of other teenagers — some younger than Greta is now — some still in high school and too young to drive cars — speaking with poise, passion and authority in front of TV cameras and press on the world stage," she said.
Phelps described how she spent her time at the six-day Madrid conference. She was able to get into the "blue zone" where the politicians and scientists have their meetings. Most meetings were open to her because of her "accredited observer" status, she explained, but the higher-level negotiations were only open to top-level politicians.
She described how as an American she might get a smile when she ran into influential people, but "I felt the need to apologize for our country and our current leadership ... I don't think most Republicans realize what standing we've lost in the yes of the world since they put Mr. T at the helm."
Carol is a teacher and "I care about kids. When I'm asked why I became a climate activist, the shortest, simplest answer I give people is that I may not be alive in 30 or 50 years, but the students I'm teaching today will be."
She and her husband Andy have visited about 40 countries during their lives, but they've sworn off flying as much as possible to help save the planet. She also confided that she and Andy are longtime animal activists, but today, as her husband puts it, "It's no longer about saving the sad polar bears. It's about saving the humans."
She had one more comment to further explain her optimism after COP 25:
"Everyone understands we're all in this together. It's not about nationality. It's not about money. It's not about fame. It's not about secret ideas. It's about coming together to save the planet. If that's not encouraging, what is?"
Dave Zweifel is editor emeritus of The Capital Times. dzweifel@madison.com, 608-252-6410 and on Twitter @DaveZweifel.  
Share your opinion on this topic by sending a letter to the editor to tctvoice@madison.com. Include your full name, hometown and phone number. Your name and town will be published. The phone number is for verification purposes only. Please keep your letter to 250 words or less.