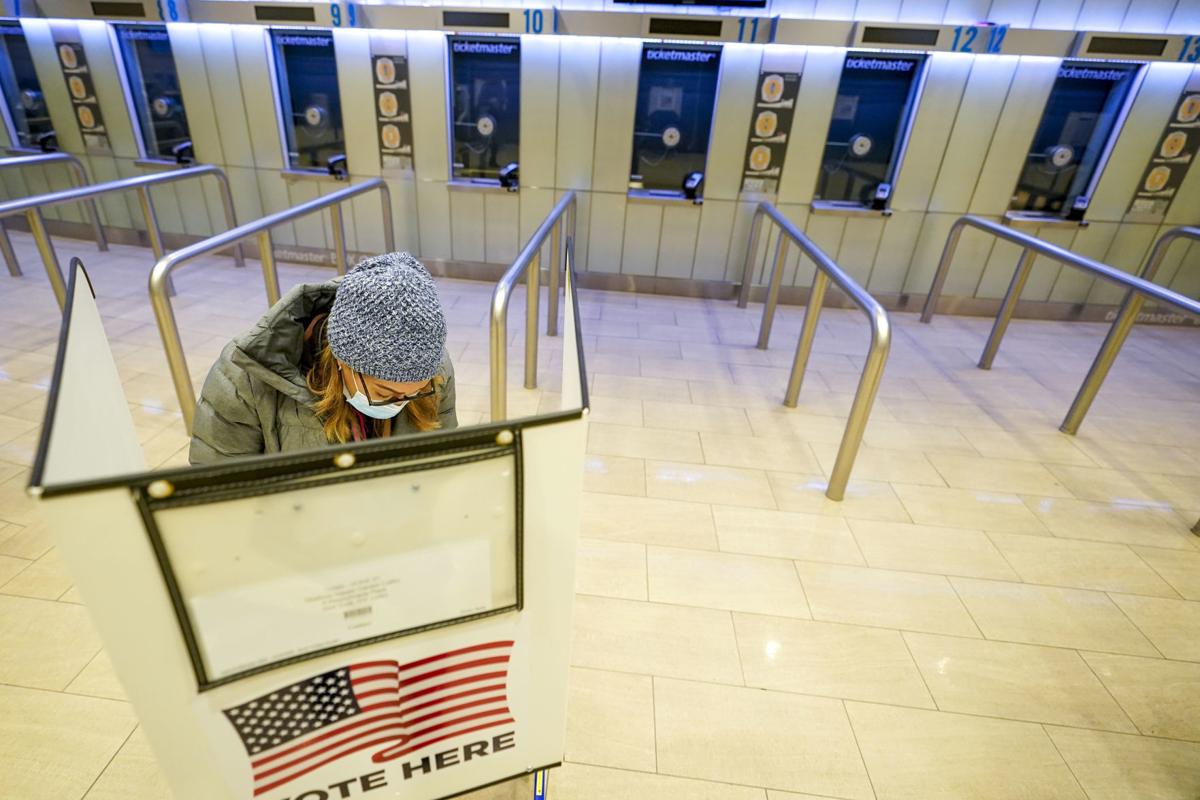 I've always been far more fascinated by ordinary people doing extraordinary things than extraordinary people doing ordinary things. I was never as interested in the lives of musicians, movie stars and politicians as I was in the lives of janitors, teachers and mechanics. These people are the backbone of this nation, and on Election Day in America their voices are finally valued as such. They hold the power to make the most important decisions in the nation's future: who will lead it.
So on Election Day, I stopped at polling places in Milwaukee and Ozaukee Counties to understand the enigmatic "Wisconsin voter." After years of watching cable news I've learned no poll or expert can ever really capture the complexity of voters. That can only be done by actually taking the time to get to know them.
Through talking to voters I learned about something I don't often hear discussed on national news: how abandoned many Wisconsinites feel by government.
A young Bernie Sanders fan in Ozaukee County told me, "I'm not super invested, so it doesn't make as big a difference."
He wasn't the only who seemed indifferent.
"Sometimes I think, is that all we have in this country is these two people? I know that sounds awful but just truthfully," a hair salon owner in Port Washington said.
And a history professor at Carthage College in Kenosha who identified as an Independent plainly told me he had "contempt for both Democrats and Republicans."
"I'm basically casting a protest vote against each party," he said.
Not a single voter I spoke with was happy about their choices. Republicans thought their candidate was too erratic and unpresidential, Democrats thought their candidate was too moderate and Independents thought their candidate couldn't win.
There is a deeply-ingrained cynicism around politics among Wisconsinites. Working class folks, farmers and manufacturers said they'd never seen a lasting, positive impact in their lives that came from politics.
But politicians, from the local to the national level, have lofty plans for Wisconsin. And they too came from the same modest beginnings. Many local politicians in Wisconsin started out as truck drivers, small businesses owners and armed service members, just like their constituents.
They want to help everyday Wisconsinites like them.
I thought voters would feel passionately about their representation in government, not apathetic. But, as I researched the candidates, I saw the issue. Many local candidates didn't have a lot of accessible, digestible information about them online. Some candidates didn't even have websites.
For better or worse, a deluge of political ads filled in the gaps. The ads were everywhere, they were vicious and they provided little information. There were few informative ads about what the candidate could do for you and it showed when I talked to voters.
I spoke to a young man who worked at a scrapyard, which was clear to see from the oil stains on his sweatshirt. He said he thought liberals were trying to strip him of his constitutional rights.
"I mean, what happened to the individual freedoms of a person," he said. "I don't like that they're trying to take my guns away. I love my guns. My guns are awesome. I don't like all the regulations that the Democrat Party puts on businesses which ultimately affects me since I'm in the manufacturing industry."
I examined the platforms of many local liberal politicians over the past few weeks and not one said they wanted to get rid of guns, but many attack ads on those candidates did.
Other voters had so little information they didn't know what the people on the ballot were even running for. When I asked a man in Ozaukee County about the pandemic he said, "Well our problems there start with the governor. I think Scott Walker should have remained so that's our big problem right there."
But the only substantive thing Gov. Evers has managed to achieve on the pandemic is a statewide mask mandate that only about half the state followed on a good day. Most of the governor's proposals were shot down by the Legislature.
So I asked the voter about the Legislature. He said he didn't know what that was. He wasn't alone in his confusion. Others said they didn't know what politician was in which party. We learn about the most insignificant thing a politician's opponent said at a party in college in political ads but not basic information like what parties they represent or what positions they are running for.
The Port Washington hair salon owner told me she feels "uninformed a lot."
She didn't like thinking about bad news so she stopped watching it. She felt guilty about being ill-informed but just couldn't stand the negativity she found in the media.
These voters were not political activists, organizers or community leaders. Many of them just wanted to spend time with their families, watch the Packers game and retire comfortably. They don't want to spend their lives in existential dread about the fate of the nation as many political junkies do. And I, for one, can't blame them.
They don't resonate with this media environment we've created over the decades — highly complex, bitterly divided and overwhelmingly negative.
A young dad in northern Milwaukee explained to me what was missing from the messaging this election cycle.
"In the past I had a lot more people visiting door-to-door, interacting," he said. "And I think with social distancing specifically it made it a lot more challenging."
He said he relies on in-person organizing to learn about the candidates separate from attack ads and lawn sign slogans.
"I think that it's important to speak to someone one-on-one to really dig in and understand. I think that media, whether social, news, political ads, are difficult to disseminate a lot of the time until you actually communicate and converse with someone in person to understand their true vision and platform," he said.
And that really is the Wisconsin way. Spending quality time with your neighbor talking about what matters to you.
I could see how the lack of on-the-ground organizing had affected voters. Many of them had checked out of the mainstream media sphere long ago and were left to fend for themselves in a world of political ads and social media echo chambers.
Of course, it's important to note the pandemic did make it unsafe to go door-to-door.
When I asked the young dad if texts and calls from organizers helped persuade him he laughed. Perhaps that could fly in a San Francisco or a Seattle, but the Midwest isn't a tech-driven world and, in fact, prides itself on its folksy, down-to-earth communities.
Wisconsin has been divided for years and it was reflected in 2016 and 2020 when Trump and Biden respectively won the state by less than a percent.
But being divided doesn't necessarily mean the opposing sides are enthusiastic about their respective candidates. Sometimes it just means they really don't like the other party's platform.
Voters I met said they hadn't been happy with their options in years.
If you want to sway a Wisconsin voter, you need to speak their language. Go out in the neighborhoods, when it's safe, and talk to voters in person about what matters to them.
And attack ads may be more memorable but Wisconsin voters don't want to make decisions out of spite, they want to make them out of support.
There has been much speculation about why polls were so off this year, especially in Wisconsin. Some experts hypothesize some voters have lower social trust than others and are less likely to fill out polls.
I heard a lot of voters voicing distrust of parties, institutions and media on Election Day. Wisconsin voters feel alienated from the media and all the negativity and complexity.
You shouldn't need a Ph.D. to understand CNN or Fox. I spoke with people who said they didn't vote at all because they didn't feel informed enough.
We may wish that people were more engaged in politics, that it meant as much to them as it does to us. But we can't change who they are. What we can do is help them better understand the information they do consume.
Convoluted, multi-faceted institutions like state or national government will never be easy to understand, but we can at least try to make them a little simpler for voters.
If you work in media, take the time to break down complicated processes. If you're an avid social media user, share articles explaining the issues in simple terms and if you're a politician, create ads, visit voters and explain what you plan to do in office.
If we, as a media world, ever hope to combat misinformation we have to inform voters with facts as aggressively as conspiracy theorists spread lies.
Wisconsinites are deeply entrenched in the division between blue and red but we can at least help them be informed and enthusiastic about their choices if we send the right messages. I also think this will help rebuild social trust and maybe even yield more accurate polling data.
We can help voters believe in government institutions again if we go the Wisconsin way: forward.
Dana Munro is the weekend morning producer at WBAY-TV. She is a 2020 graduate from the UW-Madison Journalism School. She's also written for Madison Magazine and WisPolitics. Reach her at danaannmunro@outlook.com.
Share your opinion on this topic by sending a letter to the editor to tctvoice@madison.com. Include your full name, hometown and phone number. Your name and town will be published. The phone number is for verification purposes only. Please keep your letter to 250 words or less.
Catch the latest in Opinion
Get opinion pieces, letters and editorials sent directly to your inbox weekly!