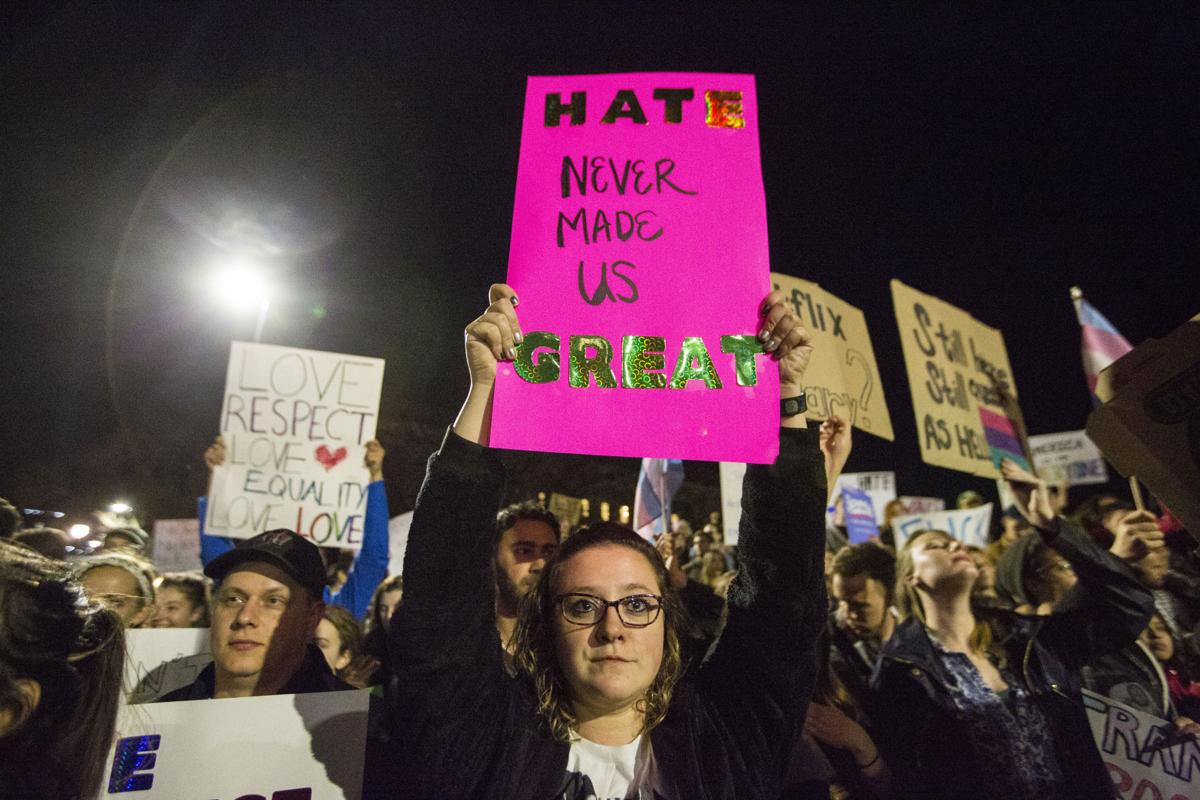 The selection of Donald Trump to the presidency earlier this month left many of us shocked. In addition to his win, the nation overall saw a wave of conservatism overtake it, and Trump will have at his disposal a Congress that will be happy to pass far-right bills for him to sign.
"He's been given a mandate," she says, and "it's a repudiation of some of the things we've had."
Both Nesbit and Conway, and everyone else who considers Trump's victory a mandate, couldn't be more wrong.
Yes, a significant number of Americans chose Trump as their preferred candidate — we cannot ignore that almost half of the nation preferred his vision for the country. But we also must acknowledge that Hillary Clinton won more votes from the American people than did Donald Trump. Her vote totals will go down as the second-highest ever received by a candidate in history, behind only Barack Obama.
The Electoral College, the archaic and outdated system of selecting our nation's chief executive, allowed Donald Trump to win the election without getting the most votes. That fact alone makes it very difficult to suggest that he has a mandate from the American people. How could he claim as much when more people voted against him than for him being the president?
Trump and his Republican allies in Congress (even those who are his reluctant allies) need to be frequently reminded of this fact, that more Americans chose the vision offered by Hillary Clinton than by the GOP candidate. And that's why the demonstrations across the country, where thousands of people have taken to the streets against the outcome of this election, matter so much.
It's easy for some to scoff at these protests as pointless. The outcome of the election will not be changed because of these individuals, no matter how clever their signage may be. So to a lot of people, these demonstrations aren't accomplishing much of anything.
But in reality, they do matter. They are symbolic of the discontent that most Americans have with what Donald Trump represents. And they provide visible evidence that contradicts the notion of a mandate for the president-elect.
Trump will be president, and he will have a Republican Congress. But mandates generally mean that huge changes can be undertaken that dramatically alter the way our government works, or what the immediate past has come to represent. In this instance, a mandate would mean a complete scrubbing of the Barack Obama presidency and the past eight years of progress.
The American people don't want that — the current president remains immensely popular, and most voters preferred a continuation of his policies through what would have been Hillary Clinton's presidential term in office.
The voices in the streets ring out that message loud and clear for Donald Trump, Paul Ryan, Mitch McConnell, and other Republicans to see and hear. With limited exceptions, these demonstrations have been peaceful, and should continue to remain that way in the days ahead, if they go on longer. It's my hope that they do go on, peacefully, and that they continue to serve as a reminder to those in power that President-elect Trump has no mandate.
Share your opinion on this topic by sending a letter to the editor to tctvoice@madison.com. Include your full name, hometown and phone number. Your name and town will be published. The phone number is for verification purposes only. Please keep your letter to 250 words or less.