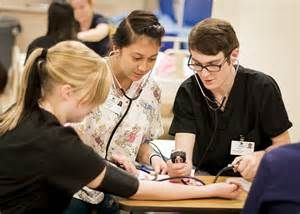 We care for your mother, your father. We care for your son, your daughter. We care for those who cannot care for themselves. Our patients and residents need our expertise to ensure their safety and dignity. Activities of daily living that we take for granted for ourselves are beyond the ability of our patients and residents. So we feed, bathe, toilet, lift, move them to make sure that they are taken care of in a compassionate and nurturing environment. For some patients/residents we care for, rarely seen by family, we sometimes become the strongest advocates for those in our care.
While we joyfully provide the necessary loving care to our patients and residents, our work days are mired by understaffing, mandatory overtime, double shifts, fatigue, burnout and frustration that we cannot provide everything our patients and residents deserve. We are often left with only 20 minutes to care for each resident during our shift. Can you, a healthy person, bathe, toilet, and eat one or two meals in 20 minutes out of an eight-hour day? The deck is stacked against us every day we go to work.
Yet we prod on, making sure your loved one is taken care of despite all the distractions.
Who are we? We are the Certified Nursing Assistants (CNA) in your hospitals, nursing homes and home care. We are underpaid, overworked, and shrinking dramatically in numbers every day. We have our own families to care for too, and low-quality jobs can make this difficult. But we love and are committed to the people we care for as well.
The lack of nursing assistants to provide health care is affecting the delivery of quality acute, short and long-term health care for our citizens.
A recent Wisconsin study, "The Long-Term Care Workforce Crisis: A 2016 Report," found that between 2012 and 2015, 24 percent fewer people applied for a CNA certification and, to make matters even worse, there was a 24 percent drop in the same time period of people renewing their CNA certification. Why? Because we make a median wage that is $1.25 less per hour than non-health care, unskilled, entry-level workers. Because we can't afford health care for ourselves and our families. Because four out of five of us who took jobs outside of health care left for better pay, better benefits and/or better hours, according to the Wisconsin study.
The time for action to reverse this crisis is NOW. We can't wait because, according to the Wisconsin Department of Workforce Development, by the year 2022 the need for personal care workers is projected to increase by 26.4 percent. Failure to act NOW will mean substandard care for your mother, your father, your child — and even possibly for YOU.
So what do we need to do? We need to celebrate and support our CNAs for the incredible service provided during National Nursing Assistant Week this week. We need to support legislation to raise the minimum wage to $15 per hour for health care workers. We need to increase reimbursement to providers from Medicaid and Medicare for acute, short- and long-term care so we can have a living wage and health care for ourselves. We need to provide CNAs with a voice in safe staffing and quality care for our patients and residents through voluntary participation in their labor union. We need to come together as a community and stand up for the disabled and elderly and ensure they get the best care possible.
Join with us in making this happen. Call SEIU Healthcare Wisconsin at 888-285-1199.
Tamiko Jones, Regina Bell, Jaime Schmidt and Virgie Burton have been nursing home certified nursing assistants for between eight and 21 years.
Share your opinion on this topic by sending a letter to the editor to tctvoice@madison.com. Include your full name, hometown and phone number. Your name and town will be published. The phone number is for verification purposes only. Please keep your letter to 250 words or less.