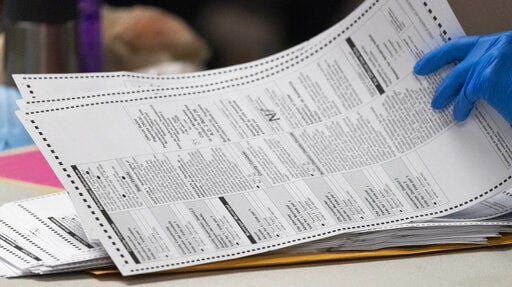 I'm one of thousands of dedicated Wisconsin poll workers who just faced an impossible choice. If I said yes to helping my fellow citizens vote in the April 7 election, I would also be saying yes to a heightened risk of contracting COVID-19.
Thousands of us said no. Even before Gov. Tony Evers issued a statewide "Safer at Home" order on March 25, older poll workers like me were staying safer at home.
Although I normally vote in person, this time around, my husband and I requested absentee ballots. So did more than 1.3 million Wisconsinites, roughly five times the previous record. Understandably, municipal clerks were overwhelmed by the requests. Thousands of voters did not receive their ballots in time to vote by mail.
Voters now faced an impossible choice — vote in person or not at all. By voting in person, they would be saying yes to a serious health risk to themselves and the public. Since mid-March, Wisconsinites have sacrificed in order to limit the spread of COVID-19. State epidemiologists are currently studying whether we squandered some of our progress on April 7.
In addition to being unsafe, Wisconsin's election was far from fair. Yet our faith in fair elections is crucial to the health of democracy.
Voters nationwide should never face the impossible choice we faced. In many states, important elections are close at hand, including the May 12 election in Wisconsin's 7th Congressional District.
The threat of COVID-19 outbreaks extends well into the foreseeable future. We need a pandemic plan for our democracy. All 50 states can and must implement vote-by-mail in time for the Nov. 3 presidential election.
Politicians are divided on the idea, with Democrats in favor and Republicans generally opposed, but their constituents are united. We all want to exercise our precious right to vote — safely — even in a pandemic.
Safe voting by mail can become a unifying project rather than a polarizing issue. Iowa's Republican Secretary of State, Paul Pate, recently announced that postage-paid absentee ballot request forms will be sent to all registered voters in time for the June 2 primary election. Gov. Mike DeWine delayed Ohio's primary election because of the pandemic, and the state has since transitioned to an all-mail election. Other states are following their lead.
Mail-in voting is not a new concept. Colorado, Hawaii, Oregon, Utah and Washington conduct all-mail elections, so we can learn from them. Since 1998, Oregon has boasted "the most convenient voting system in the country." All registered voters in Oregon receive their ballots several weeks before elections and can return them by mail or place them in designated drop boxes. In Colorado, all-mail voting has resulted in a 40% savings in election administration costs, according to a 2016 Pew Charitable Trust study.
At least 21 other states provide for some elections to be conducted entirely by mail. Every state has some provision for absentee voting, and all-mail elections are simply absentee voting for everyone.
Here in Wisconsin, all registered voters can make their absentee ballot request early—even today—for the Nov. 3 presidential election at Myvote.wi.gov.
If Wisconsin lawmakers hear an outcry from their constituents at Legis.Wisconsin.gov, our current health crisis can be an opportunity to go a step further. Wisconsinites should automatically receive their Nov. 3 ballots by mail. We need not stand in long lines for hours in order to vote. Voting would be easier for everyone, especially seniors and disabled voters, rural voters, working people who can't take time off, business travelers, and busy families.
I just spoke with a friend who made the tough choice to be an election volunteer on April 7, despite the risk. When she returned home at the end of a long day at the polls, she placed herself in a voluntary two-week quarantine to protect vulnerable members of her household. She does not regret her personal sacrifice. But, she emphasizes, voters and poll workers must never again face avoidable disaster. There is a solution close at hand — expanded absentee voting.
Carrie Scherpelz is a marketing communications professional and longtime Madison resident. 
Share your opinion on this topic by sending a letter to the editor to tctvoice@madison.com. Include your full name, hometown and phone number. Your name and town will be published. The phone number is for verification purposes only. Please keep your letter to 250 words or less.