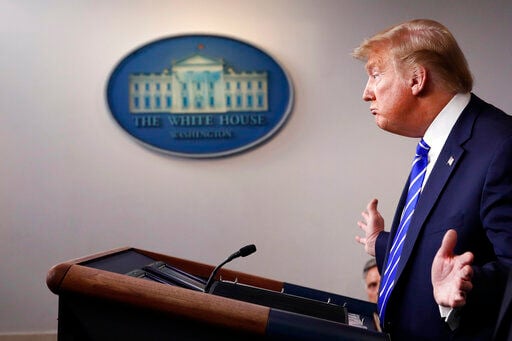 As President Donald Trump leaves office, his central legacy will be the mess he has left for Joe Biden to clean up. From the economy to the pandemic to the intentional stoking of racism and division, he's leaving the social fabric of our country in tatters. And he didn't act alone.
Republicans like Ron Johnson and Mike Gallagher have enabled it at every turn. Now, the incoming administration has a monumental turnaround job on its hands, and it's all of our job to help them succeed.
Two weeks ago, pro-Trump insurrectionists took their cues from Trump himself and pillaged the Capitol, attacked police officers, and threatened our elected officials in Washington in an attempt to reject the election results. It was a shocking scene, and one that left five Americans dead and our nation roiling from the violence inflicted on the sacred altar of our democracy. But while Trump will go down in history as the only president ever impeached twice, his legacy of failed leadership extends beyond the chaos at the Capitol.
The ongoing pandemic, which has infected half a million Wisconsinites and killed nearly 6,000 of our friends and neighbors, still terrorizes our state. A new, especially contagious variant of COVID-19 was recently found in Wisconsin, and dozens continue to die each day.
Instead of mobilizing the resources of the federal government to respond to the coronavirus pandemic over a year ago, the Trump administration failed time and again to meet the moment, leaving frontline workers without the protective gear they need and undermining public health guidance on the importance of wearing a mask. Trump himself admitted to underplaying the severity of the pandemic for his own political gain, while Republicans in Madison have undermined stay-at-home orders.
Now, after herculean efforts by scientists, doctors and states to manage the crisis on their own, the Trump administration once again failed to create an efficient vaccine distribution system, and as a result some vaccine doses are spoiling before use, even as more and more Americans clamor for access to them.
These failures have exacerbated the existing economic crisis in our state. Even before COVID-19, Wisconsin was hemorrhaging manufacturing jobs, as the Trump tax scam incentivized companies to send American jobs offshore, lining the pockets of rich donors and corporations while Wisconsin workers were left holding the bill.
Job losses under Trump are the worst since the Great Depression, and nearly 4 million jobs across the country have been lost on his watch. Trump said he would get tough on China but instead he got played, and his erratic trade war inflicted pain on Wisconsin farmers, workers and consumers. He leaves office with the unemployment rate in Wisconsin a point higher than when he became president. Trump said farmers in Wisconsin were "over the hump" as farms across the state continued to shutter. Trump promised that Foxconn would invest millions of dollars in Wisconsin and create thousands of jobs, but four years later that promise has yet to become reality.
Trump wasn't a lone wolf saboteur. He had accomplices — nationwide, and very much in Wisconsin. Sen. Ron Johnson continually carried water for Trump, fanning the flames of insurrection by feeding Trump's lies about the results of the election.
Wisconsin Republican Reps. Tom Tiffany and Scott Fitzgerald told journalists that they would have voted to throw out Wisconsin's own election results if they'd been given the chance. Rep. Mike Gallagher, who got national airtime for criticizing Trump after the insurrection, nonetheless cast his second vote against holding Trump accountable through impeachment. Derrick Van Orden, who ran against Rep. Ron Kind, actually attended Trump's Jan. 6 rally in D.C., apparently leaving the scene just before the mob sacked the Capitol. And GOP state legislators who blocked expanded voting rights at every turn are now apparently doubling down on their unwillingness to cooperate with Gov. Evers on urgent priorities like COVID-19 relief and overhauling Wisconsin's unemployment system.
The Biden administration plans to immediately help build back the economy and aggressively tackle COVID-19 on day one. And it is committed to bringing Americans together across race, to addressing the toxicity of racism and discrimination, and to restoring the soul of our nation. That vision is central to why Joe Biden was elected to replace Donald Trump. But the historic failures of the Trump administration and the hole in which it leaves our nation won't go away with Joe Biden's inauguration, or with the second impeachment of Donald J. Trump.
We need accountability from Republicans who helped enable these historic failures. And we need to do all we can to move the Biden-Harris Build Back Better agenda forward — so that, as we clean up the mess that Trump leaves behind, we create a better world than the one we inherited. Just as democracy requires everyone, so too does the project of living up to our nation's never-achieved ideals.
Ben Wikler is the chair of the Democratic Party of Wisconsin.
Share your opinion on this topic by sending a letter to the editor to tctvoice@madison.com. Include your full name, hometown and phone number. Your name and town will be published. The phone number is for verification purposes only. Please keep your letter to 250 words or less.