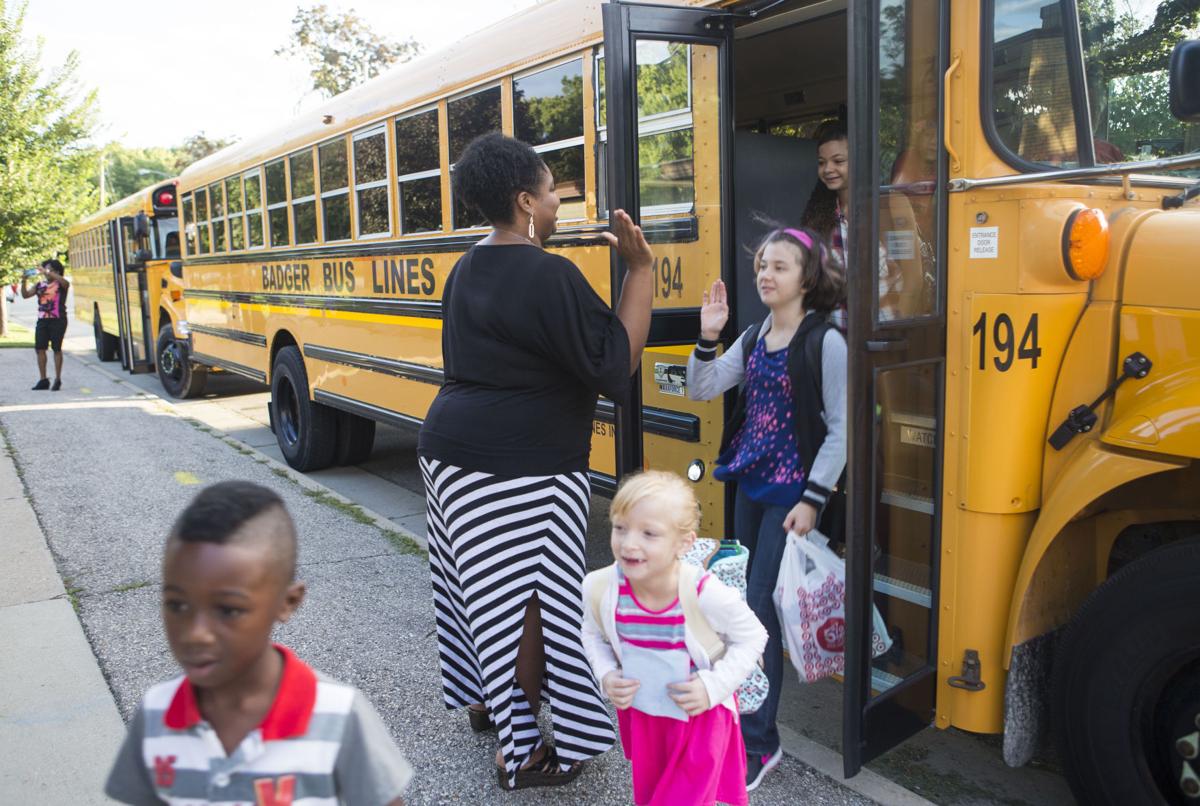 Dr. Carlton Jenkins. Welcome back to Madison. We are Amber Walker and Negassi Tesfamichael. We covered Madison public schools for the Capital Times from 2016 to 2019. We visited dozens of schools during that time, interviewed principals and district administrators, heard from teachers, classroom support staff and community program facilitators, and built relationships with countless students and their families.
Like superintendents across the country, you have the unprecedented challenge of providing quality instruction for students amid a global pandemic. COVID-19 has already claimed far too many lives while devastating families' health and economic outlooks. All of this is happening while the police and the institutions that protect them continue to harm Black people.
While COVID-19 has added an enormous amount of uncertainty for schools, one thing is clear: Madison Metropolitan School District's challenges go far beyond the pandemic itself. Black students and their families face disparities not just in public schools, but also in health care, housing, economic opportunities and the criminal justice system. The pandemic has only laid bare many of the challenges Madison has faced for a long time but failed to adequately address.
We know MMSD can't fix everything, but the district can work more intentionally to fulfill Black students' constitutional right to equal access to quality education.
We are encouraged by your vision for the district, that it should be a place "where all students have a guaranteed right to participate and have access for all the opportunities." The district has to work closely with the community to realize this vision. Failing to do so will set students — particularly Black students who historically have not been served well by the district — further back, long after the pandemic subsides. As you stated previously, you are serving as superintendent in a moment where "there is no honeymoon period."
Like many of Madison's institutions, MMSD loves to say that it supports Black people through its rhetoric and fancy statements, backed by very little substance. As wonderful as it is to have a Black Excellence Plan, how can we make sure we turn words into concrete and meaningful actions? How many more committees and task forces are needed to identify the issue instead of promptly addressing it?
MMSD has to be willing to accept criticism from community members openly and honestly. We were glad to see you attempt to rebuild trust with parents on your very first day on the job. MMSD cannot afford to lose any more trust from its parents, students or teachers. It must listen to these key groups. The district should be open to scrutiny and willing to fulfill open records requests promptly. Transparency still matters, even in a pandemic. MMSD should build a culture that allows teachers and staff to express their praise and frustrations with their work.
MMSD aims to have every student graduate from high school "college, career and community ready." While the pandemic will likely force schools to rethink how they will achieve this, we cannot accept Black students' current reality of not receiving the same high-quality opportunities to learn that their white counterparts get. Black students must get the preparation they need to succeed in whatever path they choose after high school, including college.
We also see that you are prioritizing raising reading and math proficiency for MMSD's youngest students; Hiring a second chief of elementary schools provides another layer of administrative support for elementary schools in line with what's available at the high school level.
For the past decade, Wisconsin schools have consistently placed first or second in the nation for the broadest achievement gaps between Black and white students. MMSD's Black students perform below the state average. For years, both state and national standardized test scores indicate that, despite sitting in the same classrooms, Black students do not perform as well as their white peers in reading and math, across grade levels.
Black students persistently face higher suspension and expulsion rates. Some Black students and parents have expressed frustration over the years that there seem to be different standards for them versus their white peers.
The more time students spend out of school, the more likely they are to fall even further behind, increasing their likelihood of court involvement and falling victim to the school-to-prison pipeline.
Virtual learning during COVID-19 further complicates your charge to tackle all of these issues. Know that you have allies during this stressful time. Organizations like Simpson Street Free Press have managed to successfully transition to an engaging online learning model.
For over 20 years, SSFP has worked with Madison students in some of the city's lowest-income neighborhoods who attend schools in vulnerable feeder patterns. Despite the odds, according to SSFP's most recent annual report, over 80% of students increased reading comprehension based on MAP test results. Over 90% improved their overall GPA after two semesters in the program.
The district is in a pivotal moment as it enters the new school year. We know that you are not alone in this fight to improve the educational opportunities for Madison's students, and are rooting for you to succeed in this new role.
Amber C. Walker is a journalist and digital creative. She is one half of The People's Report, a very Black and very funny satirical news podcast. Check out her work across social platforms @ACWalker620. She covered K-12 schools for the Cap Times from 2016-18.
Negassi Tesfamichael is a former Cap Times K-12 education reporter. He currently is a law student at Northwestern University. 
Share your opinion on this topic by sending a letter to the editor to tctvoice@madison.com. Include your full name, hometown and phone number. Your name and town will be published. The phone number is for verification purposes only. Please keep your letter to 250 words or less.