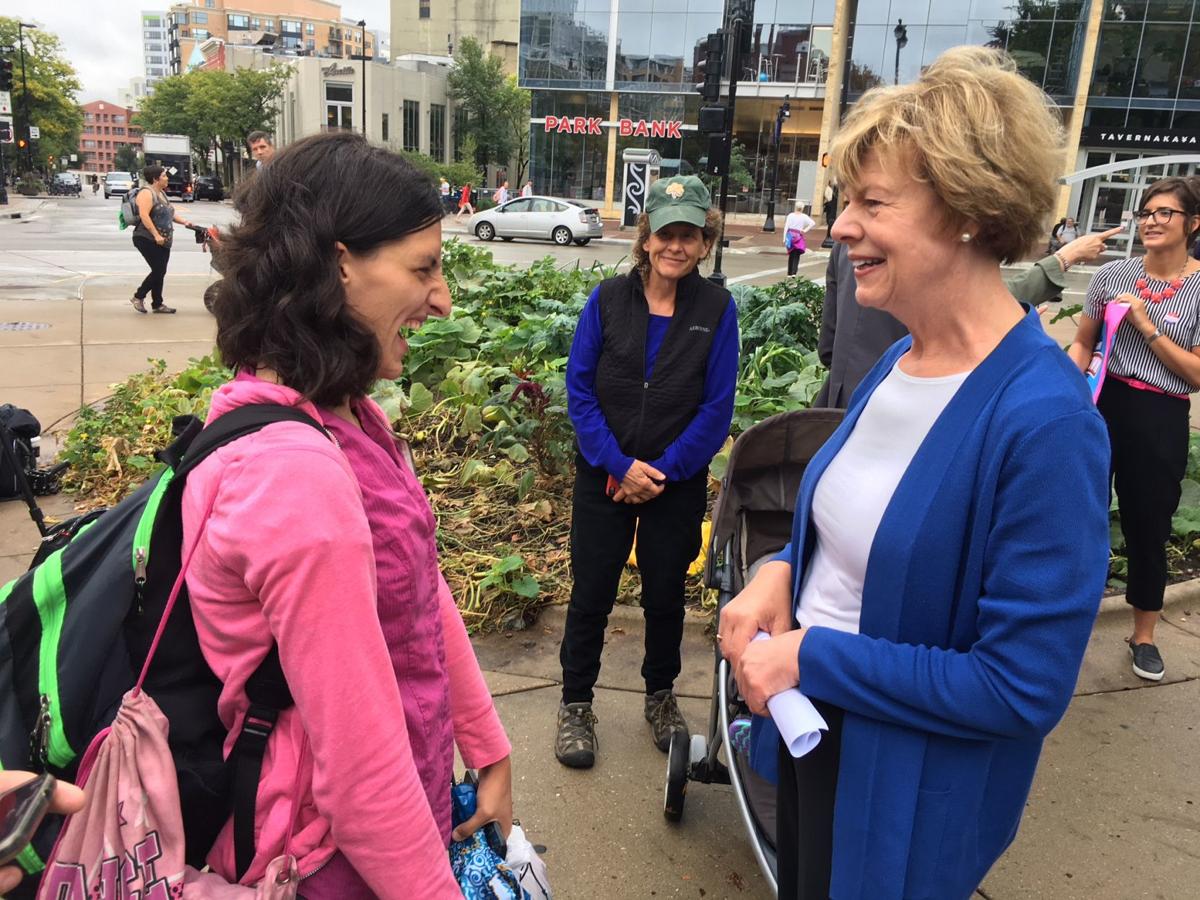 When I was 13, my dream was to become president of the United States. One year later, I fell off a cliff only to emerge a decade later from a life-threatening eating disorder. It has taken another 12 years of recovery for me to reconnect with my teenage aspirations and return to grad school for a degree in public affairs.
My anorexia was of my own doing, but it was done within a society that aggressively objectifies women. According to political science scholars, the objectification of girls and women "has a negative effect on internal and external political efficacy." My eating disorder no longer has any effect on my life. (That is, unless you count my worry over the continuing threat to pre-existing conditions coverage.) However, my journey from sickness to health, my journey to become a whole person instead of a fraction of one, has also been a journey in owning that my voice matters.
An object doesn't have a voice. Women do. And we have a rare choice in the U.S. Senate race in Wisconsin this year. On Nov. 6, we will choose between two women candidates. Americans have only had this choice 15 times before this year, when there are six such races. This is exciting; representation on the ballot matters. But representation in Washington matters more.
Our Wisconsin Senate race is indeed between two women, but it is also a race between two women with markedly different records on women's issues. And all issues are women's issues because all issues affect women. I am not the first to say this. Rebecca Traister, author of "Good and Mad: the Revolutionary Power of Women's Anger," explained it far more eloquently at her recent appearance at the Wisconsin Book Festival. And on every one of these issues, Sen. Tammy Baldwin is the candidate who stands with women.
Guns are a women's issue. Studies show that domestic violence, which disproportionately affects women, is five times more likely to end in homicide if the abuser has access to a gun. Leah Vukmir, who is challenging Baldwin for the Senate seat, is unwaveringly pro-gun, touting an endorsement and an A rating from the NRA. Baldwin supports common sense gun reform.
Health care is a women's issue. Thanks to the Affordable Care Act, insurance companies were banned from charging women more than men for the same insurance plan and were required to cover maternity and prenatal care. Baldwin not only voted for the ACA but has continued to fight for protecting coverage of pre-existing conditions. Vukmir has stated she would vote to repeal the ACA.
The opioid crisis is a women's issue, one that Baldwin says hits close to home for her as her mother struggled with addiction. The deaths due to opiod use disproportionately affect women; since 1999, opioid deaths have increased by more than 568 percent for women compared to 380 percent for men. Vukmir worked on the Governor's Opioid Task Force during her time in the Wisconsin state Senate, but her recent comments focused on fighting the crisis by tightening our borders with Mexico. This is xenophobic, divisive rhetoric that will not help people struggling with addiction.
Supporting our military is a women's issue. While the epidemic of sexual assault in the military has been widely known for years, more and more women are beginning to go public with their stories. Baldwin is a co-sponsor on Sen. Kirsten Gillibrand's bill to remove sexual assault investigations from within the chain of command. To my knowledge, Vukmir has never weighed in on this issue. The women and all those who fight for our country deserve better.
Food insecurity is a women's issue. In 2014, 8.1 million children living in single-mother households in America received SNAP benefits. Vukmir voted for Gov. Scott Walker's attempt to throw people off FoodShare through work requirements that masqueraded as welfare reform. The average beneficiary receives $1.40 per meal. Baldwin has worked to protect SNAP benefits at every turn.
Education is a women's issue. Teaching is a woman-dominated profession, and attacking teachers' benefits and pensions is tantamount to attacking women. That is exactly what Vukmir, a new state senator at the time of the Act 10 protests, has done. In many ways, she's made her record on Act 10 a defining part of her campaign. Baldwin stands with teachers, maintaining an A rating from the National Education Association.
There are more women's issues. Poverty and transportation and higher-education funding and access to voting and, yes, reproductive rights. It is Baldwin who stands with women every time.
In my office as a citizen, the first and easiest step I can take is to vote. I encourage you to join me. This year, in the Wisconsin Senate race, I will vote for women. Because I am not an object; I am a woman. And I will vote for Sen. Tammy Baldwin.
Abigail Swetz, formerly an eighth-grade teacher at Madison's O'Keeffe Middle School, is a graduate student in UW-Madison's La Follette School of Public Affairs.
Share your opinion on this topic by sending a letter to the editor to tctvoice@madison.com. Include your full name, hometown and phone number. Your name and town will be published. The phone number is for verification purposes only. Please keep your letter to 250 words or less.
Catch the latest in Opinion
Get opinion pieces, letters and editorials sent directly to your inbox weekly!