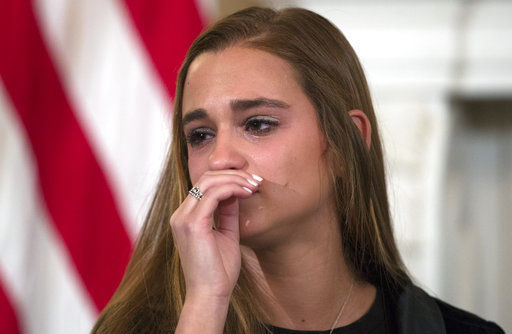 Wisconsinites recently witnessed a typical political ploy by state GOP legislative leadership straight out of the "blood on their hands" NRA playbook. Rep. Robin Vos and Sen. Scott Fitzgerald refused to pass legislation requiring background checks prior to all gun purchases and, instead, simply offered money to schools for armed security guards.
Providing money to schools for armed guards does nothing to prevent or protect our Wisconsin schoolchildren from being massacred by a deranged individual with an assault rifle.
Had our lawmakers gathered the facts about the Marjory Stoneman high school massacre in Florida, they would have learned there was an armed security guard in the high school the day of the mass shooting — and he did not prevent the 19-year-old gunman from killing 17 innocent teenagers and several teachers.
Worse yet, under the Walker administration, our state gun laws are now weaker than those of Florida. Walker and his NRA lieutenants, Vos and Fitzgerald, not only eliminated Wisconsin's 48-hour waiting period for background checks to purchase a gun, they passed a concealed carry law that has fewer application restrictions and less gun-safety training than required in Wisconsin police academies for law enforcement officials.
High school students, their parents and grandparents are tired and angry seeing mass murder after mass murder of young children and teenagers in what has become an American epidemic of school shootings.
We don't need any more of the Republicans' bogus "thoughts and prayers" and their token legislation that avoids reinstating Ronald Reagan's assault rifle ban, along with a comprehensive background check for all guns bought and sold.
So I offer one bipartisan legislative solution to immediately move forward to protect our school children.
Gov. Walker needs to call a special legislative session and public hearing on the enactment of a "Wisconsin gun violence restraining order law" (GVRO).
The GVRO would provide a new legal tool for citizens, teachers, parents, spouses, law enforcement and local officials to stop angry and violent people from buying and/or having access to guns.
While there are various versions of these laws working their way through some states (California passed a GVRO statute in 2014, which went into effect in 2016), a GVRO law would essentially allow family members, neighbors, teachers and ordinary citizens who have been threatened verbally or in writing to petition a local court for a restraining order that would enable local law enforcement to temporarily take that individual's guns rights away.
The great benefit of a GVRO is that it provides citizens with options other than relying on the FBI. As the bureau admitted, it did not respond appropriately to a timely warning from a person close to Nikolas Cruz, who committed the Florida mass shooting.
A GVRO is constitutional because it is consistent with and recognizes both the inherent right of self-defense and the inherent right of due process. It is not blanket punishment and instead, is precisely targeted against angry and potentially violent individuals.
A GVRO will allow neighbors, a spouse, a teacher, a high school counselor or student(s) and their parents to take legal action and at the same time provide due process for the accuser.
The ball is in the court of Gov. Walker and the GOP leadership to stand up to the NRA and take this bipartisan first step to protect our school students in Wisconsin.
A.J. Nino Amato is the Public Policy Committee chair for United Against Hate and UW adjunct criminal justice professor.
Share your opinion on this topic by sending a letter to the editor to tctvoice@madison.com. Include your full name, hometown and phone number. Your name and town will be published. The phone number is for verification purposes only. Please keep your letter to 250 words or less.