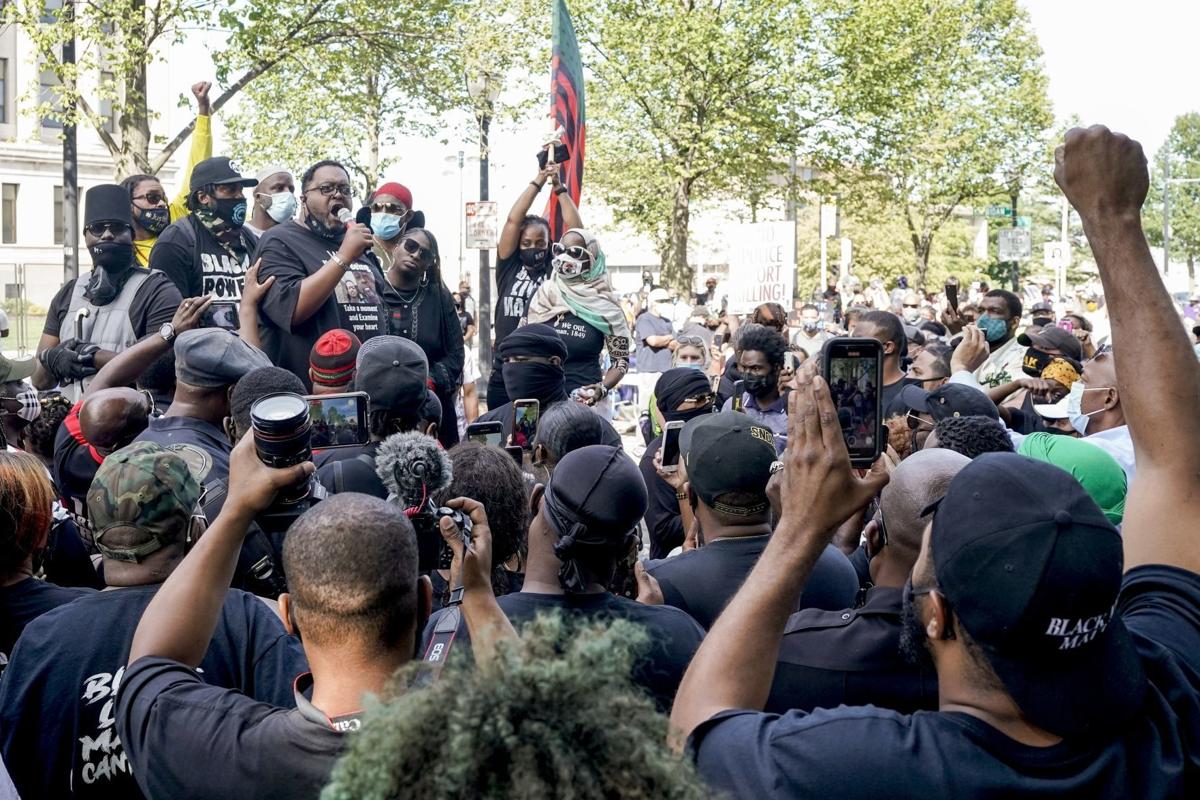 We, the undersigned, condemn the shooting of Jacob Blake by an officer from the Kenosha Police Department. The officer, Rusten Sheskey, shot Blake seven times in front of three of his children. The incident was inhumane and the trauma from the event will remain with his children for the rest of their lives.
Much like public lynchings that began post-abolition, these public shootings are meant to instill fear in Black Americans. Continuous shootings by agents of the law make a statement: No matter how much we protest, speak out, or tweet, Black people do not have the same freedom as their white counterparts to go about their daily lives, even when children or other loved ones are involved.
As Keeanga-Yamahtta Taylor explained in her book, "From #BlackLivesMatter to Black Liberation," Black codes — local laws that required Black people have a white person with them, a pass, etc. — existed "so that Black people would know their place and their presence in public spaces (in which) whites would have the authority to deem their presence as legitimate or illegitimate."
Sadly, many still view Black people as out of place in public spaces, and the consequences of this are potentially deadly. Wisconsin is not immune from the history and continuation of violence toward Black people embedded in the fabric of this country. Additionally, Wisconsin has the highest level of racial economic inequality in the country. According to a 2019 study from the 24/7 Wall St. survey, Milwaukee and Racine were named the first and second worst cities for Black people to live in the nation. The state's racial inequality goes far beyond racism beyond these locales.
Kenosha, is the site of the attempted murder of Jacob Blake. In 2014, Dontre Hamilton was murdered by police in Milwaukee, and two years later, 23-year-old Sylville Smith was killed in the same city.
In 2015, 19-year-old Tony Robinson was murdered by police in Madison. We as Black people do not deserve to die because large portions of our society, including law enforcement, feel threatened by our skin color.
Despite our challenges, the state of Wisconsin's education system can play a role in addressing racist behavior and racial inequality in the state. However, Black faculty, administrators and students are woefully represented across the state often allowed to cycle through campuses
If Wisconsin is to move forward, this trend must stop.
Part of addressing the racial inequality in higher education is attracting Black scholars to Wisconsin campuses and supporting them through their careers. As professors, we teach Black history with the hope that the a new generation will not look to not weaponize Black skin, further perpetuating Black people as dangerous criminals.
Therefore, we call on institutions of higher education across Wisconsin to disrupt anti-Black racism and white supremacy by increasing resources to hire, support and retain Black faculty and senior administrators. We also call for schools across the state to step up recruitment and support of Black graduate and undergraduate students. Increased visibility of Black people in Wisconsin universities along with a greater emphasis on helping Black studies programs grow are effective means of reducing the racial bias which one day may show how Black lives matter.
This is one of many paths forward toward a more equitable society.
Gladys Mitchell-Walthour is an associate professor, at UW-Milwaukee and the Scholars Strategy Network Madison-Milwaukee chapter co-leader.
Peter Akubeze is a teaching academic staff and graduate adviser at UW-Milwaukee.
Bianca Baldridge is an associate professor at UW-Madison.
John Eason is an associate professor and founder and director of the UW Justice Lab.
Abera Gelan is an associate professor at UW-Milwaukee.
Frank C. King, Jr., is executive director of diversity and inclusion, special assistant in the Chief Diversity Office, and an associate professor and program coordinator at UW-Platteville.
Nolan Kopkin is an associate professor at UW-Milwaukee.
Keisha Lindsay is an associate professor at UW-Madison and and a Scholars Strategy Network member.
Alphonso Simpson is director of African American studies and an associate professor at UW-Oshkosh.
Jeffrey Sommers is a professor at UW-Milwaukee.
Anika Wilson is chair of African & African Diaspora studies and an associate professor at UW-Milwaukee.
Erin Winkler is an associate professor at UW-Milwaukee.
Share your opinion on this topic by sending a letter to the editor to tctvoice@madison.com. Include your full name, hometown and phone number. Your name and town will be published. The phone number is for verification purposes only. Please keep your letter to 250 words or less.