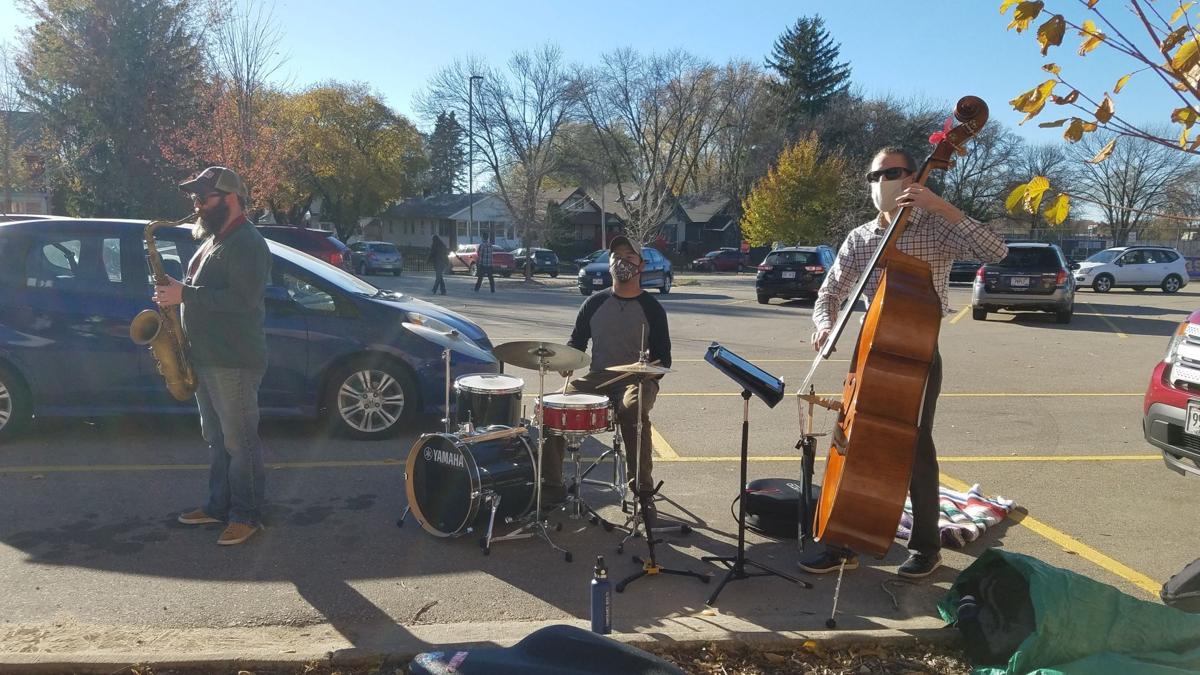 The Cap Times staff is talking with a dozen or so Madisonians on Tuesday to share how they are feeling on this unprecedented Election Day amid the COVID-19 pandemic. Share how you're spending the day on Instagram or Twitter using #CapTimesReadersVote.
Just before 2 p.m. on an unseasonably warm Election Day, Darren Sterud set up his drum kit in the Madison East High School parking lot. Voters passed a few at a time, greeted by poll workers stationed just outside the school doors. 
Sterud was feeling nervous. Also excited.
"I'm overly cautious — cautiously optimistic — as to how Wisconsin is going to swing this time," said Sterud, 35. He slid a cymbal into place.
"The polls would have to be pretty far off," agreed Nicholas Bartell, 41, slinging on his saxophone for the impromptu gig.
"I'm always optimistic," said Sam Olson, the 25-year-old bassist.
This was a pick-up gig for the musicians, who joined many others being paid by the Democratic Party of Wisconsin to play at the polls in Madison and Milwaukee.
"I thought this was really cool, the Democratic Party asking musicians to come out and play and offering to pay," Sterud said. "Many of us, as full-time musicians, are out of some type of normal work. I'm doing landscape right now."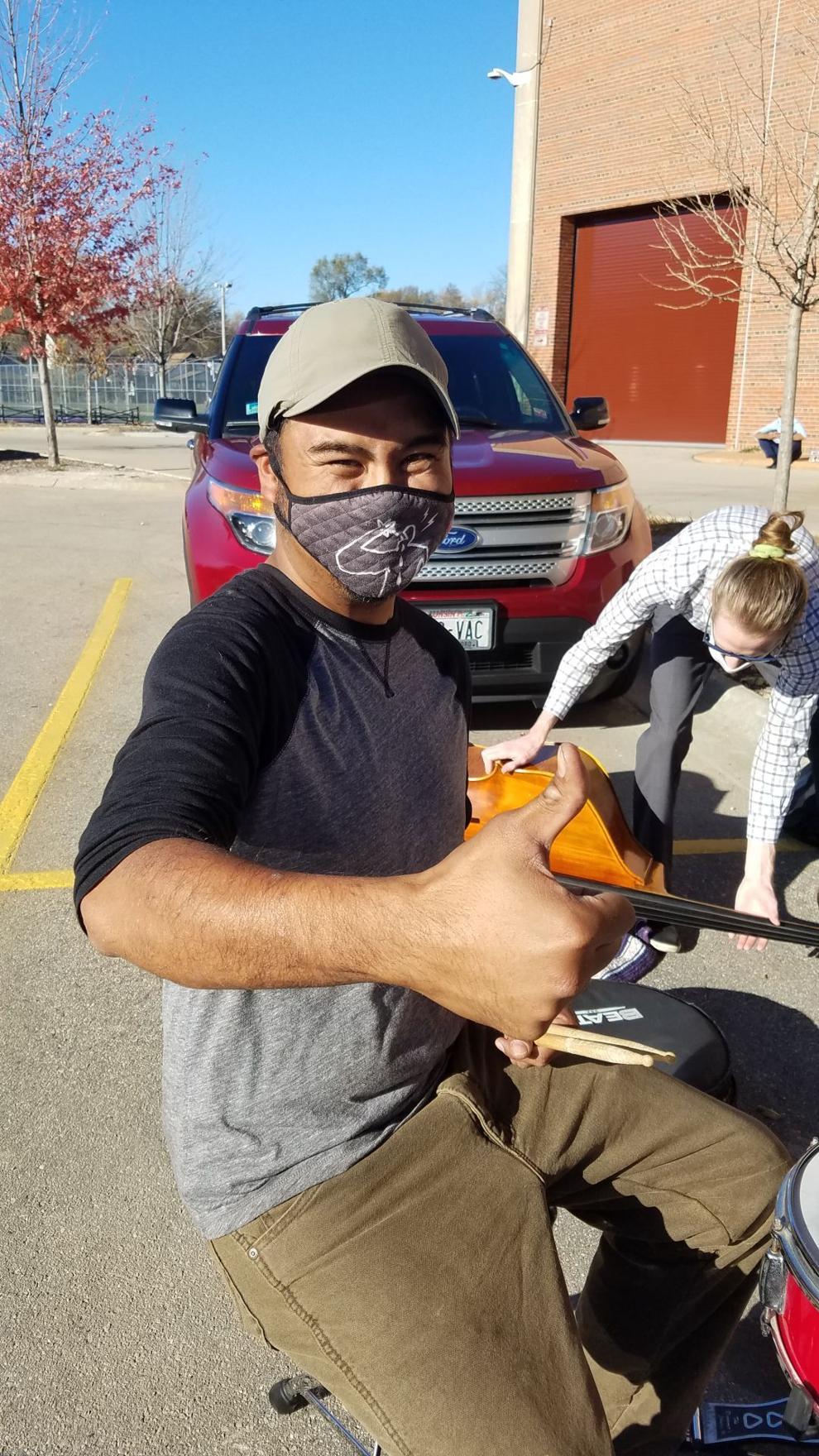 A composer and concert trombonist, Sterud performs with Mama Digdown's Brass Band, The Jimmys, Grupo Candela and the Tony Castañeda Latin Jazz Band, among others. After 15 years of teaching at La Follette High School, he left that job in May.
On Tuesday, Sterud was simply delighted to be in the presence other musicians. He chatted happily with acoustic guitarist Frank Laufenberg, who finished up his set as Sterud and his jazz trio set up. 
For Sterud and Bartell, the gig made them recall playing for then-President Barack Obama on Bascom Hill in 2012. Sterud believes Obama's recent return to the trail for former vice president Joseph Biden "reinvigorated" the campaign.
Sterud wasn't always a staunch Democrat, which is how he identifies now. He worried aloud that Bartell was going to slug him as he shared his vote in 2004 (Bush) and his vote as an independent in the primary in 2008 (McCain).
"Then he picked (Sarah) Palin and I voted for Barack Obama," Sterud said.
Bartell grew a bushy salt and pepper "victory beard" to show his confidence in the election results. He voted six weeks ago, he said. Olson voted absentee.
Sterud had always made it a point to vote in person on Election Day, but this year he decided to go early. On his birthday, Oct. 24, he cast his vote at Hawthorne Library.
"There was a big line but it went quick and everybody there was really cool," Sterud said. "I felt the same energy I feel today, even though I'm not voting.
"I actually asked if I could have another 'I voted' sticker and they said no."
Since the 2016 election, Sterud spent some time looking at history. It made him take a more balanced view about the night's results.
"I'm not getting anxious about a result tonight," Sterud said. "Presidential elections are never really decided on Tuesday, right? We look at exit polls and unofficial numbers, and we as voters and pundits on the news project the winner."
It did seem like everybody was participating. They all felt better about that. 
"I couldn't find any friend or acquaintance that hasn't voted," Bartell said. "You're supposed to follow up with your friends and make sure they voted, and everyone I contacted was like, 'Yeah. I voted weeks ago."
Share your opinion on this topic by sending a letter to the editor to tctvoice@madison.com. Include your full name, hometown and phone number. Your name and town will be published. The phone number is for verification purposes only. Please keep your letter to 250 words or less.