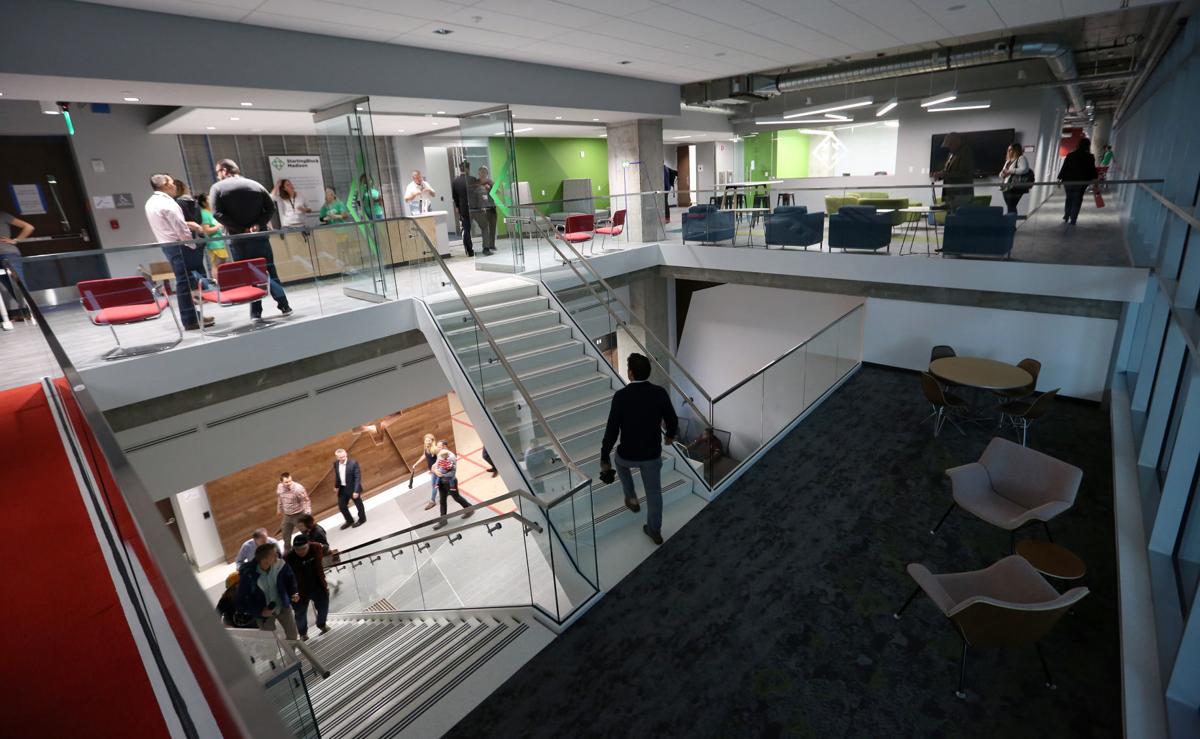 After six years of hype, intense fundraising and altered plans, the $10 million Madison startup center StartingBlock is finally here.
The lavish three-story facility described as an "entrepreneurial hub" by its leaders, nested within an East Washington Avenue high-rise in the Capitol East corridor, is officially open, and companies have been working inside of it for over a month.
But the space is not finished. The whine of power tools is as frequent as the click-clack of keyboards, as entrepreneurs on laptops work in the same space as construction crews installing furniture and decor. In the main lobby, a central work table is still missing some parts, and littered with sticky notes that read "do not use yet! DANGER." On parts of the third floor, a hard hat is still required.
Sure, the StartingBlock team could have waited until the space was totally done before opening its doors, said Chandra Miller Fienen, the nonprofit's acting director and head of operations. But she said the center's team was too eager to kick off operations. After all, they've been waiting for StartingBlock's opening for years.
"We've all been 6-year-olds saying, 'Is it Christmas yet? Is it Christmas yet?' And now it's finally here," she said.
"Christmas" has been coming since 2012, which is when a group of entrepreneurs first dreamed up StartingBlock — an ambitious project that promises to take Madison's startup scene to "the next level." Its organizers call it a "one-stop shop" for entrepreneurs, a home for early-stage startups that's replete with mentors, educational opportunities, venture capitalists and financing. It may not be everything under one roof, its leaders say, but it certainly is a lot under one roof.
"If anybody has an idea they're looking to grow, what it takes is the resources, the mentorships, the guidance, these soft collisions with other like-minded individuals," said Scott Resnick, one of the key visionaries of the project. "That's what StartingBlock's goal is to be — that place that can be a single beacon of entrepreneurship in the Midwest."
As the ambitious experiment gets underway, people in Madison's startup scene, from academic researchers to entrepreneurs to corporate leaders to StartingBlock's own team, are curious to see how the project will evolve in the months ahead.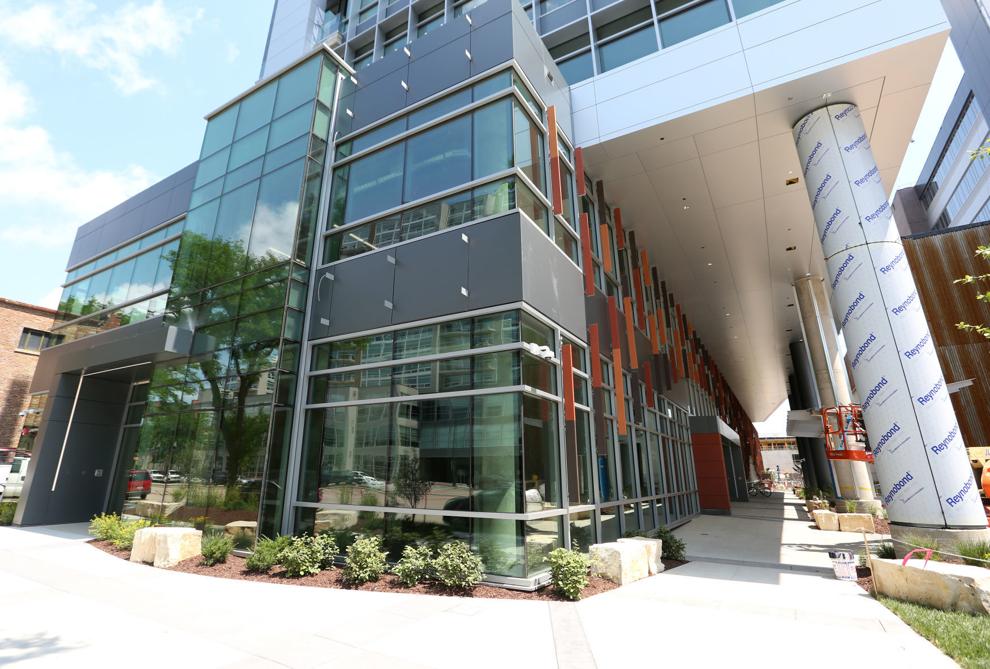 StartingBlock is located at 821 E. Washington Ave. inside an eight-story tower built by American Family Insurance known as "the Spark." Before the Spark, the lot had been a used car dealership. Now, it's ground zero for a burgeoning neighborhood of high-rises and mixed-use developments.
Inside, visitors will find the spacious lobby of the new 50,000-square-foot space. It's strewn with modern furniture that evokes a West Elm catalog, with floor-to-ceiling windows offering views of East Washington Avenue and the burnished facade of a Gebhardt Development project rising up next door, a few yards away across a concourse.
StartingBlock's first floor contains a medley of workspaces for the entrepreneurs who join the space — desks, private offices, a multimedia zone with a computer monitor on wheels, a cluster of three conference rooms nicknamed Snap, Crackle and Pop. There's an unfinished computer lab, a room for nursing mothers, and lockers laden with cartoonish pop art by local muralist Mike Lroy.
The second floor houses offices for a venture capital fund called Rock River Capital. Also on that floor is gener8tor, an example of an "accelerator," a limited-term program for startups looking for mentorship, resources, and funding for their venture. There's also a large, flexible multipurpose room currently occupied by leadership of Bunker Labs — an accelerator for military veterans— and the Wisconsin Games Alliance, a trade group for the video game industry.
Nearby is a self-serve cafeteria with a retro freestanding fireplace, a small forum for presentations and a rooftop terrace with a lush garden and shaded seating.
The unfinished third floor will provide office space for three larger, long-term tenants. The offices will be completed once companies for those spaces are locked in.
Also in progress is a publicly financed parking structure across the street, which the city approved to meet the parking demands in the area. Resnick said it should be done by the fall.
StartingBlock memberships range from a "flex" option, in which an entrepreneur can use desks and chairs in common areas for $150 per month, to dedicated offices for $350 or more a month.
Miller Fienen said the idea was to provide a neutral slate that tenants can make their own, plus some splashes of art and whimsy. It's a far cry from what some people might envision when they think of startup spaces — collegial dens rife with pingpong tables and bean bag chairs.
"It can't be a place where it's a treehouse of fun," said Miller Fienen. "There's no slide."
The idea behind the center is to give these early-stage startups a place for growth, said Miller Fienen. Some of them may fail, as startups are prone to do, she said. However, the hope is that others will "fledge and fly" to find their own space somewhere else in Madison.
"They are like baby birds. A lot of these startups are out of the university. They've had this university nest. And they didn't have a space to go — they didn't have a space to land safely," said Miller Fienen.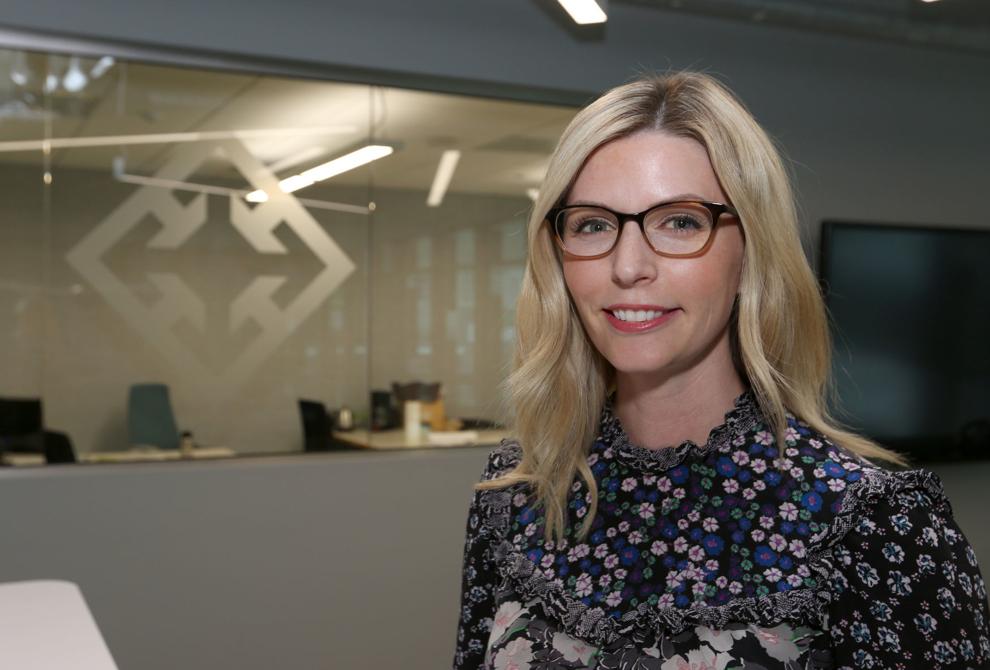 The startups have taken to the space.  All of the tenants interviewed for this story said they had few complaints besides the space's unfinished state, the current lack of parking and one cubicle's lack of a garbage can.
Many simply appreciated having a slick, affordable and flexible place to work.
"We wanted an office," said Darcey Nett, the president of the medical imaging company ImageMoverMD. "Anything above that is icing on the cake."
Nett said that her company had been talking with landlords who were offering 5- to 10-year leases — a nonstarter for a startup operating on a lean budget. The lease she signed with StartingBlock, she said, was considerably more flexible.
Nett added that she was also excited by the potential collaboration with other companies: "Who knows what the synergies might be?" she said.
A desire to be among other startups is a common theme.
Rebate Bus, a company that makes software for finding utility incentives for energy efficiency and renewable energy, works out of a "pod," a low-profile cubicle, with several computer stations and a mini-fridge full of seltzer. Joe Pater, the company's CEO, said they had previously worked in a small garage in Sun Prairie. They decided to move into the new center to be less isolated.
"When you're an entrepreneur, you're out on an island. And it sucks. When you're out on your own, it's hard as hell. It's really emotionally draining. And it's intense on your mind," he said. "You need to be around people. You need to know you're not alone."
Ben Hansen is a co-founder of Bump Studios, a two-person video game company working on a horror title. He said the company stands out on the StartingBlock roster; video game studios aren't typically what comes to mind when it comes to startups.
"We have always felt like we're black sheep. A lot of the people around us just aren't the same as us. But we kind of enjoy that," he said.
He said there are perks to a video game studio residing in StartingBlock: the Wisconsin Game Alliance is upstairs, and a computer lab for developers will soon open. Plus, he said, he likes being a part of a team that's bigger than his own company.
Max Fergus is a co-founder of LUM, short for Live Undiscovered Music, a music-streaming company that works next to Rebate Bus and Bump. Fergus, a recent University of Wisconsin-Madison graduate, said that being around other startups creates an aura of positive energy in the space, fueled by the collective optimism of entrepreneurs. He credits that energy for a string of good luck. The company recently scored a $20,000 investment and has received some helpful leads on people who could help with their data analysis.
"Every day that we've come into this building, something great has happened," said Fergus. "Everyone's putting out those vibrations into the universe, and good things are happening because of it."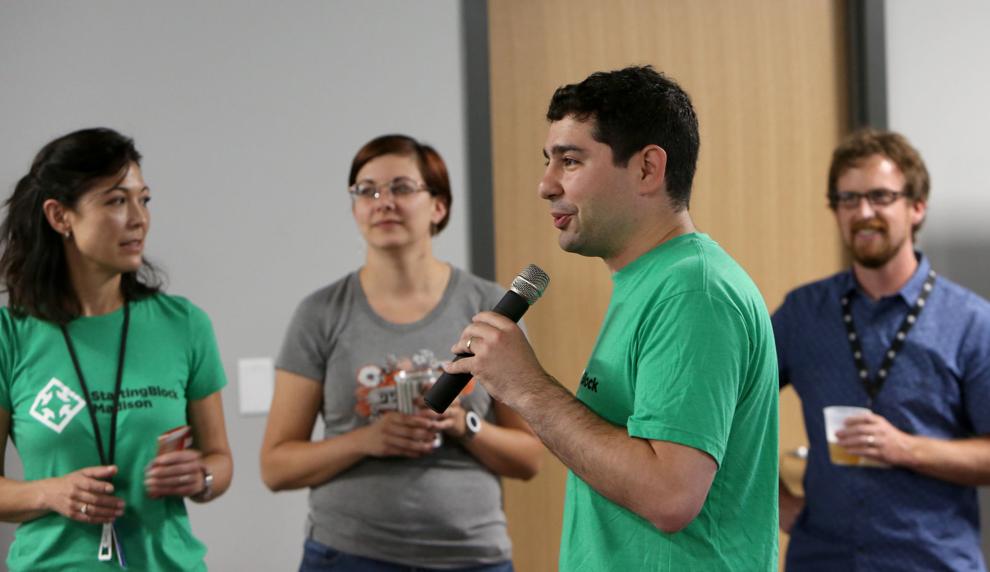 While StartingBlock first incorporated as a non-stock corporation in 2013, its roots go back further than that. Preston Austin, an area entrepreneur involved in early discussions of StartingBlock, said that people had been talking about the idea of a hub for startups for years.
"I would say that conversation has been alive certainly as long as Forward Fest has been alive," he said, referring to the startup festival organized by local entrepreneurs in 2010. "Maybe even before that."
Such facilities are thought to help foster serendipitous connections — what researchers refer to as "soft collisions." It is also convenient to have one obvious place to showcase an entrepreneurial scene — the "beacon" effect.
"It's a place where people can say, 'That's probably where something is happening. That's probably a place where I can go to get resources,'" said Miller Fienen.
Resnick and a small group of entrepreneurs began seriously discussing the idea in a Madison context in the fall of 2012. Resnick, an alder on Madison's City Council and a co-founder of the software company Hardin Design and Development, said he wanted to "pay it forward" after his own company broke big.
"When you look at larger communities, there's a space to galvanize that (startup) population," said Resnick. "The question was, what's Madison's space to really focus on those ideas?"
Other StartingBlock visionaries were Troy Vosseller, the co-founder of gener8tor; Chris Meyer, the founder of the maker-space Sector67; and Forrest Woolworth, a co-founder of the video game studio PerBlue.
Woolworth said that while he saw the project as one with high potential, he also saw it as risky. Madison's startup scene was different then, he said. Companies that today are seen as primary examples of Madison success stories — businesses like EatStreet, the mobile software development company Ionic, and Woolworth's own PerBlue — were still starting out.
"A lot of stuff was really nascent still," he said. "It was a big bet on, 'Hey, is this whole startup thing going to continue to be a thing? Or is it going to fizzle and go away?'"
"I wanted this thing done, two years, three years into it," said Woolworth. "I think we were all a little naive."
After negotiations to remodel the warehouse fell through, the StartingBlock team decided to build a new structure instead of repurposing an existing one — an approach that would require deeper planning and financing. StartingBlock leaders said that was a big reason for what became a six-year incubation period for the project.
Plus, there was an intensive capital fundraising campaign that raised $10 million. That campaign yielded major contributions from Madison Gas & Electric, AmFam and the Evjue Foundation, the charitable arm of the Cap Times.
The StartingBlock team also received a $1.5 million grant from the city of Madison, along with over $700,000 from the state's primary economic development agency, the Wisconsin Economic Development Corp.
The project also took time because the team wanted to do a thorough survey of what already existed in Madison's startup community. They didn't want to replace existing institutions, said Miller Fienen — rather, they wanted to figure out what was missing.
"We didn't want to replicate something that someone else was already doing, and doing well," she said. "We wanted to think about, 'Where are the gaps?'"
The group encountered its fair share of skepticism. Miller Fienen, Woolworth and Resnick said they got a lot of "Nos" from potential donors and partners.
"A lot of people would say, 'Oh, it's a real estate play. I'm not going to give money to fund this just so you can make a real estate play,'" said Woolworth. "There were skeptics who just didn't get the concept essentially."
There were other hiccups. In 2016, Sector67 left the project, ultimately finding a permanent space in the Atwood neighborhood. Miller Fienen said the departure was a question of finding the right space for Sector67 — they couldn't offer the permanent home the makerspace wanted. Plus, the floor plan was too small.
"We were part of the project for the first three years, and we actually spent a fair amount of money doing assessments," said Meyer, at the time of the split. "It's too bad that they weren't able to come up with a better avenue or a better approach for us."
"A lot of us felt like some soul of the StartingBlock project was lost when Sector67 wasn't going to be there anymore," said Austin.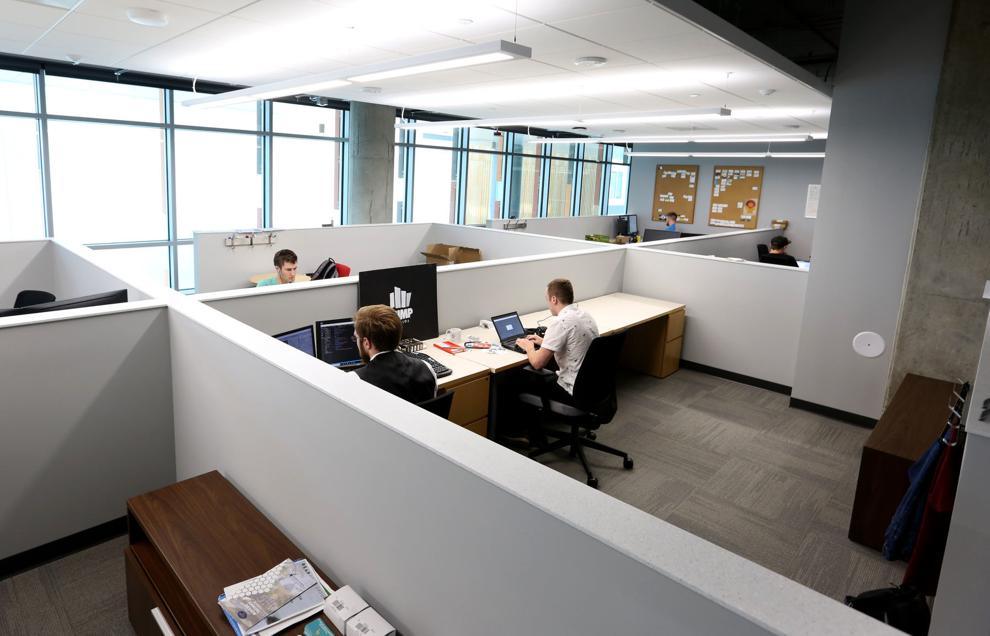 Despite the challenges, StartingBlock is now here, and early boosters like Woolworth say they are gratified.
"The thing that we've been putting together on paper, in mockups, it's actually a thing. It's kind of cool," he said.
Vosseller of gener8tor said that after three years of moving around, his accelerator finally has a home. He said that a new cohort of companies will soon arrive for the program in August.
"We have to post some whiteboards to the wall, but then we're ready to move in and it's fully operational," he said.
For observers, partners and leaders with StartingBlock, the question is, now what?
Miller Fienen and Resnick predict that the space will evolve in ways they can't imagine. They also said that flexibility is part of StartingBlock's DNA, and that its purpose and programming could easily change. For example, maybe video game development will become a larger focus of the center.
For those who study startups, there are question marks when it comes to the "everything under one roof" model itself. Jon Eckhardt, a startup researcher at the Wisconsin School of Business, said that "there's an incredible amount of experimentation" happening around the U.S. with startup centers, but not a lot of research on them.
"What StartingBlock is doing from a scientific standpoint is quite novel," he said.
Eckhardt said he likes what he sees in StartingBlock, including the experimental component to it. He called it "courageous."
Heather Wentler is the co-founder of the Doyenne Group, a mentorship program for women-led startups. The group has yet to move into the space, but she said it plans to in the fall. Wentler said she's picked up on a degree of skepticism in the startup community.
"I think that it's the same skepticism that anybody has of any startup. Is there a level of over-promise, under-deliver?" she said.
She said she's fielded plenty of questions from the mentees she works with: Is this going to only be for tech companies? Is this only going to be a place for white men-led companies? Am I going to be accepted in this type of place?
Wentler said she's been working with StartingBlock on issues of equity since 2014. She said the nonprofit has mostly "walked the walk," highlighting the room for nursing mothers as an example.
Miller Fienen also made it a personal goal to have 50 percent of the startups in the space be women-led. She came close to that target, with 5 of the initial 11 startups on the roster meeting that criteria.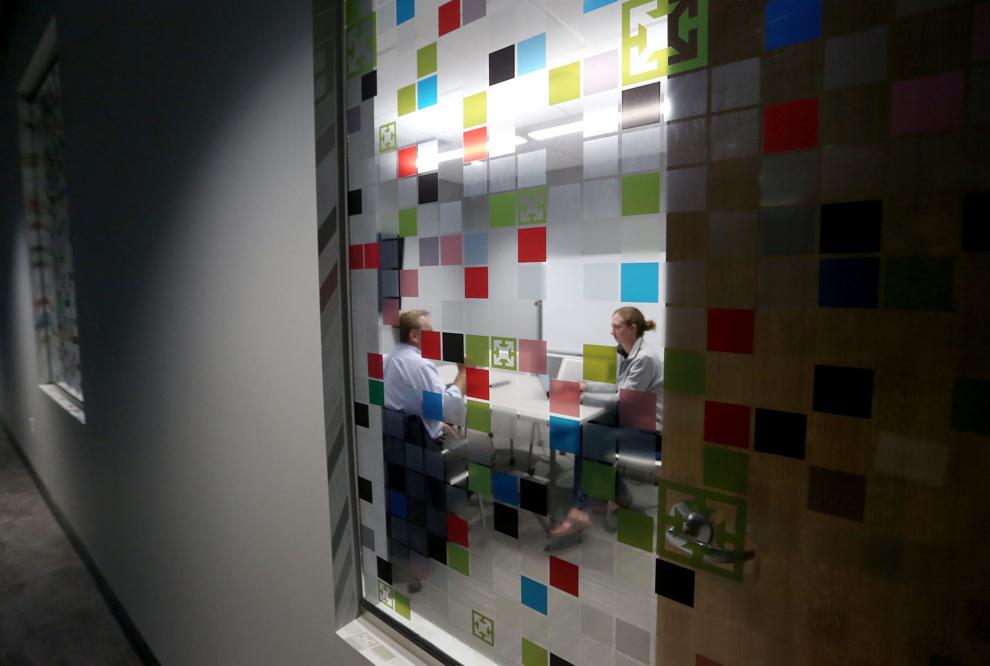 "We feel comfortable telling women to go there. We feel comfortable putting our name with the project," said Wentler.
Still, Wentler added that it's too soon to tell what kind of an enterprise it's going to be, and whether it will actually realize its lofty goals.
Woolworth said the sheer ambition of the center is something that needs validation.
"Could the scale of the Madison ecosystem support an ambitious facility like this — is this whole ecosystem growing big enough and fast enough right now?" he said.
There's also a question of how StartingBlock will fit within the broader ecosystem. No comparable "everything under one roof" institution exists in Madison. However, there are other local coworking groups that offer shared office space and sometimes incubate startups, like 100state  and Horizon.
Austin, who founded Horizon, said that he doesn't think of StartingBlock as a competitor. The market for coworking in general isn't crowded, he said, so there's enough room for StartingBlock and other coworking spaces to coexist.
Claudia Seidenberg, the new executive director of 100state, wouldn't comment on whether StartingBlock is competition. She said she's happy to see former 100state startups like Markable and Kilter Rewards "expand" from 100state into StartingBlock.
Miller Fienen said that she sees StartingBlock as a "collaborator" in the startup scene, more than a competitor. However, Vosseller and Resnick said that to some extent, Madison could stand have healthy competition between institutions that try to elevate the local startup economy. Vosseller compared it to the dining scene.
"There are lots of different restaurants in Madison, and they all offer a different value proposition," said Vosseller.
Austin said that StartingBlock could be a shift for Madison, especially in terms of the growth of the Capitol East corridor.
"StartingBlock may be a seismic shift in that regard," said Austin. "StartingBlock may help get investors to put a lot more money in Madison startups...and then, StartingBlock may become bigger than itself. It will be StartingBlock, and then the neighborhood around StartingBlock."
But for Austin, there are bigger questions at play.
He said that he's worried about the relationship between the emergent tech economy and the broader public. He said there's a difference between elevating the startup economy and elevating the startup economy in a way that creates jobs and benefits for everybody, not just a privileged few.
"How do we make a new economy around this, where...it's one that includes roles in the economy for the people already there?" said Austin.
And with significant public funding tied to StartingBlock, Austin said that a conversation about the social implications of the tech economy is increasingly important.
"I think the broader community needs to engage with it and demand returns on investments in it," he said.
Meanwhile, even though the space is unfinished,  StartingBlock leaders is starting with a head of steam. Its opening gala in late June attracted over 500 visitors, from business leaders to to city alders, to check out the building.
Resnick said he sees positive energy in the space itself. He recalls walking through the space during a Saturday on opening week, and seeing some entrepreneurs already moved in and at work.
"There were no desks, there were no chairs. Yet they're huddled around their laptops, programming and talking about their company," he said. "On a Saturday morning, without desks or chairs, you're still putting your willpower behind an idea. That's excitement."
gnflsjdNGlk/XN CFV/lk nzXDVlj/