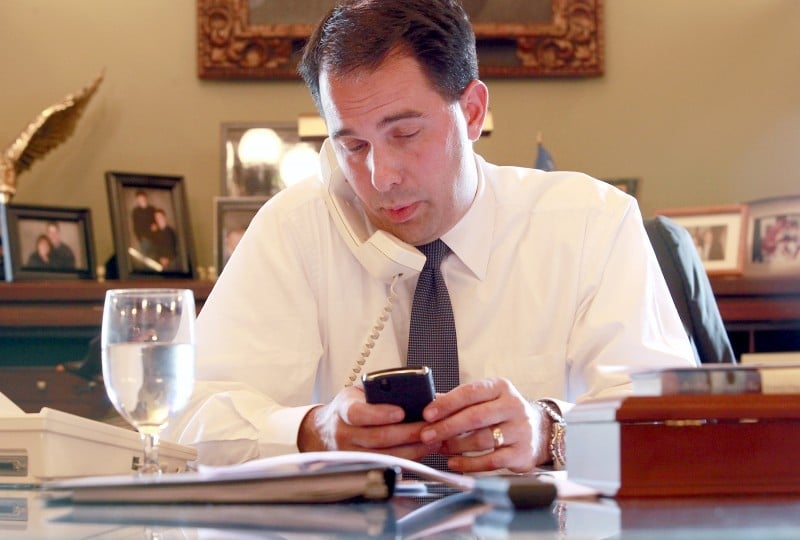 The campaign to recall Gov. Scott Walker and Lt. Gov. Rebecca Kleefisch, which began this week, is backed by Democrats. But it cannot and should not be merely a Democratic project. The Walker-Kleefisch administration has attacked collective bargaining rights, public education, public services and voting rights for all Wisconsinites.
Independent voters, Greens, Libertarians, Democrats and Republicans have suffered as the result of the administration's economic, ethical and moral failures.
Every Wisconsinite has a stake in ending the damage that the governor is doing to the economy with policies that have caused unemployment to rise at a dramatically greater rate than in the rest of the nation — spiking from 7.3 percent early in Walker's governorship to 7.8 percent now. Unlike most neighboring states, Wisconsin is actually shedding private-sector jobs because of Walker's inept approach and reliance on political cronies rather than economic development professionals.
Similarly, every Wisconsinite has suffered as a result of the Walker administration's ethical meltdown. The home of one of the governor's chief political appointees was raided by the FBI, his chief of staff quit two days after it was revealed that the governor's office had arranged for the subject of the FBI raid to get a new $100,000-a-year job, and the governor's press secretary has sought immunity in a John Doe probe that has seen a top donor to the governor's campaigns admit to felonious violations of campaign finance laws.
Finally, every Wisconsinite suffers when the politics and policies of the state are warped so that budgets are balanced on the backs of the most vulnerable people rather than with resources from those who can afford to pay. While Walker and his allies have reduced taxes for out-of-state corporations, they have slashed spending on public education (90 percent of school districts have been forced to reduce staff and services for the state's children) and are now trying to disable health insurance programs established by former Republican Gov. Tommy Thompson. The Walker administration wants to eliminate coverage for 65,000 Wisconsinites (25,000 of them children). At the same time, the governor wants to increase health insurance costs for 250,000 Wisconsinites. Both those moves will increase the costs for taxpayers, as emergency rooms become last-resort providers of health care for thousands of Wisconsin families.
Gov. Walker is a failure.
He is an economic failure.
He is an ethical failure.
His record demands that Walker be recalled and removed from office — not out of spite or anger with the governor, and not for the purposes of partisanship or ideological advancement. He should be removed in order to revitalize Wisconsin's economy, to restore Wisconsin's ethical tradition, and to recognize that budgets must be balanced in the interests of all Wisconsinites.
The same goes for the recall of Walker's rubber-stamp lieutenant governor. Kleefisch has cheered on the worst of the governor's economic policies with an enthusiasm that suggests she could be even more delusional than her boss when it comes to understanding the importance of promoting job creation, aiding small businesses and supporting family farmers.
Walker and Kleefisch simply do not get where Wisconsin is coming from, and where it should be going.
That's not a partisan statement. That is a reality, grounded in the evidence of their time in office.
Wisconsin has been badly damaged by Walker.
Its renewal will require an all-hands-on-deck response that invites Democrats and Republicans, Libertarians and Greens, independents and political newcomers to lend their support.
It is with this in mind that we are pleased that so many Wisconsinites are rallying to support the recall drive. Thousands will gather Saturday at the Capitol for the We Are Wisconsin rally, which will begin at 11 a.m. at the State Street entrance. Keep track of the organizing at www.wearewisconsin.org.
We are pleased, as well, with the approach taken by organizers of this Friday's Recall Walker rally at the Barrymore Theatre on Madison's east side. Organized by the independent Recall Walker campaign (www.recallwalker.org), which describes itself as "a nonpartisan political action committee inclusive of independents, Democrats, Greens, Libertarians, and Republicans," the rally will feature speakers including former Wisconsin Attorney General Peg Lautenschlager, former Green Party legislative candidate Ben Manski, and current legislators such as state Rep. Cory Mason, D-Racine, and Assembly Minority Leader Peter Barca, D-Kenosha. It starts at 7 p.m.
People who attend the rallies on Friday and Saturday are asked to bring nonperishable food items to support local food pantries.
Wisconsin AFL-CIO President Phil Neuenfeldt will speak, as will public education advocate Erika Wolf and Capital Times associate editor John Nichols. The Sean Michael Dargan Band will play. The Raging Grannies will sing.
"It's true that the Democratic Party is heavily involved in the recall effort, but there are also many independents and members of other parties who support the recall," says Randy Bryce, a Racine County labor activist and Recall Walker PAC treasurer, who will be among the speakers Friday night. "RecallWalker.org will support the broadening of the recall movement."
Bryce's emphasis is in the right place.
The movement to recall Scott Walker and Rebecca Kleefisch can and must be broad-based, inclusive and focused not just on removing failed politicians but on renewing Wisconsin's promise.
Share your opinion on this topic by sending a letter to the editor to tctvoice@madison.com. Include your full name, hometown and phone number. Your name and town will be published. The phone number is for verification purposes only. Please keep your letter to 250 words or less.