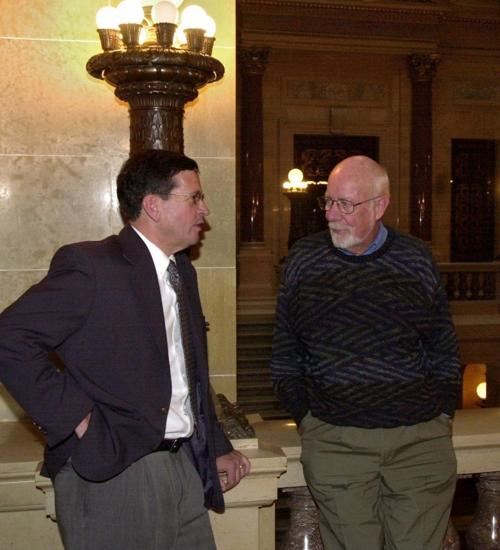 The 2009-2010 session of the Wisconsin Legislature will conclude in December, with members of the Assembly and Senate returning for a final few days in Madison. The question is whether legislators will simply stumble through the last motions or end on a high note that could set the tone for the coming decade.
Senate Majority Leader Russ Decker and Assembly Speaker Mike Sheridan have said they will call the chambers back to approve contracts for thousands of state employees. That's appropriate. But legislators should also address a far more serious issue: the decay of our political process.
In April, Decker and Sheridan adjourned the Legislature before action could be taken to require the disclosure of the identities of the out-of-state corporate interests, millionaire speculators and CEOs who seek to buy Wisconsin election results by spending millions of dollars on "issue advocacy" television ads that are nothing more than campaign commercials.
Common Cause in Wisconsin Director Jay Heck provides some details:
"Millions of dollars of ads -- most of them negative -- were run by outside special-interest groups during state elections in Wisconsin for governor and for the state Senate and Assembly during the campaign season that ended on Nov. 2. Documentation of more than $10 million spent by special-interest groups during 2010 making disclosed expenditures were released Nov. 15 by the Government Accountability Board, but the GAB was not able to report millions of dollars of undisclosed expenditures that were made to influence the voters of Wisconsin because of the failure of the Wisconsin Legislature to pass disclosure legislation and because a narrow 4 to 3 majority on the Wisconsin Supreme Court suspended a GAB rule requiring disclosure of the donors of these outside groups that went into effect last Aug. 1."
The state GAB tried to require disclosure, but it was blocked by the pro-corporate majority on the state's high court. Only legislative action can ensure that Wisconsin voters know the identities of wealthy individuals and corporations that seek to "own" our elections.
"The need for the Legislature to act in December is critical," argues Heck. "First, it needs to trump the irresponsible action of the Wisconsin Supreme Court in blocking the GAB rule. Passage of disclosure legislation that would then be signed into law by Gov. Jim Doyle would accomplish that.
"Second, the campaign for the Wisconsin Supreme Court seat currently occupied by Justice David Prosser is already under way. Unless the Legislature passes disclosure legislation in December it is likely that hundreds of thousands -- and perhaps millions -- of dollars worth of undisclosed campaign ads masquerading as issue advocacy will begin to air in January. Should the citizens of Wisconsin be forced to endure yet another campaign dominated by outside special-interest groups without knowing who is behind the money?
"Unless the Legislature passes disclosure legislation and Doyle signs it into law, it is almost certain that Wisconsinites will be subjected to another nasty state Supreme Court campaign awash in secret money."
Jay Heck is right. We have a chance to create an open election process in Wisconsin, where campaigns are transparent and voters know what out-of-state interests are seeking to control the process. But it will happen only if the Legislature acts in December.
Share your opinion on this topic by sending a letter to the editor to tctvoice@madison.com. Include your full name, hometown and phone number. Your name and town will be published. The phone number is for verification purposes only. Please keep your letter to 250 words or less.