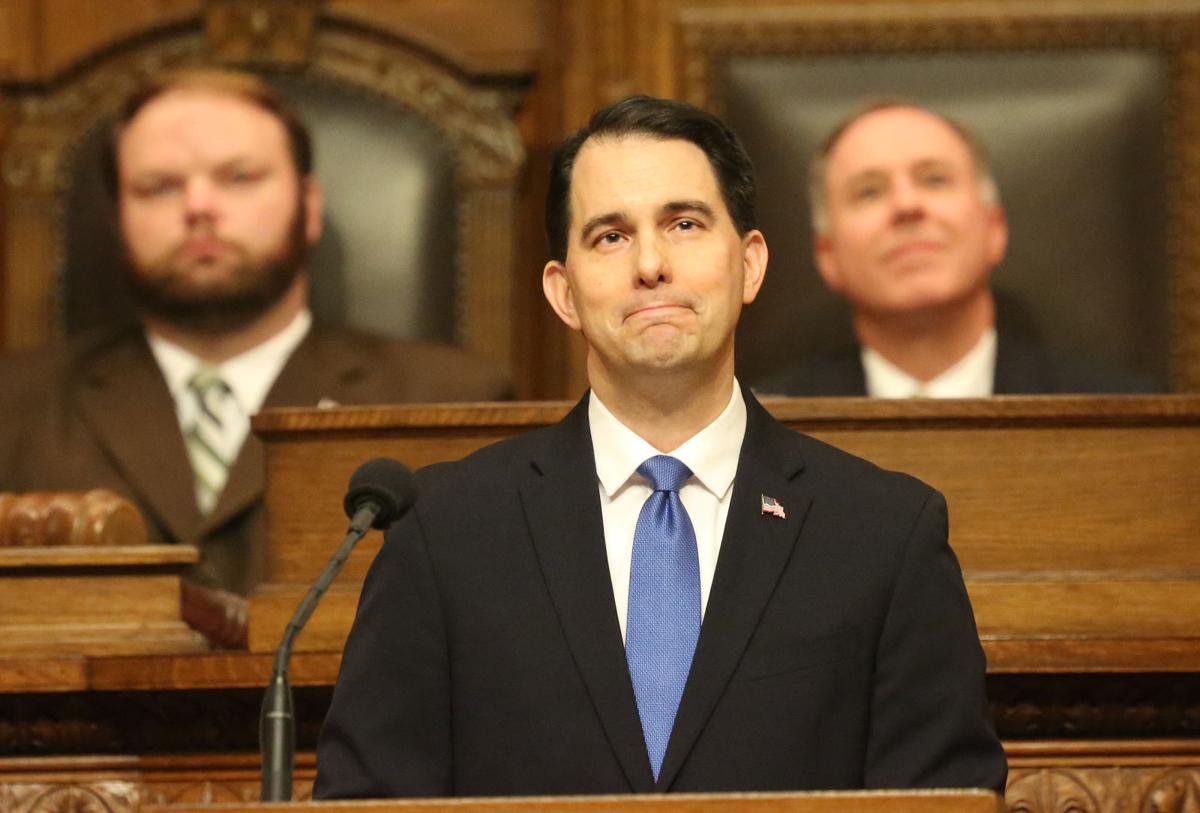 With the end of the Wisconsin Legislature's current session, statehouse Republicans should thank Donald Trump.
He has been the bane of the national GOP, but he has provided a distraction for Wisconsin Republicans as they continue to dismantle — brick by brick — the brand of dynamic, compassionate public policy that once made many of us so proud to live here.
Then too, Democrats may feel fatigued by more than five years of not influencing state policy and instead being limited to various forms of written and verbal protest. Whatever the reason, it feels as if the state GOP agenda has received less scrutiny and resistance lately.
And yet, based on polling, I'd submit there are hopeful signs that the tide could perhaps turn — a theme we'll explore. But let's first assess the comparatively recent damage done by statehouse Republicans.
Start with the strongly ideological headings such as enacting a "right-to-work" law, diminishing prevailing-wage laws, targeting Planned Parenthood and ending civil service and faculty tenure as we knew it.
Then there's the category of self-serving actions: restricting voting to suppress Democratic turnout and blunting governmental tools to investigate political corruption. Also in this category might be assorted laws to undercut local autonomy, with the city of Madison often the obvious target.
GOP extremism and exclusion have gone on for so long that progressives who are not political operatives or activists have perhaps lost some capacity for outrage. And the Trump spectacle — with its violence, racism, nativism and misogyny — may have diverted some attention from a Wisconsin focus.
It's a digression, but given that Trump's pummeling of Scott Walker contributed to our governor's demise as a presidential candidate, it's ironic that Trump is playing Walker's game.
Trump is a master of the "politics of resentment," a phrase in the title of a new book by Kathy Cramer, a University of Wisconsin-Madison political scientist. (The Cap Times excerpted Cramer's book as our March 16 cover story.)
In a Washington Post piece last week, Cramer wrote that Trump is even more effective than Walker at leveraging resentment. She reprised her now-familiar Wisconsin narrative of visiting ordinary people across the state and hearing first-hand their resentment of public employees and how that enabled many of Walker's early successes.
Alluding to the governor's failed presidential bid, Cramer wrote, "Walker may not have become the Republican nominee, but he demonstrated that tapping into resentment is an effective way for candidates who advocate limited government to gain power."
Trump has upped the ante, Cramer wrote: "What happened in Wisconsin is now happening nationwide. Trump is capitalizing on that same resentment, and blaming others for voters' sense of being dismissed, disrespected, and left behind.
"This is how Donald Trump will win the Rust Belt, and probably the Republican nomination. He is turning up the flame under resentment that has been simmering for years. The strategy will likely continue to work, despite the Republican Party's attempts to put out the fire."
But it's worth noting that Wisconsin is no anomaly, that other GOP legislatures have pushed hard-right agendas. This lengthy Salon headline said it all: "This is where right-wing radicalism is festering: While the nation watches the presidential race, there are scary things happening at state legislatures."
Writer Amanda Marcotte summarized: "While the nation's eyes are riveted to the national stage, Republicans continue the multi-decade project of turning our nation into a right-wing wasteland by focusing their efforts where they can have the most impact with the least attention: state legislatures."
She added: "It's easy to get inured to the relentless drumbeat of stories of Republican-controlled state legislatures passing bills codifying the culture war obsessions of the right, and with the Republican primary serving as a distraction, the state horror show is getting less national attention than it usually does.
"Republicans like it, because they can maximize the damage while minimizing the pushback. That's why it's critical to pay attention, even if it can, at times, be overwhelming."
In Wisconsin, Democrats need to gain three seats to control the state Senate, which would stop the GOP autocracy. Republicans apparently feel threatened, because they passed a law to make it harder for one specific Democrat, Winnebago County Executive Mark Harris, to run for a Senate seat.
Perhaps the GOP has cause to worry, judging from my conversation with Charles Franklin, who directs the Marquette Law School Poll, the state's most trusted measure of political opinion.
Franklin noted that Walker's approval ratings dropped precipitously in 2015, seeming to coincide both with his ill-fated presidential campaign and an increasingly negative public view about GOP handling of the state budget. His approval rating in last month's Marquette poll was 39 percent after generally staying in the high 40s over his time in office, Franklin said.
In measuring approval of the Legislature, Franklin said the only time that question was asked was last November, when only 31 percent approved of the performance of legislative Republicans and 60 percent disapproved. (This compared to 39 percent approval, 49 percent disapproval of Democrats.)
Republicans might also be worried about Franklin's right-track/wrong-track polling. More than 50 percent of respondents thought the state was on the "right track" through 2014, but more than 50 percent have consistently answered "wrong track" since last April, Franklin said.
His polls follow the same pattern on whether than state budget is in better or worse shape than before. Franklin said "better" was substantially higher than "worse" through 2014, but that also reversed last April and has stayed that way.
"The GOP has not built public support" for its recent agenda, said Franklin. "Republicans have suffered a bit for being responsible for the broad sweep of government."
Maybe, just maybe, ordinary voters beyond Madison and Milwaukee are rejecting the radical funding cuts to public education at all levels, the failure to invest in infrastructure, and to do anything of note to help Wisconsin citizens prosper in a rapidly evolving global economy.
Yes, it can be mesmerizing to follow Trump, and it can be an entertaining parlor game to apply liberal litmus tests to Hillary Clinton.
But it might be a good time for Wisconsin progressives to refocus attention on the war at home.
The next battle looks winnable.
Share your opinion on this topic by sending a letter to the editor to tctvoice@madison.com. Include your full name, hometown and phone number. Your name and town will be published. The phone number is for verification purposes only. Please keep your letter to 250 words or less.