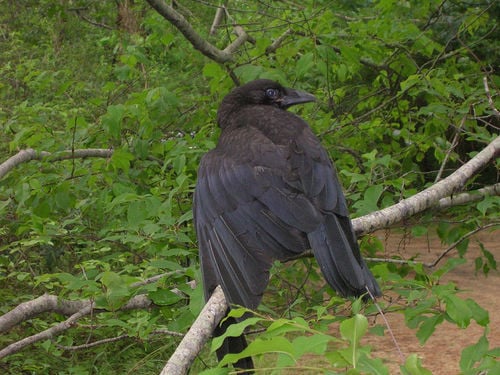 "One of a million black bears might kill a person, whereas one out of 18,000 humans kill another person." — Lynn Rogers, North American Bear Education Center
Have you ever held a baby bear in your hands? Cathy Stepp, secretary of the Department of Natural Resources, has. You can see her grinning over the little guy on Page 3 the 2013 Hunting and Trapping Forecast. She describes it as one of the peak experiences of her life.
It takes a certain psychosis (or $125,000 salary) to cuddle a bear cub and then orchestrate the mass killing of 4,000 black bears, most of them 8 months to a year and a half old. One can pay $49 to kill a bear over dogs, over bait, or dogs and bait. But first pay $14 and you can harass and run dogs on bears from July 1 right through the killing season, Sept. 4-Oct. 8. Thousands of dogs and mobs of "hunters" find entertainment in running bears to exhaustion, then shaking the cubs out of trees to let the dogs tear them apart. Rick Hanestad, former bear hounder, told me that in dog "training" (when there is "no contact between dogs and bears"), at least 30 percent of the bears are too young and inexperienced to make it to trees and are torn apart and killed by the dogs. All wildlife is displaced and at risk.
For months, when they need to be with their cubs eating all day long to survive the winter, mothers are separated from their cubs and run for miles. How many cubs starve to death because their mother is killed? They need to den with her the first winter to survive.
About 106,000 applied for the 8,560 bear kill licenses issued. Last year was the second highest "harvest" of bears on record — 4,646 bears killed, most of them babies, little older than the one being cuddled by the executioner-in–chief, Cathy Stepp. Wisconsin is one of the top killing states in the country and is the top state in cruelty on the Humane Society list of most depraved states.
One can buy what is left of a bear at an auction or garage sale. Recently a garage sale in Portage was sporting a baby bear skin. The "Bear Skin" box had $250 crossed out, on sale for $200. No takers.
Again this year, first-time hunters and trappers can purchase discount licenses for $5.
Rather than include the 90 percent of who are nonhunters in making decisions, the DNR killing business prefers hunter exclusive control. They fundraise and recruit through increased bounty on wildlife.
According to Lynn Rogers, who has studied black bears 45 years, bears are not the fearsome creatures of hunter propaganda. The fear humans (for good reason), but are not at all aggressive. Biologists know this. Hunters know this — so why the big thrill in killing a sweet harmless animal that happens to be large?
The DNR has now opened for hunting 5 million acres of public land that the rest of us purchased, and increasingly, we pay them to do so. As a parting gift from the rest of us to the hunting/trapping cult that rules the DNR, Rep. Scott Suder, authored "a $500,000 sportsmen's grant slipped into the state budget earlier this summer set to go to a group with ties to Republican insiders that has praised GOP politicians and lobbied for legislation such as lowering regulations on iron mining and development in wetlands," according to JSOnline. 
The organization set to receive our largesse is the United Sportsmen of Wisconsin Foundation, founded this past January with no record of accomplishment of any sort. Wouldn't you love to start a nonprofit and immediately get $500,000 every two years from the rest of the citizens to fund recruiting more members to participate in your pleasurable hobbies? In this case, the hobbies are destroying our rivers and streams, our wildlife, taking over our public lands, endangering the rest of us, and gaining access to private lands for violence.
It is frightening that the public still does not recognize that total lack of democracy in governing nature is a disaster. Forget balance. Forget science. Forget walking in state parks safely. Citizens already bring three to four times the revenue of killing licenses directly to state tax coffers by helping wildlife. Expect that money to be directed to special hunting/trapping interests to destroy dwindling wild animals and dwindling habitat made hostile to wildlife appreciators.
The Suder crony gift was supported unanimously by the Joint Finance Committee after seven minutes of debate. Public comments is being taken now and the final vote on the grant will be the first week in September. Only a citizen outcry will stop this ongoing half-million-dollar funding of more destruction of our commons.
I know a lot of people willing to pay $49 for a save-a-bear license. It is time.