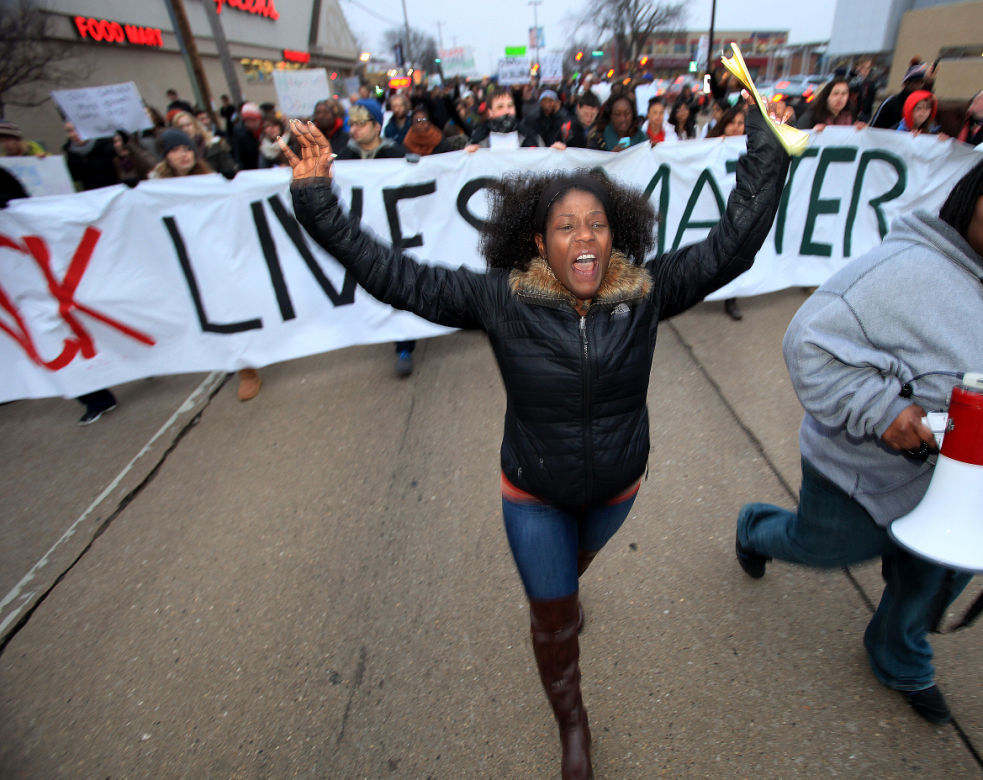 Dane County leads the nation in racial disparities, particularly in the criminal justice system. We have different experiences of Madison based on our race. People of color who have done nothing wrong often have negative contact with the police. As white people, we have heard of the following experiences from black friends and family here in Madison:
• A black man is walking home. Several squad cars drive up and five cops run out of the car pointing their guns at him. The man quickly puts his hands over his head. After holding him in handcuffs for several minutes, the police determine they have the wrong person. When the man loudly tells the crowd that gathers that he has been racially profiled, the police tell him to shut up. He refuses, and is arrested for disorderly conduct.
• A black woman is meeting up with a black male friend to go for a run through a park one fall night after dusk. Despite the fact that she leaves her car with ankle weights and sweatpants on, two cop cars pull up and detain them both, detaining the woman on suspicion of prostitution.
• A black man shows up for his son's elementary school graduation, but is unaware he needs a ticket to enter. While explaining the situation to the police officer at the door, he hears his son's name called. He leans into the door to glimpse him walking across the stage. The officer pushes him out of the doorway and onto the ground, and then arrests him.
• An unemployed black man runs to the grocery store late one night to buy diapers for his baby. On his way out of the store, a cop recognizes him, runs his name through his computer, and then arrests him on a warrant for failure to pay child support.
• A homeless black person is on the lake fishing early one morning with all his possessions on him, including a sleeping bag. A cop makes an accusation that he must have slept in the park overnight, which is illegal, and arrests him.
These experiences of police contact are traumatizing and can lead to an understandable desire to have "no interaction" with police. While this declaration may feel shocking, we call upon Chief Koval to commit to listening to the real traumatic experiences it is rooted in.
As both YGB and the chief have stated, law enforcement is not the only institution responsible for reinforcing racial disparities. Communities of color still experience inequality in health, education and other social arenas. Even the most well-intentioned law enforcement officer is charged with enforcing unjust laws that disproportionately affect the poor and people of color. How can we as a community work toward an alternative? Both YGB and Koval have laid out potential strategies for remediating these problems. None of them should be dismissed out of hand. Our black police officers, who have life experiences in navigating law enforcement as black people in a racially unequal world, are a rich resource for leadership in our community.
We thank YGB for speaking truth publicly about their experiences and desires about policing in our community. We thank Chief Koval for continuing to engage in this conversation. We know by historical precedents that this hard experience on all sides is what change looks like. We call upon our community to not take the easy way out, write anyone off, and walk away from the conversation. Stay engaged in the complex conversation and help Madison move toward racial justice. Thank you YGB for helping to pull us outside of our worlds of comfort and "niceness" and asking us to critically reflect on the ways we are all complicit in a system that demonstrates we still do not value black lives equally. We are complicit, yet we can be competent and compelled to each take responsibility and continue to turn this system around. #blacklivesmatter
Kristen Brock-Petroshius, Cindy Breunig and Laura McNeill are members of Groundwork, an organization of white people working for racial justice in Dane County.
Catch the latest in Opinion
Get opinion pieces, letters and editorials sent directly to your inbox weekly!