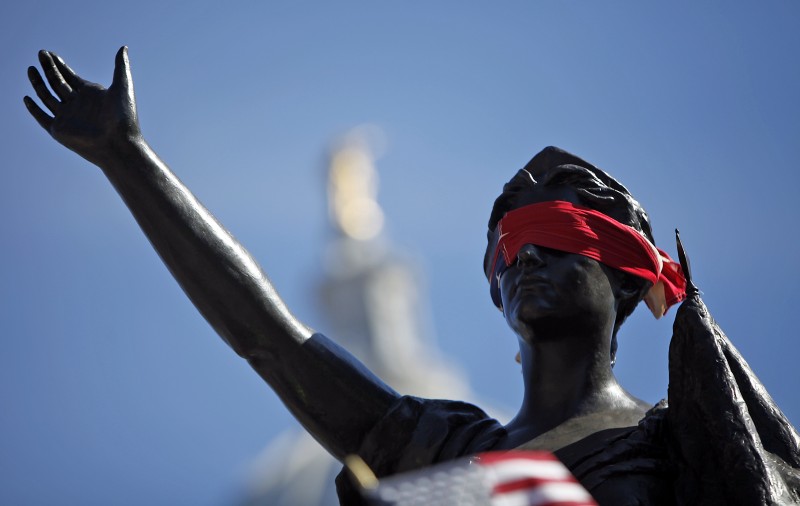 On Sunday I wish I could have been in Park Falls, where 150 hardy folks stood in the cold to oppose Gov. Scott Walker's union-busting plan, but you can't be everywhere. "Mill workers, teachers, just plain citizens were there raising their voices," reports John Smart. Among the other good places to be over the weekend were the Square, Monona Terrace and Mazomanie.
In Mazomanie you would have had chills as the people rose to their feet in praise of the "Badger 14." They passed the bucket to help 14 politicians carry the fight on their backs. It was a wonderful moment.
On Saturday 50,000 to 60,000 (or was it 90,000, as NBC reported?) marched and chanted around Madison's Square to oppose Walker's budget repair bill. Walker has lost the respect that most elected officials keep for a year or more. Walker? "When can we start the recall?" is the FAQ.
I was overwhelmed on Sunday by teachers who filled the largest hall in Monona Terrace to keep the support growing. Small groups, large crowds, thousands of our brothers and sisters believe in the cause. They get it. They reject corporate rule. "Save our state -- protect our rights!"
Calls are coming from all over the country -- renewed friendships -- all in support of workers!
The nation is watching us in Wisconsin. When we win, the people in Ohio, New Jersey and Indiana win. It is unthinkable that we might lose because we know what Walker and his far-right ideologues would do. We know how bad they are -- the guessing is over.
The question arose last week: "Where are the prominent Democrats?" We know 14 state senators are leading the way while the national Dems are afraid to lead -- hell, they are even afraid to follow! Afraid that someone on FOX will accuse them of "taking sides."
The Rev. Jesse Jackson was here. He took a side. AFL-CIO President Richard Trumka was here. He took a side. The Packers' Charles Woodson was here. He took a side.
Where is the president or "corporate" Bill Daley or Bill Clinton or Al Gore or …? Walker and Sen. Lindsey Graham of South Carolina are scaring the Obama Dems based on Walker's lie that this fight is about pensions. It isn't about pensions, it is about the middle class -- it is class war against the working families of this country. It may dawn on the White House in a year or so that the party has dried up. They will ask, "Why aren't working people on our side?" The response will be: "Where were you in the battle for our lives?"
Which side are you on? There were two sides in Selma and Birmingham, Ala., and Jackson, Miss. There are two sides in this assault on working folks. Ed Schultz is on the right side, but where is Rep. Steny Hoyer, a Democratic leader in the House?
Walker and Senate Majority Leader Scott Fitzgerald finally had to admit that they don't care how much money is involved -- nope! "It is necessary," says Fitzgerald, "to eliminate unions in order to balance future budgets."
I hate the word and rarely use it, but "fascism" keeps getting stuck in my throat. Call it "corporate control" or words you choose, but we are in trouble when our governor, speaker, and majority leader try to bring an end to democracy. They must not prevail.
Now for more good news: Packers captain Charles Woodson issued a statement in support of "working families of Wisconsin and organized labor in Wisconsin." Woodson is in a fight with Walker-like NFL owners. He needs his union, we need ours! Thank you, Charles Woodson.
I have never been so proud of my state -- as Fighting Bob called it, "this special place." We have a proud tradition of social justice, honest government, collective bargaining, respect. Walker and company have tried to throw those traditions into the garbage can -- they won't get away with it, as this fight is now a permanent fixture.