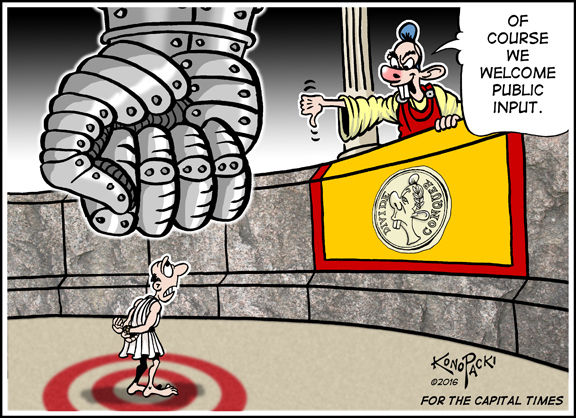 Former Lt. Gov. Barbara Lawton tells the story of how she attended a recent gathering at which one of Gov. Scott Walker's appointees regaled a group of young people about the give and take that is so much the bedrock of American democracy.
He talked of hearing arguments from both sides, hashing out differences and making decisions based on all that discussion, and urged the youngsters to get involved in the process as they get older.
Really? she asked herself. This from a member of the administration that rams through legislation on a moment's notice?
I thought about Lawton's story the other day when I read my friend Tom Hefty's piece in the Milwaukee Journal Sentinel pushing the idea of forming a "blue-ribbon" commission to study the future of the University of Wisconsin. Hefty, the retired CEO of Blue Cross/Blue Shield in Wisconsin, says a bipartisan study of the university, taking a look at everything from the way its campuses are organized to how it invests its money, would be a much better way to determine the UW's future direction than is the escalating rhetoric between the school and the GOP-controlled statehouse.
Hefty recalls that blue-ribbon commissions — none have been appointed since Tommy Thompson left office — were successfully used by previous governors. How well I remember the so-called Kellett Commission chaired by retired Kimberly-Clark executive William Kellett to methodically study the organization of the state government and the University of Wisconsin itself. Commission members included politicians, business execs, labor reps and civic leaders who listened to testimony, considered experiences from other states, debated what they found and in the end agreed to a plan that could be sent to the Legislature for its consideration.
It was a way to include all sides in making a final and, thankfully, well-reasoned  decision. As Hefty pointed out, the Kellett study was Republican Gov. Warren Knowles' idea, but many of its recommendations were carried out by Democratic Gov. Patrick Lucey, including integrating the University of Wisconsin campuses and the state colleges into the UW System we know today.
We need do that again, he said, and I agree. It would be a much better way to move forward than the bomb-throwing we're witnessing today.
But then I wondered — sort of like Barbara Lawton did when she attended that gathering — are you kidding?
There's no way the crew currently in charge at the state Capitol is going to relinquish one smidgen of power. Study an issue before making drastic changes in state law? Surely, you jest.
Rather, the less input from anyone outside of the governor's or Legislature's inner circle the better. This isn't about actually considering the pros and cons of an issue, but everything about making sure bills are passed and signed into law before anyone really knows what hit them.
The most recent example was the dramatic rewrite of Wisconsin's historic civil service laws. If ever there was a need to consider the arguments for or against changing the way the state hires and fires its employees, this was it. The Republican majority didn't like the law, which for more than a century had kept politics out of hiring, so it rammed through the changes in just a few days.
And this has happened consistently the past several years. Bills are introduced one day, a "public hearing" is slated for the next — typically before opponents can rush to Madison to express their views — and the fast-track to the floor and on to the governor's office takes over from there.
The only people who might get a chance to weigh in on the issue are the paid lobbyists who are lurking in the Capitol corridors.
Yes, Tom Hefty has a good idea when he says that we ought to be using blue-ribbon commissions to actually give massive changes in state laws careful consideration.
But, as they say, good luck with that.
Dave Zweifel is editor emeritus of The Capital Times. dzweifel@madison.com and on Twitter @DaveZweifel
Share your opinion on this topic by sending a letter to the editor to tctvoice@madison.com. Include your full name, hometown and phone number. Your name and town will be published. The phone number is for verification purposes only. Please keep your letter to 250 words or less.
Dave Zweifel is editor emeritus of The Capital Times. dzweifel@madison.com and on Twitter @DaveZweifel