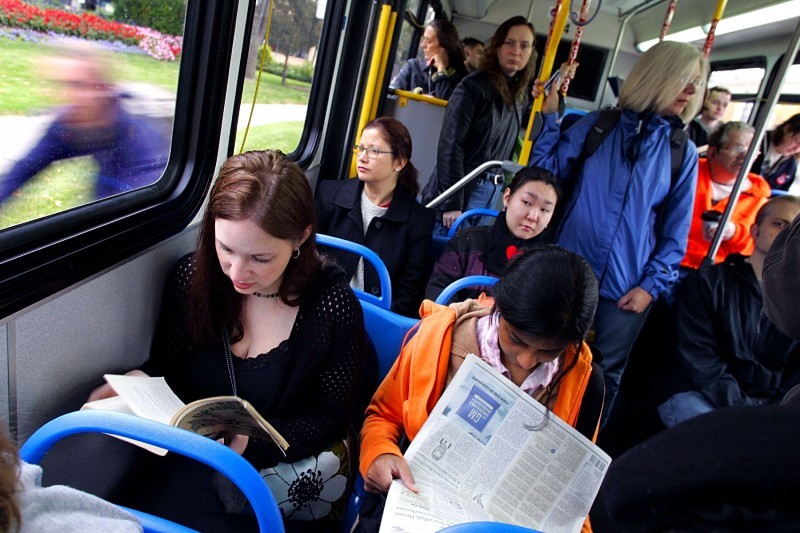 Of all the oddball things in Gov. Scott Walker's proposed 2011-2013 budget — and there are many — one of the strangest is his proposal to remove public transit funding from the Department of Transportation and placing it in the general fund, where it will have to compete with all other state programs every budget cycle.
Traditionally, transit funding for everything from buses to trains to airports has been housed in the overall transportation budget, which in Wisconsin is a segregated fund with revenues from the gas tax, license and registration fees, and transit aid from the federal government. The U.S. Transportation Department divides its money 80 percent for cars and 20 percent for mass transit.
This past year, 73 transit systems in the state received an estimated $114.9 million in state transit aid. Over 90 percent of the money went to bus systems, the rest to shared-ride taxi systems used by some municipalities primarily for the elderly and disabled.
But Walker wants to get all that out of the DOT budget. The highway builders, who were generous contributors to this governor's campaign last fall, would, of course, be the main beneficiaries.
Gary Goyke, who lobbies for the Wisconsin Urban and Rural Transit Association, said the budget proposals are a disaster. He and Madison Metro General Manger Chuck Kamp stopped by the office last week to explain.
What's perplexing, they pointed out, is that removing the transit programs from the DOT wasn't an idea generated by the department, but was solely a policy decision from the governor himself. Under Walker's plan, not only would the funds be transferred to the state's operating budget, but they would also be reduced by 10 percent in the first year of the biennium alone. For Madison that would amount to $1.8 million.
And Madison could lose up to $7.8 million more if Walker's plan to take collective bargaining rights away from public unions becomes law. To be eligible for federal funds, municipalities have to follow some rules on workers' rights. Kamp explained that for Madison that would result in service cuts that could reverse what has been a steady increase in Madison Metro ridership in recent years.
"This isn't the direction we should be going, especially with rising gas prices," he pointed out. "We should be investing more in transit, not backing off," adding that in Madison 50 percent of the riders are people going to their jobs while another 30 percent are students going to school and the university.
Goyke stressed that mass transit has always been a nonpartisan issue, even at the federal level. George Bush appointed a Democrat to head Transportation, Barack Obama named a Republican.
"But the governor is making it a partisan issue," Goyke added. "He's proposing to do this without any study or public hearing. It's clearly a political calculation by the chief executive."
The association's only hope is to get legislators to recognize how profoundly this change could impact local governments back home.
"We need to get a public dialogue going," Goyke added. "People need to understand how serious this is."
This is yet another example of how Walker's inability to think long-term when it comes to positioning Wisconsin for the future threatens that very future.
Somebody needs to tell this guy just how important mass transit is becoming, not only for those who are already elderly and disabled, but for the hordes of baby boomers who will soon need to rely on public transportation to shop or even to visit grandchildren.
It's estimated that 10 percent of the population already doesn't use cars. Walker needs to understand the needs of those people too. They're just as important as the road builders, even if they can't send big bucks his way.