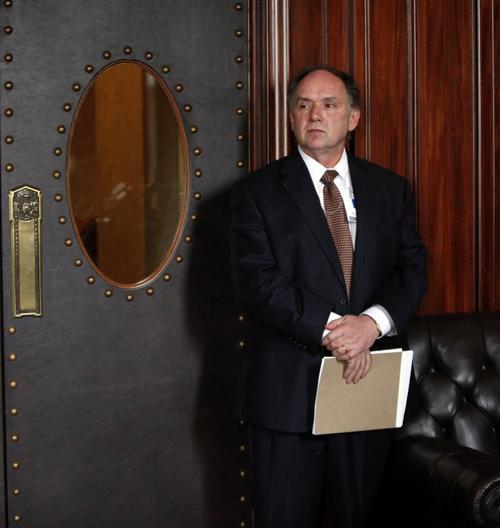 Gov. Scott Walker has had mixed success in appointing politically moderate judges in Dane County, with two winning elections to full terms and two being beaten out by challengers who capitalized on Walker's unpopularity in the county.
With his latest appointment to the bench, Walker's taking a different tack. He inserted a conservative Republican into the liberal panel of judges.
And he doesn't have to worry about getting elected. Jim Troupis, whom Walker tabbed to take the place of retired Judge John Albert, plans to call it quits when his term ends in August 2016.
"It is not my intention to run for the Dane County Judge seat," he said in an email. "I am very honored to have this opportunity to serve to the completion of the term."
Dane County judges have been a bane to Walker's agenda, ruling against such major legislation as the ban on collective bargaining by public workers and voter ID. Troupis worked on behalf of Republicans supporting both those measures. He also provided legal services to targets of the John Doe probe into illegal campaigning by Republicans, and he helped engineer the Republican redistricting that will likely lock that party's grip on the Legislature for years to come.
And it was Troupis who, in 2011, advised the forcible return to the state of 14 Democratic senators who fled to Illinois in an attempt to block passage of Act 10.
Walker announced Troupis' appointment late Friday, along with the news that he was appointing the son of his campaign chairman, who also leads the conservative Bradley Foundation, to the UW Board of Regents.
"I think it's consistent with the general pattern we've seen of Gov. Walker becoming more strident and more ideological in the months since he's decided to run for national office," said Howard Schweber, UW professor of political science and legal studies. "There's a perception that he's less concerned about appealing to Wisconsin voters than he is with appealing to the base of the national Republican Party — and particularly the right wing of the base of the national Republican Party."
Schweber said that while the appointment of a county judge might be a local matter, Walker can point to it as another example to bolster his conservative credentials.
"He'll be able to say: 'Look who I recently appointed as Dane County judge. This is a sign of my bona fides as a right-wing candidate.'"
And there is a practical element as well, Schweber said.
"He's an ideologically friendly voice on the bench, and that's an advantage in general," he said. But he added, "It's conceivable that there may be future investigations and future legal issues that could come before this guy's courtroom, and the question of recusal could be raised."
Troupis announced his retirement from his law practice more than a year ago.
"While I'm also really looking forward to it, I enjoyed my time not practicing law," Troupis told WisPolitics. "I suppose there are a lot of factors. But it was something I was interested in doing."
In appointing Troupis, Walker passed over five applicants for the job, one of them a former treasurer for the state Republican Party. That candidate, Buck Schilling, is currently an assistant state public defender.
The other applicants were Assistant Attorney General Devra Ayala, criminal defense attorney John Hyland, UW adjunct law professor Nick Schweitzer and state Assistant Public Defender David Klauser.
Hyland, the Waunakee municipal judge and attorney with Hurley, Burish & Stanton, and Valerie Bailey-Rihn of Quarles & Brady, plan to vie for the seat in the 2016 spring election. 
Walker's appointees to the Dane County bench include Madison assistant city attorney Roger Allen and Assistant Attorney General Rebecca St. John, who were voted out after short stints on the bench.
Judge Josann Reynolds, whom Walker picked to replace retiring Judge Maryann Sumi, won election to a full term in April. And Judge Frank Remington won a full term in 2012. Both ran unopposed.