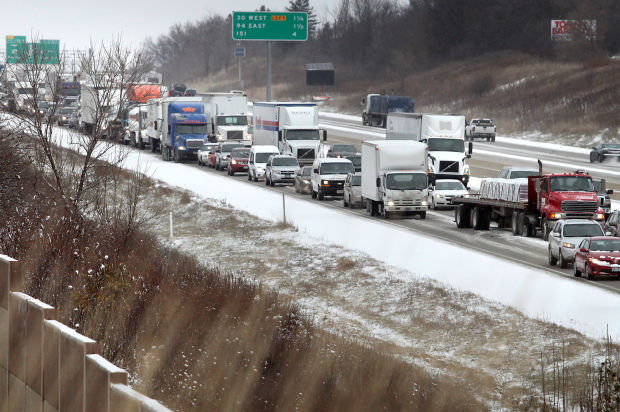 Would you rather jump in your car, fight through traffic and park in an expensive downtown parking stall before going to work, or sit back on a bus and check social media? Or better yet, get some exercise by riding your bike to work?
The answer might depend on how old you are.
Millennials are opting for the latter options, or anything else that doesn't involve driving a car, according to a recent WISPIRG report. And the lack of those options is driving educated young people to other states, hurting the state's economic outlook as "knowledge-based" businesses follow them.
"For baby boomers, driving a car represented freedom and spontaneity," the authors of "Driving Wisconsin's 'Brain Drain?'" say. "But today, especially for younger people, owning a car increasingly represents big expenses and parking hassles."
The report suggests that young people, more than ever before, are motivated to relocate for lifestyle reasons, with less emphasis on jobs, housing and family. 
Young people's desire to ditch the car commute is a reality about which state leaders are largely clueless, the report contends. Wisconsin remains one of the top states in terms of the share of transportation dollars poured into road construction while lagging in funding of alternative transportation.
"The Millennial generation seeks a different transportation future, and our state leaders need to adapt or risk losing the young talent that is essential to Wisconsin's future economic prosperity," said Bruce Speight, WISPIRG Foundation Director, in a press release. "If Wisconsin political leaders and business leaders want to recruit and retain young talent in Wisconsin, then we need to reconsider our state transportation priorities and make sure we provide the transit, bike and non-driving transportation options that young people gravitate towards."
The report is based on a survey of 530 college students from 11 UW campuses, Milwaukee Area Technical College and Marquette and Cardinal Stritch universities. The most striking finding is that 84 percent of the respondents said it was "very important" or "somewhat important" to have transportation options other than a car.
Other results found that 60 percent of the students would be "somewhat more likely" to stay in Wisconsin after graduation if they could get around without driving. Most of those said non-car alternatives would make them "much more likely" to stay in the state.
Forty-seven percent of the students rated transportation options as "very important," while 35 percent more rated them "somewhat important."
The report is critical of the state's spending priorities, particularly the 2011-13 budget, which funneled $1.2 billion into four major highway projects, which the report says were based on "outdated justifying data and insufficient review."
Meanwhile, as young people drive less, ride buses and commute by bicycle more, and regard climate change with increasing alarm, the state spends a smaller percentage of its budget on transit projects than other Midwestern states of Iowa, Minnesota, Illinois, Michigan and Ohio.
WISPIRG recommendations include increasing funding for the mass transit, bike and pedestrian infrastructure, putting the brakes on unneeded highway expansion and increasing data collection efforts relating to the transportation preferences of young people.
"Our state transportation budget is out of touch with the way young people are getting around and the transportation future they seek," Speight said. "State leaders need to reform transportation priorities or risk losing the young talent and educated workforce that are crucial to our economic prosperity."