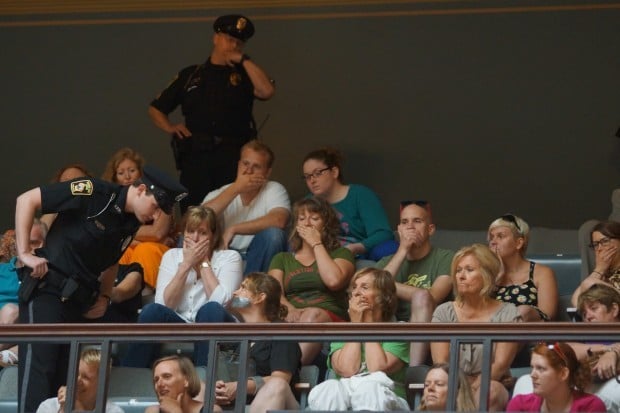 The Assembly has already banned signs, placards, hats, bags, and myriad other things that could be used to convey a message of protest.
Add duct tape to that list. 
During Thursday's debate over mandating ultrasounds for women seeking abortions, as well as several other measures designed to erect obstacles to the procedure, police ordered several spectators in the Assembly gallery to remove duct tape from their mouths.
Police subsequently arrested one woman who refused to leave after Speaker Pro Tem Bill Kramer ordered the spectators removed from the gallery.
According to accounts, about 20 people, mostly women, in the Assembly gallery put duct tape over their mouths in protest during the heated debate, which resulted in passage of the bill. About 45 minutes into the hearing, they were ordered to remove the tape, which they did. They continued to watch the proceedings with their hands over their mouths.
(Activist Rebecca Kemble has a Twitter feed of the hearing at @rebeccakemble. Here's another account from Daily Kos.) 
The only sound from the gallery was that of applause, which first erupted when Rep. Sandy Pasch, D-Shorewood, declared, "The author of this bill is seriously out of touch with the reality of women." (That would be Rep. Pat Strachota, R-West Bend.)
That prompted Kramer, R-Waukesha, to order the removal of several rows of spectators, resulting in the arrest and disorderly conduct ticket for 36-year-old Sara Andrews.
Andrews, during an interview, said she showed up before the hearing for a protest rally, without realizing that the Assembly was voting on the abortion bill that day. She decided to watch. Several people had tape from the rally, so about 20 women and a couple of men placed it over their mouths in protest.
(A request for a copy of the police report on Andrews' arrest wasn't immediately filled.)
Andrews said when the applause erupted from the gallery, Kramer ordered several rows of spectators removed, including the row she was in. Since she hadn't applauded, she refused to leave. After being asked twice, two officers handcuffed her while four others stood by.
"I got kicked out for being in a row of people who clapped," she said. "You just have to be near someone who's doing something. I didn't think that was fair."
Andrews, who took part in the massive Capitol protests two years ago over collective bargaining rights said she wasn't concerned about the heavy police presence in the gallery. Many protesters became familiar with the officers during the course of the demonstrations. But relations between protesters and police have soured in recent months after Police Chief David Erwin, hired last summer, instituted a crackdown.