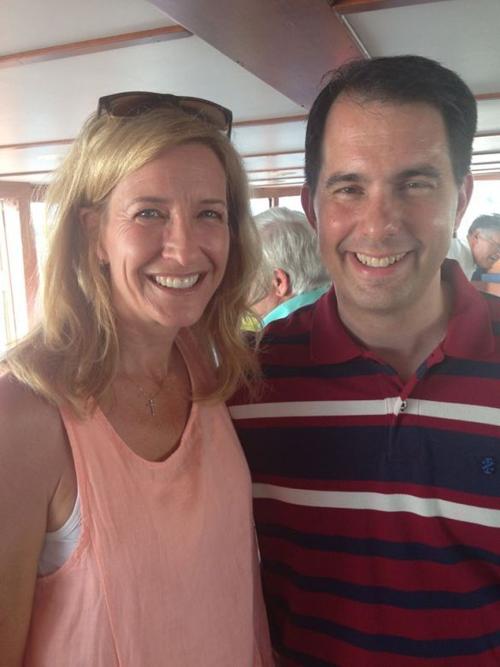 Maybe Illinois Republicans aren't as obsessed with "election integrity" as Wisconsin Republicans.
Kathy Myalls, a GOP candidate for the Illinois House of Representatives, has been vote hopping between Illinois and Wisconsin, voting in separate elections in both states.
One of those elections was the 2012 Wisconsin recall election, according to the Chicago Sun Times, in which Scott Walker hung onto the Wisconsin governorship.
It's not difficult to guess who she voted for — she has a picture of herself next to Scott Walker on her Facebook page.
Myalls was registered to vote in Wilmette, Ill., and in Fontana, Wis., near Lake Geneva, where she owns a second home.
As the Sun Times reports:
"In one case, she cast a vote in a primary election in Illinois. Then just three months later, records show she voted in Wisconsin to cast a ballot in the state's recall election. The effort was aimed largely at recalling Wisconsin Gov. Scott Walker – someone with whom Myalls is pictured on her Facebook page. Myalls then voted in Wisconsin's presidential general election in 2012 before returning to Illinois to vote the following spring."
Myalls says she's now only registered to vote in Illinois.
If elected, she could face a challenge: Illinois requires residency in the district a candidate will represent for at least two years before an election. Myalls essentially declared her Wisconsin residency by voting in the 2012 presidential election, which took place on Nov. 6. And the Illinois election falls on Nov. 4, two days short of two years. 
Turns out, there's nothing illegal about voting in two states, although elections officials say it's kind of shady.
"The problem is the law, the key word is 'intent,'" Jay DeLancy, director of the North Carolina-based Voter Integrity Project told the Sun Times. "All the perp has to do is say, 'I intended to stay in Wisconsin but then I got a job offer in Illinois and moved back,' We've been told before: Unless it's the very same election, we're not going to prosecute them."