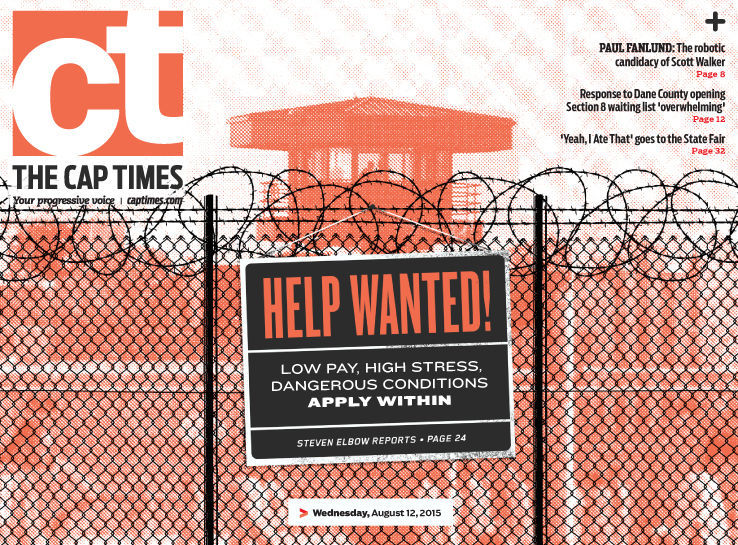 Len Below didn't plan on retiring this year. But forced overtime and growing safety concerns at Columbia Correctional Institution got to be too much for the veteran guard.
"They are severely understaffed," said the 54-year-old sergeant, who left the job in April after 33 years. "It's getting to be very unsafe there."
Below is one of several sergeants who have retired from the maximum-security facility in Portage since February. One current staffer put the tally at nine, with three others transferring to other institutions late last year. And that doesn't include newer officers who have fled the high stress and low pay that comes with working at an institution that some say is getting less safe every day.
And beginning last week, CCI implemented changes spelled out in the state budget that will leave most of its guard towers empty overnight.
"When there's less staff, and less experienced staff, that puts us in greater danger," said Below. "They don't have the experience dealing with inmates."
Some describe CCI as a powder keg.
"The only way this is going to change is if we have a riot," said Bill, a veteran guard who asked that we not use his real name. "That's what we're getting to at the prison here."
Another guard, who also recently retired years earlier than he had originally planned, said the prospect of such an incident played into his decision.
"They keep putting band-aids on such a bad situation, something terrible is going to happen there," said Jim, who didn't want his real name used because of concerns about future job prospects. "And they're all going to point fingers at someone else."
The shortage of guards is an issue throughout the Department of Corrections' 21 prison facilities, but it's exceptionally acute at CCI, where the state has resorted to luring guards from other institutions with free hotel stays, mileage reimbursement, meals and overtime to work six-week stints.
Guards, both current and recently retired, attribute the exodus of employees to crushing workloads, compromised safety and stagnant pay in the wake of the state's elimination of collective bargaining rights in 2011. And with starting wages at $15.20 per hour — well below the pay at county lockups and guard positions in surrounding states — the state is having a hard time filling the void.
"They're working nights, weekends and holidays at a maximum security prison," said Jim. "They can make that money at Wal-Mart."
Jim said he decided to "pull the plug" when the forced overtime on weekend and night shifts — often spent performing physically and mentally demanding tasks that normally fell to younger employees — became too much.
"There's a bunch of us that just up and quit because we just couldn't take it anymore," Jim said. "At my age, I'm not going back to fighting convicts every day."
The guards say the shortage stems from the law known as Act 10, Gov. Scott Walker's 2011 initiative to dismantle collective bargaining for public employees, with the exception of police and firefighters. And although prison guards consider themselves an integral element in the public safety landscape, they weren't included in the exemptions.
The law sounded the death knell for the guards' union, and what once was viewed by the guards as a collaborative effort to maintain safety and fairness in the workplace became a top-down system in which the administration dictated the terms of employment.
"The work rules changed, the amount of safety and protections changed," said Below, "and it spiraled out of control since then."
New rules that put mandatory overtime on a rotating basis rather than basing it on seniority have fostered resentment among senior staffers. Guards cite family gatherings, trips and events they've had to abandon because of mandatory overtime.
Below, with 33 years of seniority, said it got to the point that every day he went to work, "I didn't know if I was getting out."
Jim said the new hires haven't taken the situation much better.
"Even the rookies don't like it because now they see their vacation is never going to get better in 30 years," he said.
Corrections officials say they've stepped up recruitment and training efforts. But guards call it a neverending battle.
"They hire 10 and 15 quit," said Jim.
"Corrections is a zoo right now," said Bill. "And CCI is the focal point where the most chaotic stuff has been going on."
An email request for interviews with Corrections Secretary Ed Wall, appointed by Walker to the post in 2012, and CCI Warden Mike Dittmann, who has held the post since March of 2014, went unanswered.
Columbia Correctional Institution, about 45 miles north of Madison, opened in 1986 on 110 acres of land on the outskirts of Portage. As a maximum-security facility, it houses some of the state's most violent offenders. Serial killer Jeffrey Dahmer, who was beaten to death in 1994 by a fellow inmate, was held there. CCI's official operating capacity is 541, but overcrowding has been a perennial issue. The facility housed 839 inmates in 2014, according to its annual report for that year. In all, the prison employs 342 people, including guards, administration and civilian staff.
According to the 2014 annual report, CCI should have 233 sergeants and officers on staff. But the Department of Corrections reported that last May, CCI was 53 positions short, compared with 15 vacancies a year earlier.
All three guards interviewed for this report maintained that the number of open positions at the institution has at times exceeded 70. While the staffing shortage is most acute at CCI, other institutions are feeling the pinch as well.
Fox 11 News in Green Bay recently obtained records that show a dramatic increase in guard staff vacancies statewide since Act 10 became law in 2011. In 2010, Fox 11 reported, there were 88 full-time guard openings in the state's correctional facilities. This past spring there were 403.
Corrections spokeswoman Joy Staab said the staff shortage stems from a prison boom in the 1990s that saw an influx of new guards who are now nearing retirement age. Added to that, she said, is an expanding economy that presents more opportunities for people seeking work.
She acknowledged that the problem is particularly acute at CCI.
"The most recent vacancy rates at CCI are presently higher than those in other facilities, but vacancy rates fluctuate across facilities from month to month due to employee movement," she said in an email. "So a single point in time comparison is often quickly outdated."
To address the shortage, she said, the department has doubled the number of training academies.
"While we have added more than 1,000 correctional officers in Secretary Wall's tenure, we are still experiencing turnover due to retirement and now increased competition from municipal, county and private sectors as Wisconsin's economy continues to strengthen," she said.
'Rookies training rookies'
Guards say it's not the economy creating vacancies as much as the fact that people who come to CCI quickly realize they don't want to work there. The exodus of veterans, they say, has left the institution with overworked, inexperienced new hires who find it difficult to navigate the intricacies of the job. They maintain that the situation has contributed to a string of recent incidents including the Feb. 12 murder of an inmate by his cellmate, a weeks-long lockdown and ongoing safety concerns.
"We've lost all the experienced staff, so now you have rookies training rookies," said Below. "And they weren't properly trained because the people training them weren't well trained."
One of the sergeants who left in February, Faye Hart, told the Portage Daily Register that CCI used to be the "best prison in the state."
"We were the most secured and trained," she said. "Well, that's not the case anymore."
The lockdown, a measure that restricts inmate movement and curtails privileges went into effect on May 6 after an inmate stabbed an officer with a pencil and wasn't lifted until a month later.
Guards said that lockdown was prolonged because the institution didn't have the staff to perform the routine tasks of ushering inmates to recreational facilities and the library, which are discontinued when a prison is in lockdown mode.
Staab denied that assertion, characterizing the lockdown as a routine measure that corrections facilities take "for various reasons."
"It is not uncommon for an institution to go into lockdown status as a result of a serious incident while staff review processes and identify ways to help prevent similar incidents from occurring in the future," she said. "This is done to provide a safe environment for staff and inmates."
But infuriating inmates by depriving them of privileges just adds to an already dangerous situation, according to Jim, the recently retired guard.
"You keep taking rec away because you don't have enough staff, and you keep taking things that keep a lid on the joint away, and the staff are just dead tired from working double shifts every day," he said.
Also in May, another inmate attacked a librarian with makeshift scissors, according to a report in the Portage Daily Register.
In another recent incident, a housing unit was locked down after two inmate-on-inmate assaults. Staab wouldn't provide details, but according to a staffer contacted by The Capital Times, an inmate allegedly used a fan motor tucked into a pillowcase to pummel another inmate. The following day another fight broke out in retaliation for the assault.
Below said inexperience was "absolutely" a factor in the string of recent incidents.
"We're getting less experienced staff and more violent inmates with more needs in the mental health area," said Below.
Bill said new hires have been plunged into a situation in which they're too overwhelmed to take a proactive approach to the job.
New hires, he said, "don't want to be confrontational."
But confrontation, Bill said, is part of the job.
"If they see you're enforcing the rules, then they're not going to break the rules," he said. "That's one of the things that have been preached in corrections since I started."
The guards said the prison administration has done little to ensure that situations involving inmate behavior are handled properly.
'A lot of them left for the railroad'
Bill said the situation at CCI is so challenging that at least two of the guards on loan from elsewhere left before their six-week stint was up.
Jim said most of the veterans who have left qualified for retirement, but they wanted to stay on for a few more years. They couldn't take the stress.
"It's terrible," he said. "That's why we all left when we could. I feel sorry for all the people with 15 to 20 years in that are stuck there."
And while veteran staff walk out the door, new hires have little reason to stay. Guards interviewed for this story said some new staffers were coming on board only to find that the pay was so insufficient they needed to apply for food stamps or other government subsidies to get by.
"These young people are making $15 an hour and they've got to pull $200 or $300 out of a paycheck in order to pay for their health care," said Bill. "They're barely making ends meet."
Fox 11 News in Green Bay recently reported that state corrections wages lag behind those at county lockups and in other states, in some cases by a considerable margin. State corrections wages in Iowa start at $18.02 per hour. In Illinois the training wage is $20.57.
In Brown County, jail guards start at $19.11 per hour, Fox 11 reported. Outagamie County guards make $21.18 to start.
Jim said it's little wonder that guards have left. Some have been driving over an hour to and from work, the ex-staffer said.
"They're all looking to go to county jails," he said. "A lot of them left for the railroad, a lot of them are trying to get to the county jails, some of them quit and went to (outdoors retailer) Cabela's."
While Wall recently met with Republican lawmakers on the staff shortage issue, there have been no details released on how the department plans to deal with the situation in the long-term.
State Sen. Rick Gudex, R-Fond du Lac, one of the Republicans attending the meeting, said it was a productive discussion.
"Further details of those plans will be released in the near future by the department," he told WISC Channel 3. "In the meantime, the department will continue aggressive recruitment activities to fill the vacancies at several correctional facilities across the state."
State Rep. David Bowen, D-Milwaukee, an Assembly Corrections Committee member, said the plan should include higher pay and a look at "re-inviting unions back to the table."
"It's possible that this is getting so bad that we could run into a situation where prisoners don't have any oversight and there aren't people in place to make sure things are being run the right way," Bowen said.
In a column this week, state Sen. Jon Erpenbach, D-Middleton, and Rep. Dave Considine, D-Baraboo, took aim at Walker and corrections officials.
"Staffing shortages are not new," they write. "Unfortunately Gov. Scott Walker Walker and his administration at the Department of Corrections seem to be the last to react."
The lawmakers note the mental toll of a "stressful" and "dangerous" job "that can at times be all consuming, costing people their relationships, friendships, lives outside of work and sometimes personal welfare and health."
At $15 per hour, just over $31,000 a year, they write, it's simply not worth it.
"Pay is the issue for the hiring of new guards," they write. "Without the safety risks and simple physical and mental challenges of working in a prison institution that would be a decent living wage, but with their presence it is not."
The recently passed biennial state budget does not provide for pay increases. And veteran guards say recruitment efforts are futile. In the Portage area, at least, the pool of potential recruits has been fished out.
"That prison's been there for 30 years," said Jim. "People that want to work there are already there."
That assessment runs counter to accounts of town hall meetings Wall held with staff last year. According to those accounts, Wall met concerns by telling staffers that if they didn't like their jobs, there were thousands of others waiting to take them.
"You listen to Scott Walker and you listen to Ed Wall and they'll tell you that there are 10,000 people lining up to take your job," said Bill. "I'd like to know where those 10,000 are. Because if they're out there and they're all qualified to be corrections officers and they want the positions, then why aren't we filling them?"
Share your opinion on this topic by sending a letter to the editor to tctvoice@madison.com. Include your full name, hometown and phone number. Your name and town will be published. The phone number is for verification purposes only. Please keep your letter to 250 words or less.